2017 Big 12 Championship
Making The Big 12 Great Again
Making The Big 12 Great Again
Historically, the Big 12 Conference is the most successful wrestling conference in the country. Yes, more successful than the Big 10. In the last decade the Big 10 has obviously been the deepest and toughest, but it hasn't always been that way. Saying th
Feb 27, 2017
by Mark Bader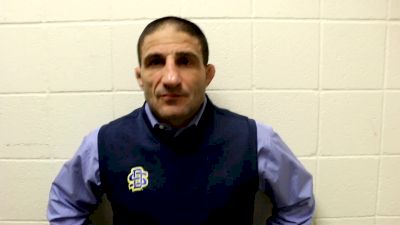 Live On Flo This Week:
Mar 3-4:
EIWA Championships
|
Mar 4-5:
Big 12 Championships
|
Mar 4-5:
PJW Junior High State Championships
Historically, the Big 12 Conference is the most successful wrestling conference in the country. Yes, more successful than the Big Ten. In the last decade the Big Ten has obviously been the deepest and toughest, but it hasn't always been that way.
All-Time NCAA Team Titles
1. Oklahoma State - 34
2. Iowa - 23
3. Iowa State - 8
4. Oklahoma - 7
5. Penn State - 6
*Big 12 teams bolded
Saying this might make me feel old, but
back in my day
the Big 12, then made up of just five teams, was as competitive as the Big Ten. Oklahoma State, Oklahoma, and Iowa State were seemingly always in hunt for an NCAA team title. While not quite as powerful as the other three, Nebraska and Missouri were regularly putting out top 10 teams during the first decade of the 2000s. With just five teams, the Big 12 was pound for pound as tough as any conference out there.
Here is a look at the top NCAA finishes of Big 12 schools from 2000-10.
2000:
1. Iowa
2. Iowa State
3. Minnesota
4. Oklahoma5. Oklahoma State
*Big 12 teams bolded
2001:
1. Minnesota
2. Iowa
3. Oklahoma State
4. Oklahoma
5. Illinois
6. Iowa State
7. Michigan
8. Nebraska


2002:
1. Minnesota
2. Iowa State
3. Oklahoma
4. Iowa
5. Oklahoma State


2003:
1. Oklahoma State
2. Minnesota
3. Oklahoma


2004:
1. Oklahoma State
2. Iowa
3. Ohio State
4. Lehigh
5. Nebraska
6. Iowa State
7. Illinois
8. Minnesota
9. Oklahoma


2005:
1. Oklahoma State
2. Michigan
3. Oklahoma


2006:
1. Oklahoma State
2. Minnesota
3. Oklahoma
2007:
1. Minnesota
2. Iowa State
3. Missouri
4. Northwestern
5. Oklahoma State


2008:
1. Iowa
2. Ohio State
3. Penn State
4. Nebraska
5. Iowa State
5. Oklahoma State


2009:
1. Iowa
2. Ohio State
3. Iowa State
4. Nebraska
5. Cornell
6. Edinboro
7. Missouri


2010:
1. Iowa
2. Cornell
3. Iowa State
4. Wisconsin
5. Oklahoma
6. Oklahoma State
7. Minnesota
8. Ohio State
9. Penn State
10. Missouri
Aside from a 10th-place finish by Oklahoma in 2014, no Big 12 team, other than Oklahoma State, has finished in the top 10 since 2010. Oklahoma State has finished in the top 10 every year since 2010.
So what happened to this small but powerful conference?
In a span of five years, two main factors caused a shift in the success of Big 12 wrestling: conference restructuring and coaching changes.
2008-09:

Cael Sanderson leaves Iowa State to coach at Penn State, and Kevin Jackson becomes ISU's head coach.
2011-12:

Nebraska moves to the Big Ten.
Jack Spates retires and Mark Cody becomes the head coach at Oklahoma.
2012-13:
Missouri moves to the SEC and wrestles in the MAC.
West Virginia moves to the Big 12.
Nebraska and Missouri leave the conference, and a mediocre West Virginia arrives. Two of the other three schools have coaching changes that ultimately hurt those programs.
Fast forward to 2017 and the conference has a whole new look.
2015-16:
The Big 12 absorbs the Western Wrestling Conference.
2016-17:
Cody leaves Oklahoma, and Lou Rosselli becomes the Sooners' head coach.
2017-18:
Jackson leaves Iowa State, and Kevin Dresser becomes head coach.
Schools that previously competed in the Western Wrestling Conference now wrestle in the Big 12. The most notable of late has been the South Dakota State Jackrabbits, who have seen their program rise under head coach Chris Bono.
Additionally, the recent hirings of Rosselli at Oklahoma and Dresser at Iowa State bode well for the future of the Big 12.
Rosselli, one of the most respected coaches in the nation, had a big hand in the rise of Ohio State to a national championship team in 2015. He also helped produce world and Olympic Champions at the Ohio RTC. In just his first year at the helm, Rosselli already led to Sooners to an upset of No. 7 Missouri in their dual meet.
Dresser will not start coaching at Iowa State until after the NCAAs, but looking at what he did at Virginia Tech makes you believe he will help the Cyclones return to national prominence.
Oklahoma State has been and will continue to be a national powerhouse. Iowa State's and Oklahoma's teams have the tradition and support from their schools, and now have the right coaches in place to bring them back to prominence.
A rising tide lifts all boats. I believe Iowa State and Oklahoma will return to the level they are known for soon. That will only help the continued success from South Dakota State. Schools such as Wyoming and North Dakota State are coming along under coaches Mark Branch and Roger Kish, respectively, and we will see the conference as a whole become more competitive. When these things happen, it will indeed, make the Big 12 great again.
Be sure to catch
The Big 12 Championships LIVE on FloWrestling
this weekend March 4-5.

Popular Right Now:

Who's In, Who's Out After Pac 12s
Big 10 Pre-Seeds Released
Nick Suriano May Not Wrestle At Big 10's