West Virginia State Tourney Partially Delayed Due To Small Herpes Outbreak
West Virginia State Tourney Partially Delayed Due To Small Herpes Outbreak
The West Virginia high school state tournament has been partially delayed after a small herpes out break.
Feb 24, 2017
by Kyle Bratke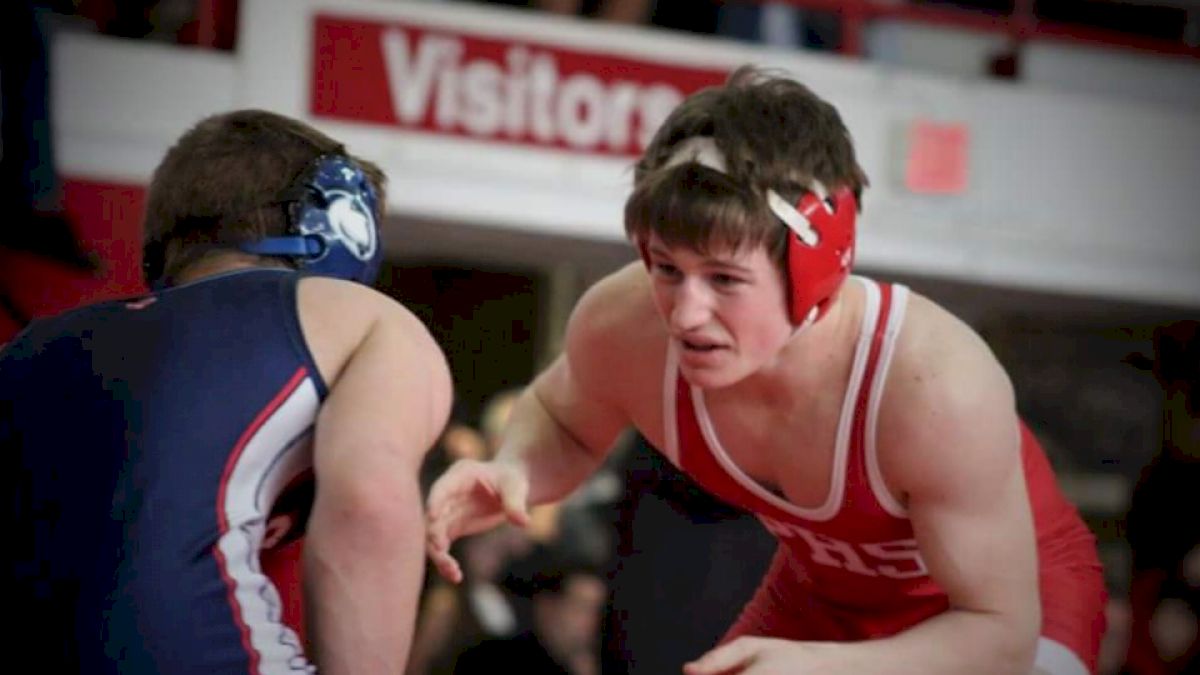 Year after year at state tournament time we hear of unbelievable drama and controversies from coast to coast. But the saga unfolding in my home state of West Virginia without a doubt takes the cake. On Thursday, it was announced that three weight classes at the 2017 AAA West Virginia State Tournament would be postponed due to a small herpes outbreak. Now, let's backtrack and see how we got here.
It all began last Saturday when three Huntington High School wrestlers somehow competed at the West Virginia AAA Region IV Tournament with what was confirmed later as cases of HSV-1 or herpes simplex virus type 1.
On Tuesday, the day before the state tournament began, the West Virginia Secondary Schools Athletic Commission issued a statement to all coaches about the confirmed herpes cases. According to the statement, "While it remains possible that an athlete who was exposed may currently have no skin lesions, but may develop lesions later they would not be contagious until they have lesions. As such, athletes should be allowed to wrestle as long as they are lesion free."
You can read the full statement below.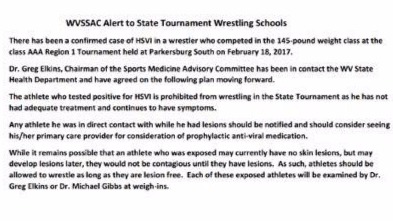 As the state tournament was set to begin a day later, the WVSSAC reversed course and informed all coaches of wrestlers who competed against infected Huntington High School wrestlers that their athletes would be disqualified from the state tournament, even though none of those wrestlers had any lesions. This ruling would impact six wrestlers: two wrestlers each from Parkersburg South and Hurricane High Schools as well as a pair of wrestlers from Parkersburg and Ripley High Schools.
After learning about the disqualifications, the Wood County Board of Education (the school district of Parkersburg and Parkersburg South High Schools) attempted to get an injunction to allow their wrestlers to compete at the state tournament but were denied.
All six schools with wrestlers who were told they would not be allowed to compete still brought their athletes to the state tournament and were allowed to weigh them in.
After weigh-ins, the WVSSAC met with the coaches of all the wrestlers involved and informed them the three wrestlers with herpes and the six wrestlers who had contact with them at the region tournament would not be able to compete.
After receiving pushback, the WVSSAC once again reversed course less than an hour later and decided that it would postpone the wrestling of the 145-, 152-, and 170-pound weight classes until sometime after March 8.
WVSSAC executive director Bernie Dolan told WTRF7 in Wheeling, WV, "There was not going to be a good answer because we were going to exclude kids who did nothing wrong. And we weren't sure if they were infected or not, we probably won't know for another three or four days, and so they were going to be excluded under the assumption that they might be infected. So we just felt like this was the best solution to a bad problem"
However, Dolan's statement directly contradicts what the WVSSAC told the coaches on Wednesday. As mentioned above, the WVSSAC clearly told coaches as long as wrestlers had no lesions they were not contagious and would be allowed to wrestle.
Because of the confusion, the first round of the tournament began over an hour later than originally scheduled. It has yet to be determined exactly when or where the state tournament for three postponed weight classes will take place.
Hopefully this haphazardly handled saga will be a learning experience for the WVSSAC moving forward. Competing in the state championships is a lifelong goal for many wrestlers and shouldn't be jeopardized by impulsive decision-making.