2017 WCWA Wrestling Championships
Augello, Mensah, Miracle Headline WCWA Field
Augello, Mensah, Miracle Headline WCWA Field
The biggest stars heading to Oklahoma City for the 2017 WCWA national championship
Feb 7, 2017
by Wrestling Nomad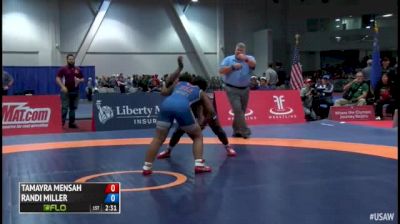 Live This Week On Flo:
2/10 - North Dakota St at Air Force
|
2/10 - Buffalo at Northern Iowa
|
2/10 - Cleveland St at Edinboro
|
2/10 - Wyoming at Oklahoma St
|
2/10-2/11 WCWA
|
2/10-2/12 Wildwood National Duals
|
2/12 - North Dakota St at Wyoming
If you can't wait until NCAAs next month to get your national championship wrestling fix, why not tune in to WCWAs this weekend? Two Olympic Trials winners, and six national champs will all converge in Oklahoma City this Friday and Saturday.
To get you prepped for the event, let's introduce you to the biggest hammers that will be in attendance. First whistle is set for 10am central on Friday, the 10th and every mat can be seen
LIVE on Flo
.
Haley Augello, 116 King University
Our 48kg Olympian is trying to win her third WCWA title after redshirting last year in preparation for Rio. Now a junior, Augello won her first title in 2014, the same year Victoria Anthony and Helen Maroulis captured their fourth titles. She is one of the most fundamentally sound wrestlers in the country, with a hard right leg lead, staying low in her stance and hands near the mat.
She has slowly worked her way back into the lineup after her Olympic redshirt, and is only 4-1 on the year. That loss came up a couple weights at National Duals to the potential 130-pound champ in Megan Black. It was the first loss of Augello's career, among 40 wins, 32 of which have come on techs. Expect more of those techs this weekend as Augello hopes to lead King to a four-peat.
Tamyra Mensah, 155 Wayland Baptist
Mensah has not competed in either of the past two WCWA tournaments, but was a champ in 2014. Since then, she's won the US Open, Olympic Trials and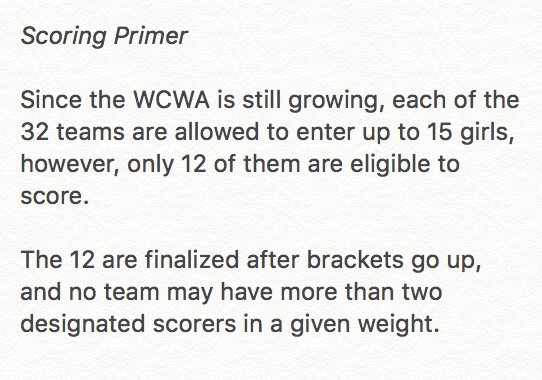 the Yarygin. Mensah continues to pick up wins over world medalists, so this should be atuneup for her a couple months prior to trying to make the world team at 69kg in April.
The Texas native uses her long arms to create leverage and can finish a single to either side. Against international opponents, she typically wins matches on her feet, but against college competition she should be able to show off her par terre game more.
Kayla Miracle, 136 Campbellsville University
Like Augello, Miracle is on pace to win four WCWA titles. Miracle's title as a freshman came in St. Louis at 136, a few weights after Emily Webster became the third four-time champ. She has had a great deal of success on the international scene, winning two junior world medals and two junior Pan Am medals. After winning 58kg at the
Open in December
and taking fourth at the Olympic Team Trials, Miracle is well on her way to becoming one of the faces of women's wrestling in America. Watch out for her re-direct single and fireman's carry as she steamrolls her way to a title.
Miracle's 2016 WCWA final
Marina Doi, 101 King University
Doi is the defending champ at 101 and has not been scored upon since November 14, 2015 at the Missouri Valley Open when she beat Sarah Allen 2-2 on criteria and lost to teammate Ashley Iliff 1-1 on criteria. Doi's second place finish her freshman year was to four-time champ Webster, and since then is 42-1 in WCWA competition. With five age-level world medals to her name, Doi has separating herself from the field at 101 heading into her third championship tournament.
Mallory Velte, 143 Simon Fraser
Of all the favorites at WCWAs, Velte may be the latest bloomer. She is one of the strongest wrestlers in any bracket she enters, and of course has the most recognizable hair. After wrestling for bronze at junior worlds in 2015, she made the world team by getting third at OTT at 63kg and was in the 60kg world team trials finals in November.
Velte gets a tech in Vegas
Forrest Molinari, 170 King University
Bumping up from her title last year at 155, Molinari is crucial to King's bid for a fourth straight title. A team almost devoid of heavyweights will need every point they can get this weekend.
Popular Right Now
FRL 177: Gilman/Lizak Meltdown, Bo Jordan's Ranking & D1 Roster Management
5 Impressive Facts About The 2017 Cowboys
The Most Dramatic Meltdowns In Wrestling
Wyoming Seminary To Add Female Wrestling Team
The Goofiest Team In NCAA Wrestling?