The Most Dramatic Meltdowns In Wrestling
The Most Dramatic Meltdowns In Wrestling
Take a look back at the 11 biggest meltdowns and comebacks in wrestling history.
Feb 6, 2017
by Flo Wrestling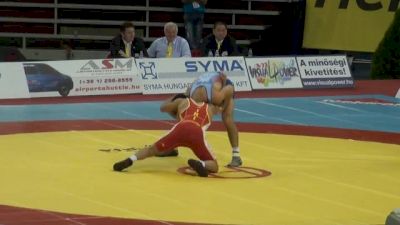 The Atlanta Falcons' second-half collapse against the New England Patriots in the Super Bowl on Sunday got us thinking: What are some of the biggest meltdowns in wrestling history? These are times when the match looks well at hand and the trailing wrestler seems to be hopeless, only to see a sudden reversal of fortune.
A common thread you'll see throughout many of these matches is that the wrestler with the early lead is not only winning but also completely controlling the match. Whether it's takedowns and riding time in folkstyle or a takedown and turn clinic in freestyle, it's hard to see a path to victory for the losing wrestler. But then the tide shifts and and the previously dominant wrestler can't salvage any momentum. A combination of psychological, mental and technical factors all come into play for a true meltdown to occur.
Check out our top 11 and chime in with your favorites, including matches we may have missed.
11) Jimmy Kennedy, Illinois vs. Montell Marion, Iowa - 2011 NCAA Quarters

Kennedy and Marion's quarterfinal was all Kennedy early on at the 2011 NCAA Championships. What you have to know going into this match was Kennedy's reputation that year. He was extremely difficult to score on. Multiple takedowns against Kennedy at that point in his career were a virtually unheard of occurance. When he got up by multiple scores early, it looked over. Marion's late TD and stall point on the edge was a tightrope walk. After the two, Marion didn't even realize he won the match outright and was ready for OT.
10) Doug Schwab, Iowa vs. Eric Guerrero, Oklahoma State, 1998

Guerrero, the reigning NCAA champion, was up 6-0 and had all kinds of riding time in built up in the second. A few injury times and some quality short offense from Schwab helped him get the 9-8 win in regulation.
9) Eric Grajales, Michigan vs. Andrew Alton, Penn State

Andrew Alton was up 8-2 early and 13-9 with 52 seconds to go. He couldn't withstand Grajales' pace.
8) Jordan Burroughs vs. David Taylor, 2014 US Open Finals

In the midst of Jordan Burroughs' incredible run, he faced a huge test in David Taylor. DT was a month removed from his NCAA career coming to an end. Burroughs had struggled to get to his offense throughout this match.
7) Reece Humphrey, USA vs. Masoud Esmailpoor, Iran, 2013 World Quarterfinals

Humphrey was a few moments away from the World Cup semifinals and a guaranteed spot in a medal match. Iranians do what they do, and the pressure proved to be too much for Humphrey.
6) Jay Borschel, Iowa vs. Chris Heinrich, Virginia, 2010 NCAA Semifinals
People may forget this one, but it was absolutely nuts. Heinrich came out and got an early TD, an NF, and then another TD. He was up 8-2 and 9-3, respectively, and looked great. Borschel made this unique comeback happen by earning riding time along the way to avoid overtime.
5) Thomas Gilman, Iowa vs. Ethan Lizak, Minnesota, 2017

Thomas Gilman looked completely out of sorts and out of answers for 4 1/2 minutes in Sunday's dual at Minnesota. What was clear in the beginning of the third period was that Ethan Lizak had absolutely nothing left. This may seem high and we can perhaps chalk this up to a recency bias, but what is undeniable is how fast the wheels fell of for Lizak.
Watch Match Here
4) Rob Rohn, Lehigh vs. Josh Lambrecht, Oklahoma, 2002 NCAA Finals

This one could be higher, but this wasn't a case of Lambrecht running out of gas, Rohn hit an iconic Hail Mary cement mixer for the 2002 NCAA title.
3) Taha Akgul, Turkey vs. Geno Petriashvili, Georgia, 2016 Europeans

In one of the most rapid meltdowns of all time. Akgul scored a TD to go up 8-2 toward the end of the match. The last minute was an unthinkable collapse, with Akgul struggling to even stand up. It would be one thing if Petriashvili got some turns, but to get 3 TDs that quickly is unprecedented. Also, the guy who jumped over the fence stole the show somehow.
2) Jayson Ness vs. Aaron Pico, 2016 Olympic Trials

This bout featured literally the most lopsided deficit that is possible in freestyle wrestling. Ness was up 9-0 quickly, but the rest was all Pico.
1) Mike Zadick, Iowa vs. Jared Frayer, Oklahoma, 2002 National Duals

Frayer was up 11-0. When the dust all settled, 40 points were on the board and Zadick got his hand raised.