Live This Week On Flo:
Feb 1-3: Dave Schultz
|
Feb. 3: Oklahoma State at Edinboro
|
Feb. 3: Oklahoma at South Dakota State
|
Feb. 4: Air Force at Wyoming
|
Feb. 4: Utah Valley at SDSU
|
Feb. 4: Delbarton at Wyoming Seminary
|
Feb. 4: Edinboro Open
Anthony Ferraro is a pretty exceptional young man. Anthony was born legally blind, a fact that hasn't gotten in the way of "Ant" doing everything that he has wanted to do in his life like play guitar, skateboard, and wrestle. When film producer Chris Suchorsky contacted me about being in a documentary about Anthony's wrestling career, the first thing that came to my mind was "Finally, someone is going to tell his story." After Ferraro's senior year at St. John Vianney High School in Holmdel, New Jersey, the editing of the movie got put on hold, and, to be quite honest, I completely forgot about it. Then, in August of 2015, a call came in with the gravest of news, and the direction of the movie would be changed immediately.
Suchorsky began doing interviews and filming "A Shot In The Dark" in the summer of 2012 when then-St. John Vianney wrestling coach Pat Smith reached out to him on Facebook and showed him a sizzle reel that was made by Anthony's older brother, Oliver. Oliver had filmed and edited the two-minute-long teaser in the hopes of piquing the interest of someone to help tell his brother's story. The teaser made it onto FloWrestling back in 2011.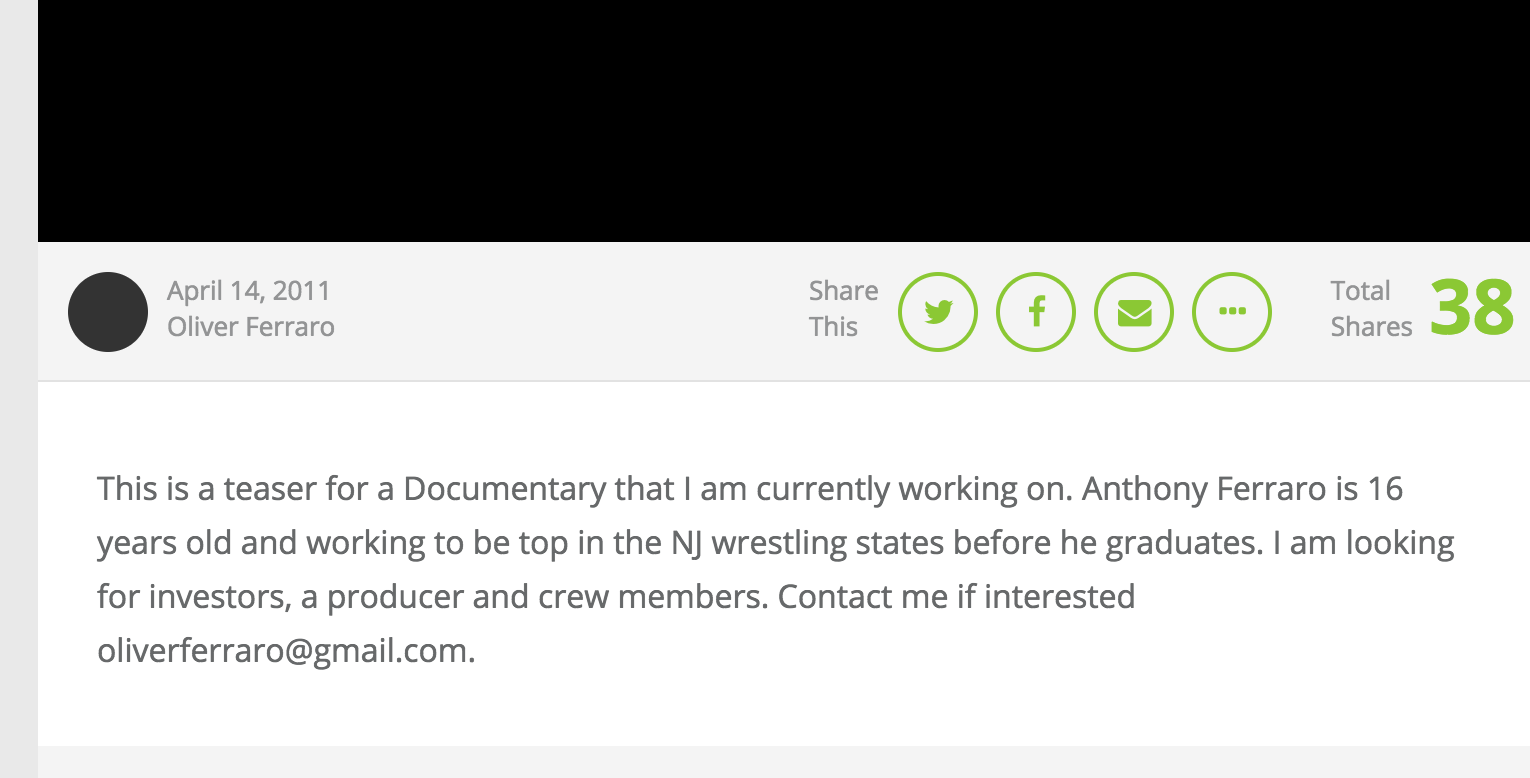 When Chris and Oliver met, they hit it off and decided that they were going to do a feature-length documentary following Anthony on his quest to win a New Jersey state title his senior year of high school. Filming concluded in 2013 and the film would lay dormant until Chris reached out to Oliver in the summer of 2015 with hopes of finishing the project. Sadly, Oliver Ferraro died just a few days later and would never get a chance to see this movie come to fruition.
At Oliver's funeral, Suchorsky, a former wrestler himself, vowed to Oliver's mother, Sue, that he would finish the film and share Oliver's vision. "A Shot In The Dark" became Suchorsky's obsession once again, balancing the editing of the film with his normal production jobs and family life. Once the editing was finished, the movie went into post-production where things like color correction, sound mixing, and right acquisitions come into play. These things are not cheap. Suchorsky took to the crowdsource funding site Kickstarter to ask for help from the wrestling community to finish the movie. As always, the wrestling community showed up in support of it's own -- over $40,000 was raised in just four days. Now, the question is can the original goal of $55,000 be hit in the next 24 days of the Kickstarter campaign?
Blind wrestler doc reaches goal of $40k in 4 days. https://t.co/yI0uiCTdZU @IndieWire @Variety @THR @FilmThreat @Tribeca @prattprattpratt

— A SHOT IN THE DARK (@asitdfilm) January 30, 2017
Being around people like Anthony Ferraro and his family over the years has had a great impact on my life. I know that almost every successful person can relate to Anthony's feelings of outcast and isolation. Seeing his story assembled in a movie will motivate you, I guarantee it.