Team USA Sending 26 Athletes To Paris International
Team USA Sending 26 Athletes To Paris International
USA Wrestling is sending 26 athletes to the Paris International Tournament; Kyle Dake could wrestle Alex Dieringer there.
Jan 23, 2017
by Wrestling Nomad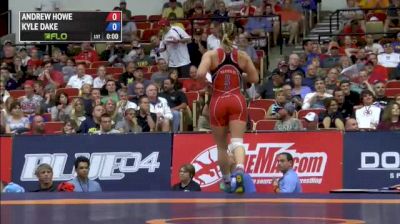 Live On Flo This Week:
1/26 Clovis vs Buchanan
|
1/27 Lock Haven at Edinboro
|
1/27-28 NCWA National Duals
|
1/28 Bishop McCort vs Wyoming Seminary
USA Wrestling will be sending a large contingent to the fourth Paris International Tournament (formerly the Grand Prix of Paris) this weekend. A total of 26 athletes, 18 from men's freestyle and eight Greco-Roman, will be competing in Paris from Sunday, Jan. 29, to Tuesday, Jan. 31.
This is the largest delegation the U.S. has ever sent to this event, bigger than the 21-athlete group sent the first year it was held. Past champions for Team USA at the Paris International include Nick Marable and Tony Ramos.
Nearly every member of Titan Mercury's team from their title run at the
World Freestyle Clubs Cup
will be in attendance as well as a number of athletes who competed at the
Bill Farrell Memorial
in November. Every member of the Greco squad is from the Marines, and they will be staying after the tournament to train in France.
A total of 16 NCAA title winners are represented on the freestyle roster, seven of whom could potentially meet in one bracket. Kyle Dake, who is making his
return to 74kg
, could face off with Bill Farrell champion Alex Dieringer.
There is a plus-2kg allowance for each weight. We will post brackets if they become publicly available before the tournament starts.
Alex Dieringer beats 2014 world bronze medalist Bekzod Abdurakhmonov at Bill Farrell International:
Men's freestyle roster
57 kg/125.5 lbs: Nico Megaludis, State College, PA (Nittany Lion WC)
61 kg/134 lbs: Tony Ramos, Chapel Hill, NC (Sunkist Kids/Tarheel RTC)
61 kg/134 lbs: Jayson Ness, Minneapolis, MN (Minnesota Storm)
65 kg/143 lbs: BJ Futrell, Philadelphia, PA (Titan Mercury WC/Pennsylvania RTC)
65 kg/143 lbs: Nick Dardanes, Iowa City, Iowa (Titan Mercury WC/Hawkeye WC)
65 kg/143 lbs: Jimmy Kennedy, Ann Arbor, MI (New York AC/Michigan RTC)
70 kg/154 lbs: Chase Pami, Philadelphia, PA (Sunkist Kids/Pennsylvania RTC)
70 kg/154 lbs: Jason Welch, Evanston, IL (Titan Mercury WC)
74 kg/163 lbs: Kyle Dake, Ithaca, NY (Titan Mercury WC/Finger Lakes RTC)
74 kg/163 lbs: Dan Valimont, Philadelphia, PA (New York AC)
74 kg/163 lbs: Matt Brown, State College, PA (Army WCAP)
74 kg/163 lbs: Alex Dieringer, Stillwater, OK (Titan Mercury WC)
86 kg/189 lbs: David Taylor, State College, PA (Nittany Lion WC)
86 kg/189 lbs: Richard Perry, Philadelphia, PA (New York AC)
97 kg/215 lbs: Nathan Burak, Iowa City, Iowa (Hawkeye WC)
125 kg/275 lbs: Zach Rey, Bethlehem, PA (Lehigh Valley WC/ Hawkeye WC)
125 kg/275 lbs: Bobby Telford, Iowa City, Iowa (Titan Mercury WC)
125 kg/275 lbs: Tony Nelson, Minneapolis, MN (Minnesota Storm)
Coach: Brandon Slay, Philadelphia, PA
Coach: Jeff Buxton, Blairstown, NJ
Coach: Kenny Monday, Chapel Hill, NC
Referee: Rob Williamson, Knoxville, Iowa
Medical: Joseph "Jody" Moore, Waco, Texas
Greco-Roman roster
59 kg/130 lbs: Xavier Johnson, Camp LeJeune, NC (Marines)
59 kg/130 lbs: Colton Rasche, Camp LeJeune, NC (Marines)
66 kg/145 lbs: Raymond Bunker, Camp LeJeune, NC (Marines)
71 kg/156 lbs: Joshua Russo, Camp LeJeune, NC (Marines)
75 kg/165 lbs: Jayshon Wilson, Camp LeJeune, NC (Marines)
80 kg/176 lbs: Michael Brant, Camp LeJeune, NC (Marine)
98 kg/215.5 lbs: Daniel Miller, Camp LeJeune, NC (Marines)
130 kg/286 lbs: Eric Fader, Jacksonville, NC (Marines)
Coach: Jason Loukides, Jacksonville, NC
4th Paris International Tournament schedule
Saturday, January 28
Men's freestyle (57 kg, 65 kg, 70 kg, 97 kg), Greco-Roman (71 kg, 75 kg, 85 kg, 98 kg), Women's freestyle (48 kg, 53 kg, 60 kg, 69 kg)

Sunday, January 29
Men's freestyle (61 kg, 74 kg, 86 kg, 125 kg), Greco-Roman (59 kg, 66 kg, 80 kg, 130 kg), Women's freestyle (55 kg, 58 kg, 63 kg, 75 kg)