2017 Iowa at Oklahoma State
Three Things We Learned From OK State vs. Iowa
Three Things We Learned From OK State vs. Iowa
The three big takeaways from No. 1 Oklahoma State's wrestling dual meet against the third-ranked Iowa Hawkeyes on Sunday in Stillwater, OK.
Jan 16, 2017
by Christian Pyles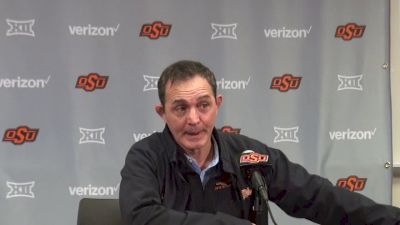 NCAA wrestling's most historic rivalry delivered in every sense of the word. Sunday's dual match between top-ranked Oklahoma State and No. 3 Iowa in Stillwater, OK, had upsets, dominant performances and provided some key information as we look to assess the season moving forward.
Here's a quick refresher on the dual results and matches from OSU's 24-11 win in case you want to watch 'em again.
125:
Thomas Gilman (Iowa) over Nicholas Piccininni (Oklahoma State) (MD 12-4)
133:
Kaid Brock (Oklahoma State) over Cory Clark (Iowa) (Dec 7-6)
141:
Dean Heil (Oklahoma State) over Christopher Carton (Iowa) (Dec 8-5)
149:
Anthony Collica (Oklahoma State) over Brandon Sorensen (Iowa) (TB-2 4-3)
157:
Michael Kemerer (Iowa) over Joseph Smith (Oklahoma State) (Dec 4-3)
165:
Chandler Rogers (Oklahoma State) over Skyler St John (Iowa) (Fall 2:18)
174:
Kyle Crutchmer (Oklahoma State) over Alex Meyer (Iowa) (Dec 5-2)
184:
Samuel Brooks (Iowa) over Nolan Boyd (Oklahoma State) (MD 13-3)
197:
Preston Weigel (Oklahoma State) over Cash Wilcke (Iowa) (Dec 6-0)
285:
Austin Schafer (Oklahoma State) over Samuel Stoll (Iowa) (Dec 5-4)
Here were my three big takeaways from Sunday's dual.
1) Oklahoma State Has Big Scorers Outside Of Dean Heil

Everyone knew coming in that Dean Heil is the favorite to win the title at 141 and all the points that go with it. Being 10 strong like Oklahoma State is helpful, but you need multiple guys who can do more than just make a deep run and place seventh. When you're against Penn State, Ohio State and Iowa, you have to punch multiple wrestlers through to Saturday night.
Oklahoma State has at least three guys who have cemented themselves as potential finalists: Kaid Brock, Anthony Collica and Heil. Seeing Collica find a way to get by a former thorn in his side in Iowa's Brandon Sorensen is very telling. We knew Collica jumped levels; now he's proven it against someone he hadn't beaten previously.
Brock had to grind out a tough one against the No. 1-ranked wrestler in the country. Whether it came down to one second of riding time is frankly irrelevant. Brock notched a win few can boast after his one-point victory against No. 1 Cory Clark. Brock doesn't have to rely on just being the best athlete or the most skilled, he revealed the guts and savvy required to be an NCAA champion on Sunday. He has the goods to win it all in March.
2) Michael Kemerer Is A Worthy #2

After Midlands Kemerer was ranked No. 2 at 157, but it felt a little like he was simply the best guy left and not necessarily the second best guy. He
cemented himself against Joe Smith
. It wasn't the typical Kemerer shootout-type of win. This bout showed that Kemerer doesn't need to go 9-8 with someone elite to get his hand raised. Another takeaway was that Smith wasn't able to get a sniff of Kemerer's legs, which reveals a lot about the Iowa freshman's defense outside of his counter-scrambling ability. Next week he'll have a huge test against his former Young Guns teammate in No. 1 Jason Nolf.
3) Austin Schafer's Size Isn't A Detriment

Some guys can handle being undersized against Iowa's Sam Stoll. Others can't. Though OSU's Austin Schafer tipped the scales at just 230 pounds compared to Stoll's 276, Schafer was able to use his leg attacks very effectively. He didn't convert 100 percent of his leg attacks either. Typically you'd see Stoll punish a failed shot with a simple go-behind, which he did to Mike Kroells a year ago. Schafer was able to recover from shooting under Stoll and hold on for stalemates. That's a tough task. Though he got pushed out and pushed around multiple times (to the tune of two stall points) I felt he actually avoided 4-5 other instances he could have gone out and managed to circle back in.