2017 Iowa at Oklahoma State
Iowa vs. Oklahoma State: By The Numbers
Iowa vs. Oklahoma State: By The Numbers
A historical look at the numbers in the Iowa vs. Oklahoma State rivalry.
Jan 11, 2017
by Wrestling Nomad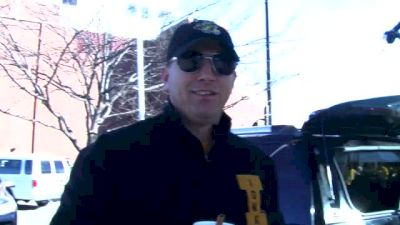 Live On Flo This Week: | 1/15:
Iowa at Oklahoma State
| 1/13
Blair at Wyoming Seminary
,
SDSU at Wyoming
,
| 1/13-14:
Eastern States
,
5 Counties
,
| 1/15:
SDSU at Air Force
,
Oregon State at Wyoming
Third-ranked Iowa travels to Stillwater, Oklahoma, this Sunday for another
high-profile matchup
with No. 1 Oklahoma State in the most storied rivalry in college wrestling. The teams have won a combined 57 national titles and had their 50th meeting ever last year.
The top-ranked Cowboys lead the all-time series 27-21-2, but the Hawkeyes have won the past three meetings. This weekend's dual starts at 2 PM Central and every second can be seen
LIVE on FloWrestling
.
Let's take a look at some of the stats that stick out as the Pokes and Hawkeyes clash in what promises to be
one of the best
matches of the year.
Tom Brands vs. John Smith
There have been 11 meetings between Iowa and Oklahoma State since Tom Brands took over in Iowa City more than 10 years ago. What is the Hawkeyes' record against the Cowboys and head coach John Smith since then? An even 5-5-1, though Brands' teams have outscored Smith's 192-170 in those 11 duals.
It will be the sixth time in the Brands era that Iowa has gone to Stillwater. The first time was a 21-11 Cowboys win in January 2007, less than a week after they met at the National Duals. Two years later, Iowa won 20-13 in Gallagher-Iba Arena on its way to a second straight NCAA title.
A tie in 2011 was followed up by an Oklahoma State win in 2013, when the Cowboys lost the first three matches but ended up on top 18-12. The last time the Hawkeyes found themselves traveling to wrestle the Cowboys, they handed Smith one of his worst losses as a coach, overwhelming the Pokes 30-7.
Nolan Boyd vs. Sammy Brooks
Streaks and Blowouts
The longest win streak in this rivalary for either of these teams was Oklahoma State's nine in a row, starting in December 2000 and ending with the 2009 dual mentioned above. The Cowboys had won three in a row before that to make it 12 out of 13 in the longest run of dominance in this series.
Unsurprisingly, the longest win streak for the Hawkeyes came with Dan Gable at the helm. Between 1977 and 1982, Iowa won six straight by a combined 87 points during the first part of its NCAA-record nine straight championships.
On the Hawkeyes side, their biggest win in GIA was the above-mentioned 30-7 win in January 2015, and their biggest win overall against OSU was 40-6 in February 1985. Oklahoma State's the biggest win over Iowa came in 1961, a 25-2 win in Iowa City, while the largest win at home was 24-8 in February 1984.
Brandon Sorensen vs. Anthony Collica
John Smith Era
The start of Smith's reign actually coincided with the last time these two teams did not meet at all during a season. Smith did not wrestle Iowa in either of his first two years at the helm and then won his first two battles over Dan Gable's Hawkeyes in January and February of 1994 -- the season Smith won the first of his five national titles as head coach.
Smith oversaw the longest winning streak in the rivalry's history, accounting for more than half of his total wins over the Hawkeyes. The two-time Olympic gold medalist is 16-10-1 during his tenure, the most wins of any Cowboys coach over Iowa. In fact, Smith has more wins than any coach in this rivalry -- yes even more than Gable, who was 15-8 against Oklahoma State.
Sunday, January 15
These two teams did not meet at all in the calendar year of 2016, because last season's record-setting "Grapple on the Gridiron" was in November. We'll get to see phenomenal matches like
No. 1 Cory Clark against No. 6 Kaid Brock
, and second-ranked Michael Kemer taking on No. 5 Joseph Smith. Every Oklahoma State-Iowa dual has a story to it, and while we went over some of the numbers here, this rivalry is far more than just a footnote in a media guide or history book.
The most titles of any schools, No. 1 versus No. 2, Smith vs. Brands. This Sunday should be one to remember in Stillwater.
Popular Right Now
All Time Stunner: Ramos Beats #1 Oliver
FRL 169: Edge Rules, PSU's Weekend And Redshirt Report
Robison Was Close, But Willits Can Scramble
Clark vs Brock Epitomizes Iowa-OSU Rivalry
Updated Division 1 Rankings
What We've Learned So Far In College Wrestling