Hayes Out For Season, Pletcher's Redshirt Pulled
Hayes Out For Season, Pletcher's Redshirt Pulled
Ke-Shawn Hayes will miss the rest of the season with an injury, so Ohio State has pulled Luke Pletcher's redshirt
Dec 5, 2016
by Wrestling Nomad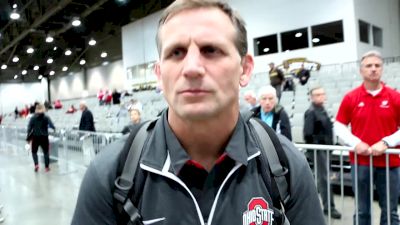 Ohio State redshirt freshman Ke-Shawn Hayes has been ruled out for the remainder of the season with an injury. In his place, the Buckeyes have pulled the redshirt of true freshman Luke Pletcher, who will start at 141 in Thursday's dual against Missouri.
NEWS: @LukePletcher to makes his #Buckeye starting debut at 141 lbs. Thursday vs. Missouri. #GoBuckshttps://t.co/S4xjGHvdmF

— Ohio State Wrestling (@wrestlingbucks) December 5, 2016
Hayes was No. 13 in the
ASICS FloRankings
and did not compete for Ohio St at CKLV. He'll finish his year 5-1 overall.

Ke-Shawn Hayes' final match of the 2016-17 season
Luke Pletcher is 8-0 so far this season, but all matches have been at 133 pounds. He was co-champ of the Eastern Michigan Open with Brendan Fitzgerald and won the Michigan State Open. Check out his finals win below.