Top 9 Upsets Of NCAA Opening Weekend
Top 9 Upsets Of NCAA Opening Weekend
FloWrestling recaps the top-nine NCAA wrestling upsets of the opening weekend, which witnessed 30 upsets across the 20 weight classes.
Nov 7, 2016
by Christian Pyles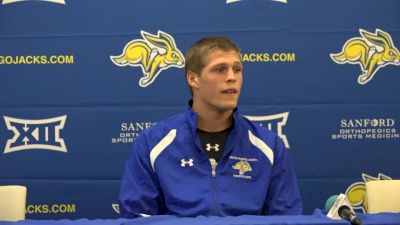 On paper, NCAA wrestling's opening weekend looked to be busy, but we didn't anticipate major upheaval. Well, we were wrong. All told there were 30 upsets on the week across the 20 weight classes. I'm defining an upset, in this case, as a loss to someone ranked behind you. So if a No. 3 loses to No. 4 -- upset. Sixteen top-10 wrestlers lost this weekend. Crazy!
Here are the top upsets of the opening weekend:
9) Jacob Kasper (Duke) over #15 Billy Miller (Edinboro)

Kasper had been a 184 in the past, but he redshirted this past year. He got bigger and better in the offseason. Duke has a way of taking under-the-radar guys and making them nationally relevant. Looks like Kasper is the next Blue Devil on the list.


8) #16 Seldon Wright (Old Dominion) over #9 Austin Matthews (Edinboro)

Wright had some flashes a year ago. Now, he has the signature win Monarchs fans have been waiting for.
7) #19 Russell Parsons (Army) over #9 BJ Clagon (Rider)

Parsons is often a tough out, but a win over Clagon is especially impressive. Clagon is attempting to make his mark on a new weight class after competing at 149 the past two seasons.
6) Ian Baker (Princeton) over #11 Jack Dechow (Old Dominion)

This was a pretty shocking loss for Dechow. Baker is filthy with legs, and it showed. A great power half secured the fall for Baker.


5) Caden McWhirter (Northern Illinois) over #10 Jake Ryan (Ohio State)

McWhirter stunned a very solid Jake Ryan. While Ryan is never flashy, he is rarely upset. This leads me to believe McWhirters' win may not be the last relevant one he notches.
4) Brendan Fitzgerald (Ohio State) over #8 Stevan Micic (Michigan)

Apparently Fitzgerald is quite the wildman. He pinned Micic, who many expect to place this year for the Wolverines. Fitzgerald is only a true freshman.
3) David Kocer (SDSU) over #7 Lelund Weatherspoon (Iowa State)

Kocer wrestled Weatherspoon tough before, but he never figured out a way to get his hand raised. Kocer turned the tide this week with a buzzer-beating takedown.


2) Nathan Kraisser (Campbell) over #6 Barlow McGhee (Missouri)

Everyone knows Kraisser is tough, but consistency has been difficult. Back down at 125 for the first time in a few years, nobody knew exactly what we'd get. It was a great weekend for Campbell as a team, and Kraisser downing McGhee is likely the highlight.
1) Logan Everett (Army) over #6 Joey Ward (North Carolina)

It was a one-move match. Instead of giving up the takedown, Ward dived under and gave up four nearfall to go down 6-0 instead of 2-0. Everett, who has always been tough, had little issue closing out the bout.
Other Upsets:

125: #10 Ethan Lizak over #9 Tim Lambert
125: #20 Austin Assad over #19 Brent Fleetwood
133: Jonathan Ryan over #12 Cam Kelly
133: Tyler Goodwin over #16 Jamal Morris
133: Mario Guillen over #17 Austin Eicher
133: Brendan Fitzgerald over #18 Corey Keener
133: Ryan Pomrinca over #19 Zach Davis
141: #18 Brock Zacherl over #15 Ronni Perry
141: Trevor Feagans over #20 Jake Koethe
149: #4 Anthony Collica over #3 Lavion Mayes
157: #5 Max Rohskopf over #4 Brian Murphy
157: #11 Tyler Berger over #9 Jake Short
165: Te'Shan Campbell over #17 Austin Reese
165: Brandon Kingsley over #18 Dustin Williams
174: #10 Zac Brunson over #6 Ethan Ramos
174: Connor Bass over #17 Jonathan Schleifer
197: #9 Nathan Rotert over #5 Aaron Studebaker
197: Josh Marchok over #19 JT Goodwin
197: Rocco Caywood over #8 Scottie Boykin
285: #11 Tanner Hall over #6 Denzel Dejournette
285: #11 Tanner Hall over #5 Michael Kroells
Weekend Rundown:

Valencia Brothers Dominate In Tournament Debut

Doyle Trout Returns To The Mat After Losing Leg

Final Daktronics Results
Clarion Open Matches & Final Brackets On FloArena

Southeast Open Matches & Final Brackets On FloArena

Wyoming Cowboy Ope Matches & Final Brackets On FloArena