Huge Wins, Big Upsets In D1 Kickoff Weekend
Huge Wins, Big Upsets In D1 Kickoff Weekend
Upsets of nationally ranked wrestlers and early statement wins by freshmen abounded in NCAA Division I wrestling's opening weekend.
Nov 5, 2016
by Christian Pyles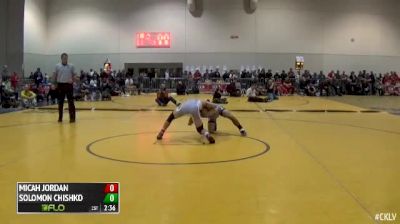 Live On Flo Sunday, Nov. 6:
Southeast Open
,
Clarion Open
,
Daktronics Open
With the 2016-17 Division I season officially underway, the upset results are starting to roll in, and new stars are making their presence known. In addition to a nice number of upsets, some high-caliber freshmen made early statements in the NCAA field.
At 133 pounds, Ohio State's Brandon Fitzgerald notched not one but two big-time upsets. The Buckeyes true freshman pinned eighth-ranked Stevan Micic of Michigan and No. 18 Corey Keener of CMU.
NCAA ASICS FloRankings
Also taking losses at 133 was No. 17 Austin Eicher, a Michigan State transfer, who fell to Ohio's Mario Guillen and Ashland's Mike Labry.
Iowa State true freshman Kanen Storr took out Northern Iowa's 20th-ranked Jake Koethe. Storr later went on to beat UNI's Jake Hodges by the same score.
Northern Iowa's Josh Alber, who is ranked 16th, looked strong before getting pinned by Grand View's Jacob Colon.
Ohio State's 10th-ranked Jake Ryan took a loss to Caden McWhirter of Northern Illinois and then forfeited out of the tournament. McWhirter also beat a tough Alex Griffin from Purdue before falling to Collin Heffernan of CMU.
Perhaps the biggest upset of the weekend was when seventh-ranked All-American Lelund Weatherspoon of Iowa State fell late against South Dakota State's David Kocer. The bout was tied late before Kocer scored the go-ahead takedown late in front of an incredible SDSU crowd.
While it was no upset, No. 6 Micah Jordan of Ohio State put a lopsided 15-7 beating on returning All-American Justin Oliver of Central Michigan.
UNI's 20th-ranked JJ Everhard fell to Jake McKiernan and Ceron Francisco, as well.
In case you missed it, the weekend's most inspiring moment also went down on Saturday. Doyle Trout, a four-time Nebraska state champion who lost his leg in a car accident, made his return to the mat Saturday and notched a 6-0 victory!
On Sunday, it's a safe assumption that more upsets will be coming at the Southeast Open, Daktronics (featuring Arizona State, Minnesota, SDSU, Nebraska, and more!) and Clarion Open.
Watch all three tournaments LIVE on FloWrestling
!
Full
DI box scores from the weekend can be found here
!