2016 Super 32
Five-Year Retrospective On The 2011 Super 32
Five-Year Retrospective On The 2011 Super 32
Looking back is always fun, so let's examine the 2011 version of Super 32 and see how everything shakes out five years later.
Oct 7, 2016
by Wrestling Nomad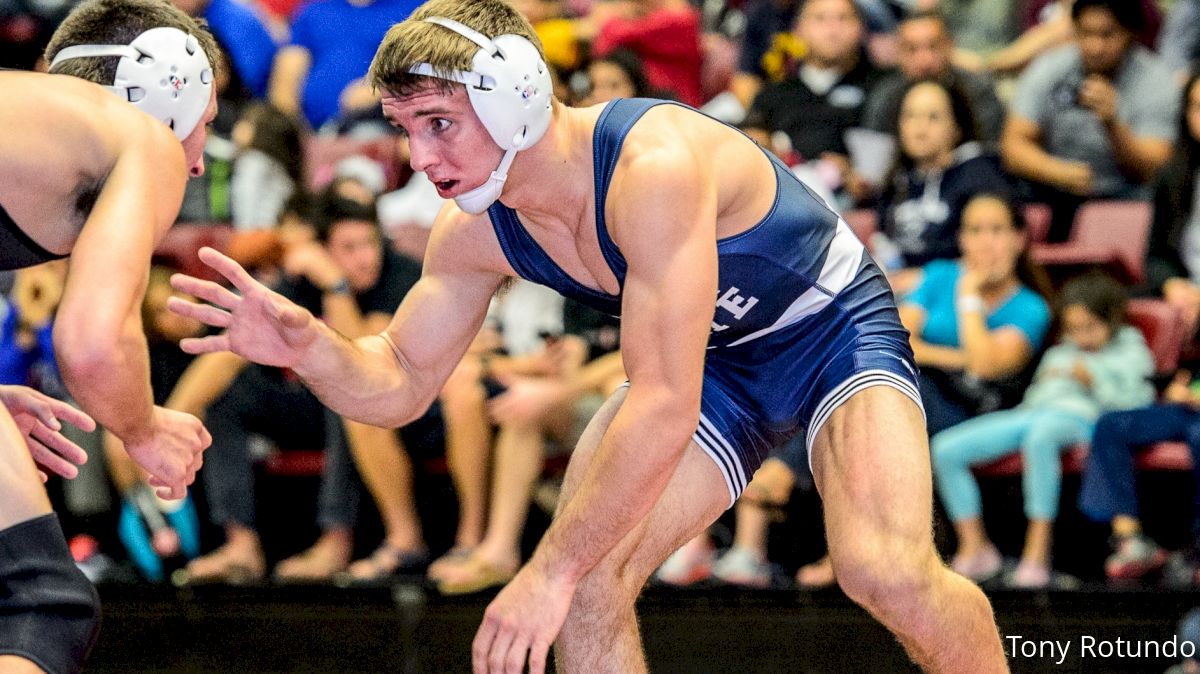 It's that time of year again.
Super 32
is coming on fast. The most prestigious folkstyle tournament in the country starts October 15 at 7 AM CT, and every match will be
LIVE on FloWrestling
.
Looking back is always fun, especially at a tournament the caliber of Super 32. You can insert any cliche you want about its toughness, and even five years ago, you'd be right. So let's examine the 2011 version of Super 32 and see how everything shakes out five years later.
There are two guys who competed that year who have gone on to win NCAA titles at the Division I level, and both have the possibility to win another two. Nathan Tomasello was the first 2011 alum to win, and then Zain Retherford joined him last year. Tim Dudley also made the finals in 2016, making him unquestionably the most accomplished of this year's belt winners.
106
1st: MICHAEL KEMERER PA 9
2nd: MATTHEW KOLODZIK OH 9
3rd: RYAN MILLHOF GA 10
4th: LUKE PLETCHER PA 8
5th: SEAN RUSSELL GA 10
6th: COY OZIAS VA 10
7th: BRENT FLEETWOOD DE 10
8th: JEREMY SCHWARTZ PA 11
So you mean to tell me the finals was between the No. 7 at 157 and No. 11 at 141 in our current rankings? Even before their first official high school match, we had a pretty good feeling Matthew Kolodzik and Michael Kemerer were going to be special. Then you had Ryan Millhof, an All-American last year, who teched 2015 AA Kevin Jack in the second round. We also saw NCAA qualifiers Sean Russell and Brent Fleetwood. In this weight as well were DI guys in Luke Pletcher, Coy Ozias, AC Headlee, and Devin Brown. One of the most fun things to see was Nick Lee, who was in 7TH GRADE at the time. This group might end up with double-digit AA numbers in the next few years.
Kemerer vs. Kolodzik
113
1st: JARRED BROOKS IN 12
2nd: NATHAN TOMASELLO OH 11
3rd: J.R. WERT VA 11
4th: CASSIDY OSHIRO HI 12
5th: BILLY RAPPO PA 12
6th: SAM KRIVUS PA 9
7th: ZAC HALL MI 10
8th: JAMES FLINT FL 10
DNP
Darian Cruz
Jared Prince
Dom Forys
Dalton Macri
There were tons of Pennsylvania state champs in this field. But the obvious standout from this weight is Nathan Tomasello. Back then though, Brooks vs. NaTo was a real thing, and Brooks came out on top in this one. Consider that Darian Cruz didn't place, and he starts the year eighth at 125, in position to be an All-American again. Dom Forys is 10th at 133, and Dalton Macri is ranked 15th at 125. Safe to see these guys grew into their college weights.
120 Lbs:
1st: Ryan Diehl WV
2nd: George DiCamillo OH
3rd: Andrew Atkinson VA
4th: Jacob Goodwin TX
5th: Eric Montoya NM
6th: Bryce Killian PA
7th: Godwin Nyama PA
8th: Jared Browning FL
DNP
Cam Harrell
Josh Terao
Kent Lane
Logan Massa
Anthony Tutolo
Brock Ervin
Ryan Diehl missed weight by one pound, then bumped up to beat George DiCamillo, who at the time was the unquestioned No. 1 guy at this weight. Most college coaches would be happy to get a guy or two out of this group, as most ended up being DI starters. Right now, Logan Massas has the most potential to be the best college wrestler of anyone from this bracket.
126 Lbs:
1st: Anthony Ashnault NJ
2nd: Joey Dance VA
3rd: Zain Retherford PA
4th: Randy Cruz PA
5th: Rossi Bruno FL
6th: Zach Watson TN
7th: Jake Smith CA
8th: Maverick Passaro NY
DNP
Chandler Pyke
AJ Kowal
Josh Maruca
Sean Fausz
This weight, my word. How about all five of those top guys going on to be All-Americans? Retherford might be the most dominant guy in Division I right now. Dance enters this year No. 3 at 125. Cruz and Bruno both had solid careers. It's also interesting to see Pyke and Fausz, future N.C. State teammates, end up in the same bracket.
Dance vs. Ashnault
132 Lbs:
1st: Alex Cisneros CA
2nd: Devon Jackson IN
3rd: Joey Ward OH
4th: Jamel Hudson NY
5th: Laike Gardner PA
6th: Brandon Jeske VA
7th: Shyheim Brown PA
8th: Skylar Wood MO
DNP
Richie Lewis
Delvecchio
Kevin Norstrem
Another rock-solid lineup of future DI starters. Alex Ciseneros never panned up, but he was a superstar in high school. Jamel Hudson was a great contributor to Hofstra, while Joey Ward and Laike Gardner both start the year ranked. This is what Super 32 was and still is: a fantastic place to get a look at future DI-caliber guys.
138 Lbs:
1st: BEN WHITFORD MI 10
2nd: AUSTIN MATTHEWS PA 11
3rd: NATE SKONIECZNY OH 12
4th: COREY STASENKO NJ 11
5th: TONY DEANGELO NC 12
6th: MIKE HESS FL 12
7th: JOSHUA PENNELL MI 11
8th: NICHOLAS MASELLI NJ 12
DNP
Jake Ryan
Fox Baldwin
Chad Pyke
This one can be a difficult one to see again. A lot of these guys had massive college potential, and it would be hard to say a lot of them lived up to that. There is still time for Chad Pyke, Fox Baldwin and Jake Ryan to all place.
145 Lbs:
1st: JACOB CRAWFORD VA 12
2nd: ALEXANDER (LENNY) RICHARDSON NJ 12
3rd: JAKE FAUST OH 12
4th: MATTHEW CIMATO PA 12
5th: SOLOMON CHISHKO PA 10
6th: CONNOR MULLINS IN 12
7th: TY LYDIC PA 12
8th: ALEC MOORADIAN MI 0
DNP
Max Rohskopf
Zach Beitz
Solomon Chisko, Zach Beitz and Max Rohskopf are the big names from this bracket. Runner-up Alexander Richardson was an NCAA qualifier a number of times for Old Dominion, and the same goes for Jake Faust at Duke. Matthew Cimato starts off No. 10 for Drexel at 149 pounds, with Rohskopf ranked sixth at 157. Chisko is ranked seventh at 149, and it would not be surprising to see him finish higher than that at NCAAs.
152 Lbs:
1st: JOSH LLOPEZ MD 10
2nd: NICK KEE NC 11
3rd: JOHN KECK NY 12
4th: GARETT HAMMOND PA 11
5th: GARRETT PEPPELMAN PA 10
6th: KYLE BURNS OH 12
7th: JESSE GOODNIGHT IN 12
8th: PATRICK DAVIS DE 12
DNP
Casey Kent
Pete Renda
A classic example of guys peaking earlier than others. Casey Kent and Pete Renda were excellent for their teams last year, and Kent starts the year No. 3 at 174. Just like a guy we will see below, Kent DNP at a weight well below what he would wrestle in college. Penn developed him into one of the best 174s in the country.
160 Lbs:
1st: CHANCE MARSTELLER PA 10
2nd: CODY ALLALA VA 12
3rd: GEORDAN SPELLIER FL 12
4th: VICTOR PEREIRA CA 12
5th: ZACH EPPERLY VA 11
6th: GENO MORELLI PA 12
7th: JASON LUSTER PA 12
8th: TY WALTER PA 11
DNP
Zack Zavatsky
A lot of Virginia ties at this weight. Zach Epperly was an AA for Virginia Tech last year, and Zack Zavatsky is also wrestling for the Hokies now. Morelli was in the mix to be PSU's starter at 165 last season. We all know about the troubles of Chance Marsteller. Geordan Speiller made the Olympic Trials finals this year at 75kg in Greco.
Marsteller vs. Speiller
170 Lbs:
1st: TAYLOR MASSA MI 12
2nd: ELLIOT RIDDICK PA 12
3rd: VINCE PICKETT OH 12
4th: JACOB TAYLOR PA 11
5th: BRANDON ONEILL OH 12
6th: PARKER VONEGIDY NC 11
7th: FORREST PRZYBYSZ GA 12
8th: KEITH LEMONGELLO NJ 12
DNP
Chip Ness
Burke Paddock
Jared Haught
This one is kind of similar to 138 in terms of guys not panning out. However, Jared Haught has blossomed at Virginia Tech and enters the year third in the country at 197. Like Kent, he is a perfect example of guys who come to Super 32 and haven't quite made the jump yet. Jared Haught got bigger and learned how to use his body. Now, he might be an NCAA finalist after not placing at Super 32.
182 Lbs:
1st: TIMOTHY DUDLEY SC 12
2nd: BRANDON GRIFFIN OR 12
3rd: CHAZ GRESHAM OH 12
4th: JORDAN THOMAS MI 12
5th: DAVID RECK VA 12
6th: CODY WIERCIOCH PA 11
7th: KEVIN BEAZLEY MI 12
8th: JARRED LUX PA 12
This is where people realized Tim Dudley was the truth, but at the time, it would be shocking to think he's the only champion who will make an NCAA final. Kevin Beazley is a force on the Greco scene and will be looking to take the 98kg spot this quad.

195 Lbs:
1st: MATT MCCUTCHEON PA 11
2nd: BROOKS CLIMMONS Ga
3rd: MITCH SLIGA IN 11
4th: PAYNE HAYDEN MI 11
5th: JOE JESSEN VA 12
6th: CAMERON KING NC 12
7th: AARON ROWE VA 12
8th: TROY MERCER TX 12
Matt McCutcheon has been a solid part of multiple Penn State title teams. Mitch Sliga had some excellent freestyle showings.
220 Lbs:
1st: THOMAS HAINES PA 10
2nd: RAY STONE JR. OH 12
3rd: GARRETT LINTON OH 12
4th: MARK MONGELL GA 12
5th: CHUCKIE KERKESNER FL 12
6th: TREVOR STEVENS GA 11
7th: BRANDON TAYLOR VA 12
8th: TRENT ALLEN NC 10
Thomas Haines is now at Lock Haven. The upperweights at Super 32 tend to have less depth due to it being during football season.
285 Lbs:
1st: DOUG VOLLARO FL 12
2nd: JOHN DREGGORS FL 12
3rd: MIKE KOSOY FL 12
4th: TERRANCE JEAN JACQUES MA 12
5th: CALEB DENNY OH 0
6th: GREG MORAY OH 11
7th: SHAWN CHAMBERLAIN MI 12
8th: ZACHARY CARMIN GA 12
Mike Kosoy and Doug Vollaro have seen action for N.C. State and Lehigh, respectively.