Recruiting Rewind - The Classes of 2010
Recruiting Rewind - The Classes of 2010
We're digging into the vault.Every year we rank the top incoming classes of talent in expectation of seeing what schools are preparing themselves best for t
May 25, 2016
by Willie Saylor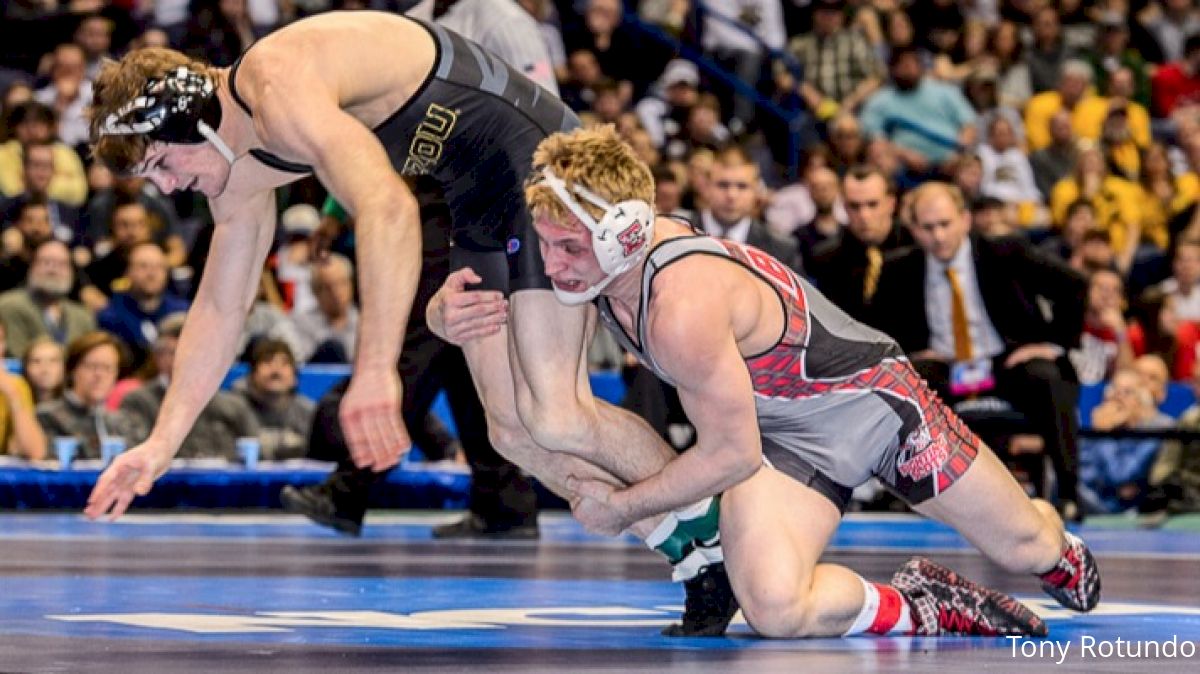 We're digging into the vault.
Every year we rank the top incoming classes of talent in expectation of seeing what schools are preparing themselves best for the future. But we don't often revisit the performance of those groups.
With their eligibility exhausted and their college careers completed, we'll look back at the Class of 2010 rankings.
A few notes in general about recruiting classes and how they are perceived -
When recruiting classes are signed, requisite fan bases are really happy - and completely overzealous. Because the individual careers of the kids in each class are fresh in our memory (and because high school coverage has expanded and made each high school wrestler very familiar to us) the expectation and/or optimism for many wrestlers are overblown.
The fact of the matter is, only one kid per weight, per team, starts. Only 33 qualify for nationals. And only 8 can All American. If you asked corresponding fan bases which of their guys in 'this class' would eventually AA, you'd have triple the number of AA's possible. The point is: everyone is a little over the top with optimism.
I make this pretty clear in each year's recruiting rankings when I assign significant value to 'probable starter' and 'years of production' as opposed to All American status. When you look back at the highly ranked classes below you might think to yourself, 'well, none of them were really that good."
And that's because your expectations were too high. If a school lands two or three solid starters, that's a good class.
To illustrate this point, only Minnesota (4) and Edinboro (3) had three or more All Americans from this class. And only three other schools had two or more AA's.
2010's Top 5

#1 Iowa

#1 Josh Dziewa (141) PA
#3 Jake Ballweg (141) IA
#11 Mike Kelly (157) IA
#2 Nick Moore (165) IA
#1 Mike Evans (174/184) PA
#2 Bobby Telford (HWT) DE
Anthony Baldosaro (149) NJ
What I said in 2010:
"Iowa brought in 5 guys in the top 3 and another (Baldosaro) that was #1 in the country to start the season. That's more than half a potential line-up's worth of top ranked kids in the country."
Six Years Later:
Evans and Telford had fantastic regular seasons of production and each AA'd three times. The Hawkeyes got good service from Moore early in his career and Dziewa late in his career.
#2 Northwestern

#2 Colin Shober (141) PA
#8 Kaleb Friedley (149) MO
#4 Lee Munster (184) IL
#4 Alex Polizzi (197) WI
#1 Mike McMullan (HWT) PA
Pierce Harger (157/165) OH
What I said in 2010:
"When you get half a line-up of guys that will almost certainly start in the Big Ten, all of whom are in the top 8 at their respective weight, you can't ask for much more. That's doing a heckuva job recruiting."
Six Years Later:
I had really high hopes for Shober. But he, Friedley and Munster didn't last long. The class wasn't a bust though. Polizzi gave valuable service for several years, Harger was an AA, and McMullan is one of the best wrestlers to never win a title having just four losses at NCAA's in four years.
#3 Penn State

#17 Frank Martellotti (133) PA
#1 Andrew Alton (141/149) PA
#15 Hank Stinson (149) NJ
#1 Dylan Alton (149/157) PA
#9 Dirk Cowburn (165) PA
Sam Sherlock (133) PA
Seth Beitz (133) PA
Nick Ruggear (197) PA
What I said in 2010:
"Quantity and quality. The Alton brothers are two of the premier prospects in the country."
Six Years Later:
This class fell apart. The Altons looked like locks coming out of high school but managed just 1 AA finish between them. In fact, Dylan's NCAA medal was the only one earned by this class.
#4 Cornell

#2 Chris Villalonga (149) NJ
#12 Jesse Shanaman (157) NJ
#1 Marshall Peppelman (165) PA
#12 Billy George (184/197) NJ
#15 Evan Knight (184/197) IA
Ryan Dunphy (149) NJ
Matt Cunningham (184) PA
Jace Bennett (197) TX
What I said in 2010:
"The way the classes developed, I'd consider Cornell Top 5 on Villalonga and Peppelman alone. Consider that these two are DI-ready now, and that they will fit perfectly into Cornell's line-up next season in a very serious push for a national title. Then add to that Knight, George, Shanaman, etc, and you can see where this class's impact is both immediate and lasting."
Six Years Later:
Another class that didn't pan out. Villalonga, who AA'd just once, earned the only medal for this group. I thought that Villalonga and Peppelman would be multi-year forces and that one or two of the others had the ability to develop. It was only Jace Bennett, who won an EIWA title, that emerged.
#5 Minnesota

#15 Seth Lange (133) SD
#13 Chris Dardanes (133) IL
#3 Nick Dardanes (141) IL
#3 Dylan Ness (149) MN
#6 Tyler Lehman (184) ND
#5 Scott Schiller (197) ND
Joel Bauman (197) MN
What I said in 2010:
"Four recruits ranked 6th or better and six in the top 15. JRob and staff did a good job identifying needs. They get their heir-apparents in the middle and some much need help at 197, a weight which, for the Gophers, things never seem to go according to plan."
Six Years Later:
A dynamite group for the Gophers that lead all classes in 2010 with 4 individual All Americans. Chris Dardanes (3), Nick Dardanes (1), Dylan Ness (4), and Scott Schiller (3) combined for 11 medals at the big dance.
Who Coached 'Em Up?

There were a number of lower ranked classes that performed remarkably. Either I under ranked them OR the coaches which inherited them coached solid guys into difference makers on a national level.
#16 - Edinboro

#2-Mitchell Port (125/133) PA
#6-A.J. Schopp (133/141) PA
#15-David Habat (157) OH
Kory Mines (125) OH
Nate Gaffney (197/HWT) PA
Six Years Later:
Coach Flynn won National Coach of the Year with this group. Port and Habat were Runners-Up and Schopp demolished everyone on his way to 3rd. It paved the way to a Fighting Scot podium finish at NCAA's in 2015. They also got solid production from Mines.
#22 - Missouri

#4-Alan Waters (125) MO
#16-Simon Kitzis (141) PA
#16-Drake Houdashelt (157) MO
Efrain Aguilar (125) WA
Chase Nitcher (149) KS
Johnny Eblen (197) MO
Six Years Later:
A Fargo staple, Waters was a premier (but some considered, undersized) recruit. He went on to be a power for several years in the Tiger line-up. Houdashelt was a hidden gem, placing 5th as the top seed as a Junior and winning it all (over Edinboro's David Habat) as a Senior. Mizzou also got good production out Eblen as a Senior.
Re-Ranking 2010

CP's Top 5
1. Minnesota
- The Gophers made great use of this class. Scott Schiller was a 3 year starter and placed each year. Dylan Ness was a 4-time All American and 2-time NCAA Finalist. Though the Dardanes maybe didn't have the NCAA tournaments they always wanted, they were able to get 4 years of quality, starting production where both Chris and Nick were top 10 guys nearly every step of the way.
2. Edinboro
- Not an easy call to have Edinboro behind Minnesota, but Minny's volume trumps Edinboro's excellence. Mitchell Port leads the way as a 4-year starter going R12, 2nd, 3rd and 2nd. Then there's AJ Schopp, another 4 year starter and a 3-time All American. Dave Habat came on strong at the end with 2 AA finishes and a trip to the NCAA finals. Kory Mines provided strong start duty at 125 for Edinboro.
3. Iowa
- Though Iowa's #1 class (at the time) didn't quite measure up to its original billing. The Hawkeye's made good use of this class. Mike Evans and Bobby Telford were both strong, 4 year starters and 3-time All Americans. Though Josh Dziewa, Nick Moore and Mike Kelly's time at Iowa didn't produce a single podium trip, they got multiple years of quality starting duty from all three.
4. Ohio State
- How do you measure the value of a 4-time NCAA champion as it pertains to a recruiting class rewind? That was a tough decision, but when you factor in Logan's 4 year historic run (which netted massive NCAA points) along with a very solid contribution from Josh Demas for four years, you can slot that somewhere in the top five. Even if it's only two guys, having Logan is irreplaceable.
5. Missouri
- Alan Waters and Drake Houdashelt massively outperformed their incoming rankings from high school. Houdashelt went on to win an NCAA title and Waters was a former #1 seed at NCAA's who was a multiple AA. Johnny Eblen turned into a top 10 guy before his time at Missouri was done and gave the Tigers a quality starter.
For the full
2010 Recruiting Class Rankings, Click Here
Other Years' Recruiting Rankings

2011 -
#1 - Nebraska Huskers
2012 -
#1 - Iowa Hawkeyes
2013 -
#1 - Michigan Wolverines
2014 -
#1 - Penn State Nittany Lions
2015 -
#1 - Arizona State Sun Devils
2016 -
#1 - NC State Wolfpack