2016 UWW Jr. World Team Trials
Junior World Team Trials Preview
Junior World Team Trials Preview
What happens in Vegas doesn't necessarily stay in Vegas. Eight wrestlers carry a title in Vegas to the JR Trial Finals. In an Olympic year, where the wrestl
May 19, 2016
by Willie Saylor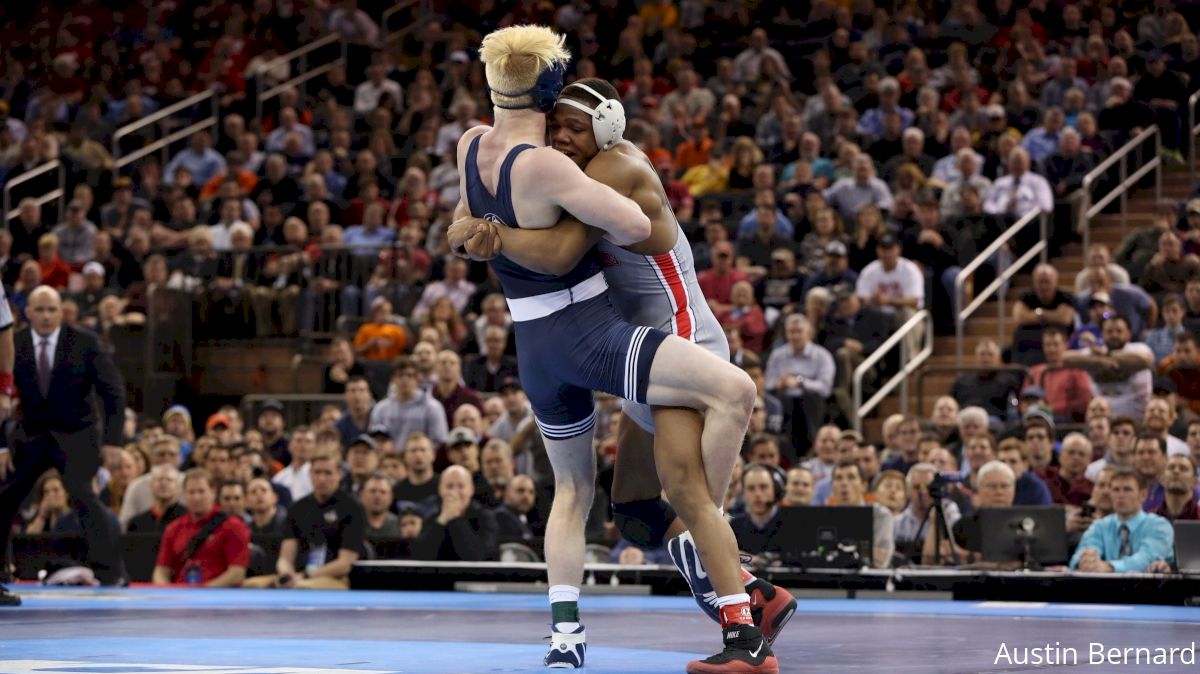 What happens in Vegas doesn't necessarily stay in Vegas. Eight wrestlers carry a title in Vegas to the JR Trial Finals.
In an Olympic year, where the wrestling calendar demands changes, Junior Nationals and Junior World Team Trials are less than four weeks apart as opposed to the five- or six-week gap we typically see.
We
previewed Junior Nationals
at the end of April, and the results are still fresh in our minds.
This weekend at Body Bar, and in conjunction with the Cadet and Junior Women's Trials, spots on the Junior World Team are at stake. Win here and you punch your ticket to compete at the World Championships in September in Macon, France.
The champions in Vegas sit in a best-of-three finals while the rest of the field are put in a traditional bracket. Four of those Vegas champs - Daton Fix (55kg), Mitchell McKee (60kg), Mark Hall (74kg), and Zahid Valencia (84kg) - will wrestle at Beat the Streets on Thursday. All four of those weights will be wrestled in Texas on Sunday. And while none of them have announced they will postpone their best-of-three finals, that still remains an option.
Below we'll recap what happened in Vegas, who the new entries are, and what to keep an eye on.
WATCH LIVE HERE
- Starting Saturday at 9:30 AM CT
Saturday's Weights

50KG - 2015 World Team Member - Spencer Lee, PA


Sitting in the Finals:
Spencer Lee, PA
Vegas Placers:

2nd - Patrick McKee, MN
3rd - Rhett Golowenski, OK
4th - Ty Smith, NV
5th - Ryan Chauvin, FL
6th - Elijah Varona, FL
7th - Jason Holmes, AZ
8th - Dom Lajoie, MI
What Happened in Vegas:
Spencer Lee torched the field with techs so fast you missed them if you weren't dialed in. The returning World Champ is as much a lock as anyone who's ever entered a wrestling tournament.
I expect him to meet Patrick McKee who has shown great development. He posted three techs before hitting Lee.
Willie's Prediction:
Lee over McKee in 2
66KG - 2015 World Team Member - Aaron Pico, CA


Sitting in the Finals:
Alec Pantaleo, MI
Vegas Placers:
2nd - Matt Kolodzik, OH
3rd - Griffin Parriott, MN
4th - Tristen Moran, OK
5th - Fredy Stroker, MN
6th - Vince Turk, IL
7th - Ryan Pomrinca, NJ
8th - Mark Voss, MN
New to the Field:
David Carr, OH
What Happened in Vegas:
66 is usually a very interesting weight with great depth. However not much interesting happened in Vegas. Pantaleo won a controlled bout with Kolodzik in the finals.
The most notable match came when Fredy Stroker was pinned while leading a match against Adam Whitesell. Last year's Cadet World Champion, Jarod Verkleeren failed to place after being teched by Cortland Schuyler and pinned by Joe Lee.
I put both Stroker and Griffin Parriott, who placed 3rd in Vegas, as legitimate contenders to win the spot as the field stands now. Not yet registered are Michael Kemerer, who won in Vegas at 70kg and was expected to drop for Texas, and Aaron Pico, a two-time Junior World Medalist. Rumors suggest that neither will compete in the Trials this weekend.
The last curveball is in David Carr, who reached the Cadet Trials finals last year as an undersized 152lber. He'll be big and darn good at 145.5.
Willie's Prediction:
Pantaleo over Kolodzik in 2
96KG - 2015 World Team Member - Anthony Cassar, NJ


Sitting in the Finals:
Jacob Seely, CO
Vegas Placers:

2nd - Lance Benick, MN
3rd - Andre Lee, IL
4th - Evan Hansen, IA
5th - Chase Singletary, FL
6th - Angus Arthur, MI
7th - Kollin Moore, OH
8th - Mason Reinhardt, WI
New to the Field:
Anthony Cassar, NJ
What Happened in Vegas:
Seely made his second straight Vegas final, this time winning the title with wins over two former Cadet World Team Members in Arthur and Benick. A third former Cadet WTM, Hunter Ritter, was also in the field but didn't place.
The problem for Seely is that his old nemesis is back. Anthony Cassar beat Seely in both the finals of Vegas and the Trials finals in 2015. Cassar went on to have a strong training camp and early tournament at Worlds, but suffered a horrible shoulder injury that has kept him on the shelf till now. He was making great strides, but where is he at in his development now?
Willie's Prediction:
Cassar over Seely in 2
120KG - 2015 World Team Member - Nathan Butler, KS


Sitting in the Finals:
Rylee Streifel, MN
Vegas Placers:

2nd - Patrick Grayson, VA
3rd - Joey Goodhart, PA
4th - Youssif Hemida, NY
5th - Jake Gunning, PA
6th - Dan Stibral, ND
7th - Christian Lance, MO
8th - Ben Stone, WI
New to the Field:
Jordan Wood, PA
What Happened in Vegas:
Last year's Fargo finalist, Rylee Striefel won a tight final with Patrick Grayson. A relative newcomer to FS, Grayson had a few squeakers in getting to the finals. A couple more weeks of FS-exclusive training might show a much improved and confident Grayson.
In the event that he is firing on all cylinders, America gets a shot in the arm here. Jordan Wood teched Streifel in Fargo finals last year and won Cadet World Silver in 2014. He'll have to navigate a bracket that has its dangers, but if he does I expect him to win.
Willie's Prediction:
Wood over Streifel in 3
Sunday's Weights

55KG - 2015 World Team Member - Stevan Micic, IN

Sitting in the Finals:
Daton Fix, OK
Vegas Placers:

2nd - Gavin Teasdale, PA
3rd - Austin Gomez, IL
4th - Nick Piccininni, OK
5th - Austin Assad, OH
6th - Kris Williams, IL
7th - Kyle Akins, IL
8th - Brandon Courtney, AZ
What Happened in Vegas:
Fix teched his way to the finals, but it was Gavin Teasdale that was the talk of the tournament. Whereas Fix came in as the favorite, most pundits were cautious of how Teasdale would compete up in weight. Just a high school sophomore, the two-time Cadet World Team Member teched three college wrestlers including Brian Rossi and Nick Piccininni.
On one hand it was a great display by Teasdale, who proved he was plenty big, strong, and physical enough. On the other hand, almost all his points came on counters - namely a devastating chest wrap. It will be interesting to see if his opponents can adjust to this, although it appeared that even when they knew it was coming, they couldn't stop it.
The first test was passed. The one remaining is - can Gavin get a takedown when he's down in points? I can see a situation where he's trailing and struggles to finish on a shot and gets tripped up for a loss - guys like Piccininni, Gomez, and Assad present those types of problems.
Because Teasdale was on fire, overlooked was Gomez's performance in which he pinned Assad and put up 17pts. on Piccininni.
Willie's Prediction
: Fix over Gomez in 2
60KG - 2015 World Team Member - Joey McKenna, NJ


Sitting in the Finals:
Mitch McKee, MN
Vegas Placers:

2nd - Seth Gross, MN
3rd - Yianni Diakomihalis, NY
4th - Jaydin Eierman, MO
5th - Taylor LaMont, UT
6th - Scotty Parker, PA
7th - Nick Lee, IN
8th - Josh Terao, HI
New to the Field:
Markus Simmons, OK
What Happened in Vegas:
One of the biggest stories of Vegas was the high-scoring affair between Yianni and Eierman. There appeared to be several miscalls and mis-interpretations, perhaps some on both sides. Eierman scored on his own shot early and then it was Yianni who did most of the attacking. Eierman's points thereafter came exclusively on counters.
Eierman lost his next match to Scotty Parker, and then was teched by Yianni in the 3rd place bout. As it turned out, Mitch Mckee had to face neither Eierman nor Yianni, but beat Parker and then fellow Minnesotan Seth Gross. Also pay attention to Nick Lee, whose losses were to McKee and Eierman, and Gfeller, whose losses were to Gross and Yianni.
The winner here was us fans, who get the possibility of Yianni-Eierman III.
Willie's Prediction:
Yianni over McKee in 3
74KG - 2015 World Team Member - Mark Hall, M


Sitting in the Finals:
Mark Hall, MI
Vegas Placers:

2nd - Logan Massa, MI
3rd - Vincenzo Joseph, PA
4th - Anthony Valencia, CA
5th - Jordan Kutler, NJ
6th - Kimball Bastian, UT
7th - Joey Gunther, IL
8th - Dylan Lydy, IN
Notable Non-Placers:
Joe Smith, OK; Larry Early, IL; Fox Baldwin, FL; Josh Shields, PA
New to the Field:
Jason Nolf, PA
What Happened in Vegas:
We were pretty sure we'd get a showdown between Mark Hall and the winner of Anthony Valencia and Logan Massa, and we did. But Vincenzo Joseph pushed Hall, scoring the first 4 points before Hall scored 6 and tacked on a late one. Joseph and Joe Smith had a good one the previous round. Smith defaulted after the loss, but should be considered a serious threat.
In the final, Hall mixed Massa and ended it early.
The real curveball here is the addition of Nolf. He's obviously a stud, but where is he at in his training? Up a weight? In Freestyle? He reached the finals at Vegas in 2015 beating Marsteller and Jon Jay Chavez and losing to Hall 13-8. Seeding will play a crucial role in what match-ups we see. I have little confidence in picking the finals opponent opposite Hall. I could see any of Joseph, Massa, or Nolf in the finals. And a hot Valencia is always a real possibility. Should he catch a couple breaks, Smith wouldn't be a surprise either.
Here's how I suspect seeding will go:

Top Half - 1. Massa, 5. Kutler, 4. Nolf
Bottom Half - 3. Valencia, 6. Smith, 2. Joseph
What it comes down to me is this: I take Nolf over Massa, Massa over Cenzo, but Cenzo over Nolf...if that makes any sense. Interestingly enough, what made the difference in the IMAR wins over Nolf was the difficulty Nolf had in finishing - the exact same problem Hall represents to Nolf.
Willie's Prediction:
Hall over Cenzo in 2
84KG - 2015 World Team Member - Zahid Valencia, CA


Sitting in the Finals:
Zahid Valencia, CA
Vegas Placers:
2nd - Myles Martin, NJ
3rd - Bobby Steveson, MN
4th - Josh Hokit, CA
5th - Emery Parker, IL
6th - Nathan Traxler, IL
7th - Ryan Christensen, WA
8th - Nick Fiegener, CA
New to the Field:
Bo Nickal, TX; Beau Breske, WI
What Happened in Vegas:
For the second straight year at Vegas, and running his record to 4-0 against him, Zahid beat Myles in last month's final. What that means is that while the field has depth with Bobby Steveson and Nathan Traxler and a host of others, we're almost certainly staring down an NCAA Finals rematch in the challenge tourney finals here. And there's really no reason to discuss anything else.
Bo and Myles had a four-match series this season with Bo winning on three occasions. Although most people are of the opinion that Bo is the better wrestler, the gap isn't what some make it out to be. One of the bouts was 4-3 and another was close until the final minute That being said, I still go with Bo.
A Bo-Zahid finals would be the most contrasting of styles. Bo is the consummate big move guy and Zahid might be the most fundamental, positionally dependent wrestler in America. I tend to err on the side of caution.
Willie's Prediction:
Zahid over Bo in 3.
Schedule

Saturday, May 21 - 50 KG, 66 KG, 96 KG and 120 KG
Session I:
9:30AM - Preliminaries through Challenge Tournament Finals
Session II:
2PM - Round 1 of best of 3 finals and 3rd place matches
Session III:
3PM - Round 2 of best of 3 finals and True 3rd Place matches
Session IV:
4PM - Round 3 of best of 3 finals - if necessary
Sunday, May 22 - 55 KG, 60 KG, 74 KG and 84KG
Session I:
9:30AM - Preliminaries through Challenge Tournament Finals
Session II:
2PM - Round 1 of best of 3 finals and 3rd place matches
Session III:
3PM - Round 2 of best of 3 finals and True 3rd Place matches
Session IV:
4PM - Round 3 of best of 3 finals - if necessary