In the spirit of Friday the 13th, we thought we'd bring you five scary things from the wrestling world. While some of us still have flashbacks of missing weight, cutting weight, losing a big match, or running stadiums, the list below is more on the specific side. Enjoy, and comment below with your nominations for 'scariest things in wrestling'.



5. Jason & Bo Nickal Didn't Like Willie's Pick

In the preview for the 2013 Cadet World Team Trials, Willie picked Mark Hall to beat Bo Nickal in the finals. Nickal had other ideas, and let Willie know about it afterwards. I wasn't sure how serious they were, so I went back and forth between laughter and fear.
4. Jordan Burroughs Injured at 2014 Worlds

Very few people knew it at the time, but Jordan Burroughs had surgery on his ankle just 4 weeks before the 2013 World Championships. Burroughs powered through it and won the honors as the best wrestler on earth at 74kg for the third straight year. He came in healthy to Tashkent, Uzbekistan for the 2014 World Championships but suffered a sprain MCL in his opening round match, and won in a squeaker.
American fans were on the edge of their seat wondering if their star wrestle would be able to continue. In what was his first loss in his international career, Burroughs dropped his semifinal match to 2x World Champion Denis Tsargush of Russia. Like the warrior Burroughs is, he wrestled back for Bronze.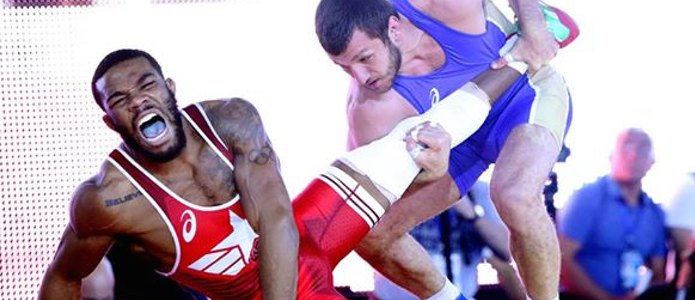 3. Cael Asks Pyles if he 'Has a Plan'

Christian interviewed Penn State Coach, and Olympic Gold Medalist Cael Sanderson after his team won Southern Scuffle in 2015. The Nittany Lions won with a bevy of talent (Jason Nolf, Zain Retherford, and Bo Nickal) in the cupboard as redshirts. Cael turned the tables on CP, simultaneously giving me the happiest moment of my life. If you listen close enough, you can hear CP shaking in his shoes.
2. Olympics in Limbo

On February 14, 2013, the unthinkable happened - the International Olympic Committee announced it was cutting wrestling from the Olympic Games. Of course, it had the potential to be the most damning decision to the history and vitality of the world's oldest sport. It sent everyone involved in wrestling into a tizzy, with large and boisterous social media campaigns. Thanks to a coalition, including the work of several key Americans, wrestling was voted back in on September 8 of the same year. Disaster averted.
Perhaps most people would put this as #1, but I was of the opinion that 'No way this doesn't get overturned'. In retrospect, I also devalue the 'scariness' of the brief exclusion from the Games because it forced the wrestling world to really get its act together. As a result, wrestling is as good and healthy as it's ever been at the international level.
1. Alexander Karelin

An all-time legend and an absolute monster. Russia's Greco Roman Heavyweight won 3 Olympics, took Silver (to American Rulon Gardner) in another, and won 9 World Titles. In addition to being THAT good, Karelin had the size, physique, and mannerism to match. He was the most imposing wrestler in history.