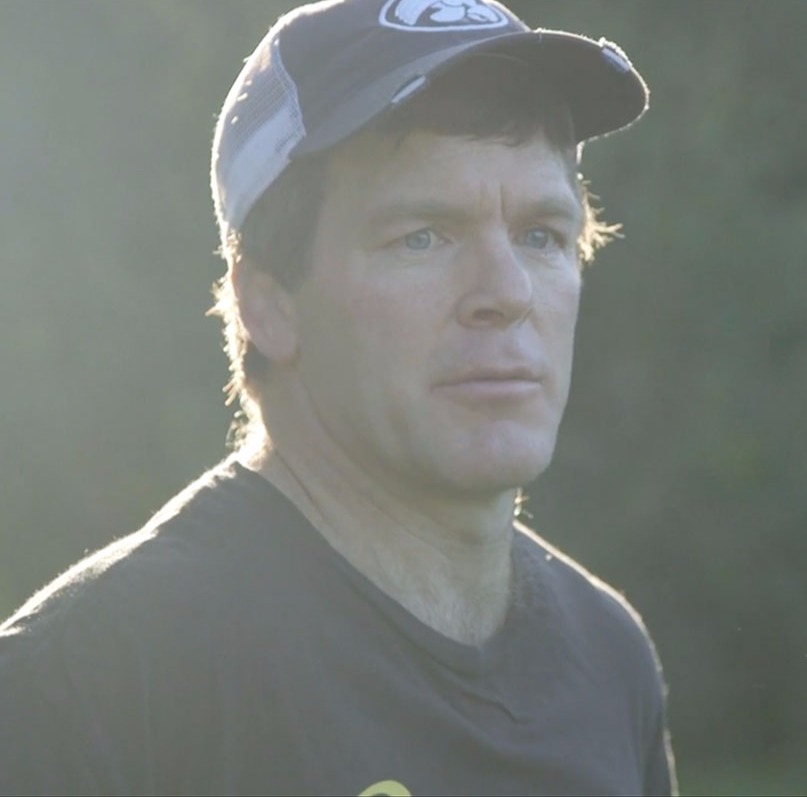 Where do I even start with this whole Terry Brands thing?

What an experience it has been to be involved in the process.

Growing up in wrestling I had heard stories about these intense twin brothers from Iowa. Rumor had it they would end up outside fighting each other over boardgames and cards.

Then later I started to hear stories and rumors about Terry Brands and what happened to him after the 1996 Olympic Trials.

18 years later I am on assignment to go find out just what really happened.

All of the sudden I find myself inside Terry Brands' house. I'm sitting across from him in the living room and asking him about some of the most personal, intimate and gut-wrenching moments of his life.

Asking Terry Brands to talk about 1996 was surreal.

I grew up looking up to Terry Brands, who is an icon in the sport. For three hours I would ask questions and he would answer them. Each time staring at me with those intense blue eyes, answering directly and honestly about exactly what he had gone through, how it made him feel and how he dealt with it.

The one quote that really sticks with me from the interview with Terry was,


And where we're going right now with talking about what I did after the 96 trials, it's therapy for me.
That might be when it hit me that this was something more than we had initially realized.
I have been interviewing wrestlers and coaches for years, but this one left me feeling different. The moment we left Terry's house I had this rush, I can't explain it. I knew right then and there that this was something bigger, this was going to be the one.
Terry Brands had just spilled his guts to me about these stories that had been nothing more than rumors up to that point.
I had the facts straight and heard them directly from the horses mouth.
Originally this was going to be a one episode piece on Terry Brands to air alongside the
Iowa: Black and Gold
series featuring
Brent Metcalf
and Tony Ramos training for the 2014 World Championships. The more we dug, the bigger this piece got. It's more than a story about Terry Brands, its about a moment in American wrestling history that involves some of the biggest names in the sport.
The one that really turned things upside down for me was the
Kendall Cross
interview and his view of 1996. Up to that point, we had heard the Iowa perspective from the Brands brothers,
Royce
, Gable and Duroe.
Hearing Kendall Cross tell the story from his point of view was game changing to me. Kendall's side of the story could give the film a whole different twist. It's very rare that you get to hear two warriors talk about a battle. I had heard Terry's point of view, but hearing the story from Kendall's perspective, it was jaw dropping how opposite their mindsets were.
An element that takes this from a sports documentary to a feature film is knowing everything that Terry has been through and getting to watch the way he coaches his athletes. We follow Terry through the 2015 US Open as he coaches
Tony Ramos
and
Dan Dennis
. Once you know everything about Terry Brands, watching him coach gives everything a whole new flavor. You start to maybe understand why he is the way he is and all of the sudden his actions make sense.
Emotion, drama and intimate moments with
Tony Ramos
and
Dan Dennis
only add fuel to this film. To see these meaningful connections and deep relationships he has with each of these athletes, is very powerful. You can start to see how things that happened in in own career are affecting the way he coaches today.
Couple all of this with home movie footage from the Brands household and you have something that wrestling fans have never seen before.
Here we are, a year and a half after we set out to do a story on Terry Brands. What the original plan was and what it has turned into are night and day. This movie will be the single greatest wrestling film ever done to this point. I say that with confidence, not arrogance. It is by far the most extensive and in depth piece we have ever produced and it will move not only wrestling fans, but fans of any sport.
And anyone with a pulse.
So, what do you think of Terry Brands? But before you answer that, how much do you really know about Terry?
This movie may or may not change your opinion of of the man. But it will certainly give you a perspective into the life and mind of Terry Brands that you have never had before.
FloSports to release first feature-length film on Iowa wrestling coach Terry Brands https://t.co/WARFC1twqm #Terry pic.twitter.com/WAOR6Tqkbv

— USA Wrestling (@USAWrestling) December 4, 2015
"It wasn't 'soul-searching.' It was 'figure it out.'" Terry Brands #TERRY

— The Quoter (@WrestlingQuoter) December 3, 2015
Terry airs one week from today, December 30 only on
FloWrestling
.
Check out the official website at
TerryFilm.com
If you have any questions about the movie or the experience of making it hit me up:
E-mail: Bader@FloSports.tv
Twitter: @MarkSBader