American fans took notice to the youth movement because Kyle Snyder became the youngest American medalist with his win in the semifinal. He one upped himself by becoming the youngest American to win a world title. Snyder was a little more than two months shy of his 20th birthday when he won his title in Las Vegas. Below you will find the five youngest medalists from this year's championships. The five guys below have all won world titles at the cadet or junior age group. Karimimachiani, Petriashvili, and Yazdani Charati have now medaled at all three age levels. It is stunning to think that there were three finalists, two of whom won championships, that couldn't loiter on the casino floor without security moving them along because of their age.

5. Alireza Karimimachiani, 86kg, Iran, 03-21-94 (21)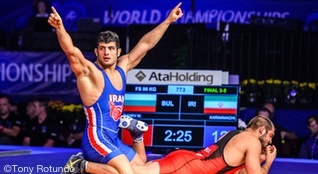 Alireza Karimimachiani gave Abdulrashid Sadulaev his toughest bout of the 2015 World Championships. This should be a great rivalry for years to come if they both stay at 86kg. Every other bout outside of his loss to Sadulaev, Karimi tech falled his opponent. Victims included past world champions Ibragim Aldatov (UKR) and Michail Ganev (BUL). Some of his best competition is going to come from inside his own country. It will be a challenge to string together multiple appearances on Iran's World Team, but when he is the representative expect a medal to be traveling back to Iran.

4. Geno Petriashvili, 125kg, Georgia, 04-01-94 (21)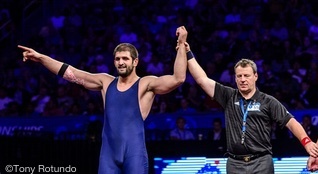 The heavyweight from Georgia earned his second senior world medal. In 2013 he claimed a junior world championship before earning bronze almost one month later at the senior world championships. A long 125kg'er, Petriashvili has a frame that could take on a little size and continue to wrestle his style. Two-time reigning champion Taha Akguel is also younger as he will turn twenty five in November. This could form into a nice rivalry if Petriashvili is able to follow a normal progression pattern of someone his age.

3. Hassan Yazdani Charati, 70kg, Iran, 12-26-94 (20)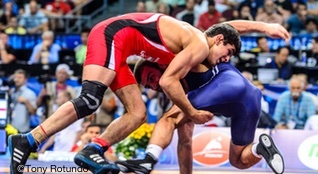 Hassan Yazdani Charati is tabbed as the next big thing for Iranian freestyle wrestling. I believed in him so much that I picked him to win at 70kg this year. He made the final, but showed he isn't quite there yet. Gazimagomedov proved to be considerably better than Yazdani at this point. The fact that he beat Mehdi Taghavi to make the Iranian Team showed leading into the World Championships that the hype is well deserved, and he is a 20-year-old silver medalist.

Next year we will see how elite Yazdani Charati really is. He will move to 74kg. This move will facilitate his need to be at an Olympic weight class, as well as his natural growth into the new weight. It was rumored that he wanted to be up at 74kg this year.

2. Kyle Snyder, 97kg, United States 11-20-95 (19)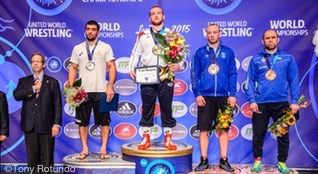 Lee Kemp and John Smith both won world titles at 21 years of age. Kemp was just a few months from turning 22, while Smith was the youngest ever as he was just a few weeks past his 21st birthday. They had to make room for Kyle Snyder at the conclusion of the tournament in Las Vegas.

Snyder was the youngest medalist from the United States when he won his semi-final over Abbas Tahan of Iran. Snyder finished putting his name in the record books when he scored a late takedown to knock off reigning world champion Abdusalam Gadisov. Coming into an Olympic year Snyder sets up perfectly agewise to make a run at multiple cycles.

1. Abdulrashid Sadulaev, 86kg, Russia 05-09-96 (19)

Pound-for-Pound Abdulrashid Sadulaev is number one or two on almost everyone's list. If he isn't in one of those positions on your list, you need to evaluate your list. He has two senior world titles that directly followed back-to-back championships at the cadet level. He hasn't suffered a defeat since November of 2013 (watch his loss here). He was seventeen at the time, assuming you take his birthdate in the United World Wrestling Database as being accurate.

For years rumors have flown about foreign countries having a big interest at winning age groups medals and championships. Their government funding is tied to their success at world events. This makes it so important to them that they have been accused of falsifying ages to allow older participants to compete at the cadet and junior levels. I am going to feed the rumor mill.

In the past week here at FloWrestling we have had some contact with the Russian superstar through social media. We thought we may have been catfished, but we were put in contact with a manager that represents Sadulaev. We still don't know who runs the accounts for them, probably a marketing agent, but our messages are getting through. The Dagestani wrestling website Wrestdag.ru asked him about a potential match-up with Kyle Snyder that our own Willie Saylor is trying to set up (open it in Google Chrome and translate it). We don't know who runs Sadulaev's facebook account, so you have to take this for what it's worth. They list Sadulaev's birth date on his Facebook page as October 9th, 1994.

That makes Sadulaev 20 years old, soon to be 21. In the big picture at the senior level it doesn't really make a difference besides taking the luster off of the great American performance of Kyle Snyder. Makes a nice talking point nonetheless.