The idea of a breakout is not something easily defined. For me it's about the changing of perception, the creation of a star or somewhere in between. Sometimes it comes in moments, for others it's a sustained raising of their level over the course of a year.

Between D1 and the high school season there were a number of incredible breakout performances. These were the top 10 that I came up with. The order is a matter of opinion, and certainly subjective.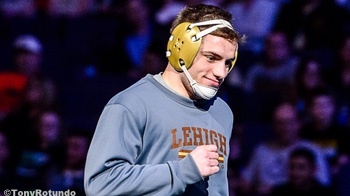 10. Nate Brown - In the eyes of many Nate Brown was a more/less unknown on the national scene. Through his first two seasons he was consistent, but lacked the big wins and name recognition to get lots of "love" from the community. Now I'm not bringing up Nate because I picked him to get 2nd pre-season. (You really thought I wouldn't bring that up?) He went from a 2-time NCAA qualifier (with one total win at the tournament) to a National Finalist. Brown worked his way high up the rankings culminating with his run to the finals before falling to Gabe Dean.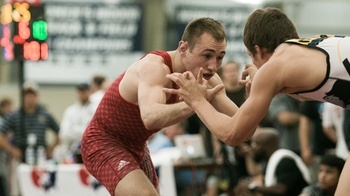 9. Jarod Verkleeren - Verkleeren has come a long way since his Freshman season which saw him not placing in PA States. Since that tournament he has made 2 Cadet World teams, won Fargo, NHSCA's and placed 4th at PA states. Besides those accolades he's notched wins over Kanen Storr, Tristan Moran and Anthony Artalona. He's wrestling in the Cadet World's this weekend as well, so we could have more accomplishments to add to the list soon.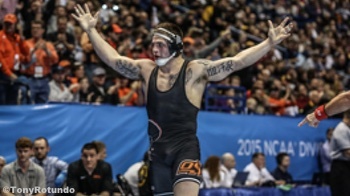 8. Kyle Crutchmer - Crutchmer went from a high quality back up a year ago, to one of the most talented 174's in the nation. His ascent came a bit late this season. It's hard to say where he flipped the switch, honestly. He took 2 separate losses to Iowa's Alex Meyer last year early as well as a loss to Missouri's John Eblen. I talked about this with Bratke, Crutchmer had a somewhat funny loss (that looked good 'in the deed') to Penn State's Matt Brown at home. Bratke and I both felt that even though he lost (after thinking he won) it gave him a newfound confidence for the rest of the year. He really didn't notch a signature win until NCAA's where he took out Mike Evans and Blaise Butler. But it was (as Willie Saylor says) 'in the deed.' You watch his dynamism and work on his feet and you know he's at a level on par with the elite at 174. In my opinion, he was hosed against Logan Storley at NCAA's as well, putting him on his back late but receiving no nearfall for his efforts. He's potentially a pre-season #1 for a team that needs him for the team race this year.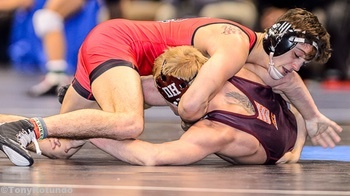 7. Kevin Jack - There's a potential case to be made for Jack at #1 honestly. Say it out loud: Losses to Pongracz, Botwin, Spisak, Ward, then places 5th at NCAA's. This wasn't some advantageous draw either. He downed Devin Carter, Chris Mecate, Joey Ward and Josh Dziewa at NCAA's. NC State nearly looked foolish pulling Jack's redshirt after such an up and down start to his True Freshman campaign. Instead Popolizio and company look like complete geniuses.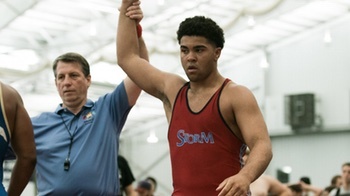 6. Gable Steveson - He went from "Bobby Steveson's younger brother" to one of the best upperweight prospects in the country in the span of a weekend for me. Sure Gable was high in the rankings, and certainly his time at the top would be coming. But at just 15 years old he dominated a Cadet Trials field that included Cadet World finalist and top ranked Jordan Wood. Since then he smoked his way through Fargo and is set to compete at Cadet Worlds this weekend.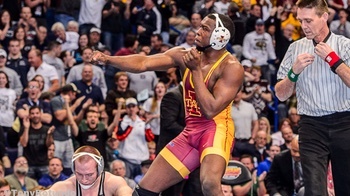 5. Kyven Gadson - Kyven was never really an "under the radar" type of guy. The past 3 years he has been among the nations best 197 pounders and him winning a title last year or this one really wasn't something that would blow anyone's mind. But his NCAA performance changed how I viewed Kyven. He went tech, pin, major, 4-1 and pin for his run at NCAA's. His pin over Snyder was among the most iconic and dramatic moments of the entire tournament. His public declaration of love for ice cream made him an internet sensation inside and outside the wrestling community.


4. Zeke Moisey - Like Kevin Jack, Zeke started the year in redshirt. They watched him scrap at the Hokie Open and The Bull determined he was ready to go. He was right. To be fair, Zeke was unseeded for a reason coming into NCAA's. He had some nice moments, but failed to notch the major wins. Zeke wrestled with a confidence of someone who didn't know his place. Freshman weren't supposed to beat Nahshon Garrett, and they certainly weren't supposed to stick Iowa's Thomas Gilman in the first minute of the match either. Zeke went from solid recruit, to skilled Freshman, to a household name in a matter of a few days.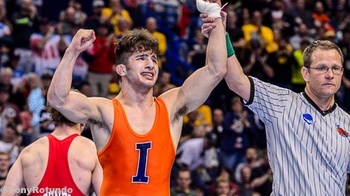 3. Isaiah Martinez - I-Mar's talent wasn't lost on me, I knew he could scrap. I figured titles could be coming his way at some point, but him dominating a brutal field and going unblemished was well beyond my expectations for I-Mar year 1. Fair or not, I-Mar is going to be linked with Cael Sanderson until he drops a match. He is a coach's nightmare to gameplan for. I-Mar is incredibly tenacious and dynamic, yet can wrestle within himself and execute gameplans when the need arises. He outclasses people technically and athletically and has a savage mentality that has made him a fan favorite and one of the most discussed wrestlers in the country.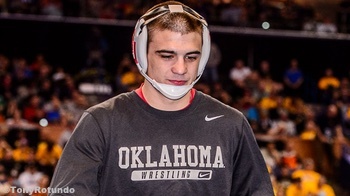 2. Cody Brewer - People beat me up for my ranking of Brewer last year (which I stand by, by the way). Look at the jump that Cody made this year (at NCAA's). 7th as a Freshman, 8th as a Sophomore with his only elite wins being over Jon Morrison (who beat him several times that year), and Rossi Bruno. His Sophomore season he fell to Johnni DiJulius (twice), Joe Roth (twice) and David Thorn. He was excellent but not elite. Then take his entire season this year. Cody misses significant time, loses to Earl Hall and doesn't beat a top 10 guy until he beats Hall at Big 12s. At the time Hall was ranked 7th. Then Cody absolutely embarrasses the entire 133 field. A field that was widely regarded as the deepest and most dangerous weights of the year. Chris Dardanes was on a complete and total tear all year, undefeated, and was looking great at NCAA's. Brewer housed him, 15-3. Johnni DiJulius owned two lopsided wins over Brewer a year before. Brewer dominated him, 9-1. Brewer's 11-8 win over Clark in the finals was close in number only. That match was all Cody. I can't say I've seen anything like this at the NCAA level. Cody went pin, major, major, major, 11-8 for his NCAA run. In his final 4 matches (not counting his rd 1 pin over Malone) he scored a total of 49 points! Again, 4 matches, 49 points against complete hammers. My brain is still recovering.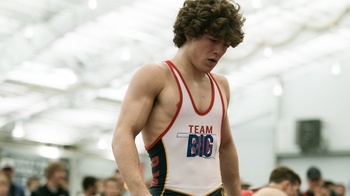 1. Daton Fix - The ridiculous levels this kid jumped between Who's #1 and now are undeniable. Perhaps there's a case to be made for Brewer over Fix. I wouldn't dispute it. My rationale is not only is Daton dominant against his competition (high school), but he also has had fantastic success against college athletes. The crazy thing about Daton is how much he seeks out the competition: Who's #1, Super 32, KC Stampede, FloNationals, UWW Jrs, UWW Cadets, UWW Jr Trials, Junior Duals, Fargo. All but KC are optional, out of season events. But less face the facts, the reason Daton is on this list isn't simply because he competes everywhere. It's, as I mentioned earlier, the change in perception. After his losses to Suriano at WNO and Yianni at Super 32, it was clear that Daton was an excellent high school wrestler, but not otherworldly. Daton was a top 2-3 guy for his weight in high school.

Then the Spring came. Daton entered UWW juniors at 55kg. A field riddled with high school (Austin Assad, Austin Gomez, Jack Mueller and Ian Parker) and college (Ronnie Bresser, Ethan Lizak, Barlow McGhee and Stevan Micic) talent, and Fix teched his way to a title. Beating Stevan Micic (who just won Jr World Bronze). Then comes Akron. Fix threw his hat in the ring at the 54kg juggernaut that featured Spencer Lee, Cade Olivas and Austin Gomez to name a few. Him teching to the finals wasn't terribly surprising. Beating Spencer Lee (who just crushed Junior Worlds) in two straight? Yeah, that was downright shocking to me and many others. That red-hot month stretch upped Daton into tremendous national prominence. Though he fell to Micic at Junior World Trials, it did little to deter Daton who smoked the Fargo field and is gearing up for Cadet Worlds this weekend!

Here's Daton's dominant win over Stevan Micic at UWW Juniors: