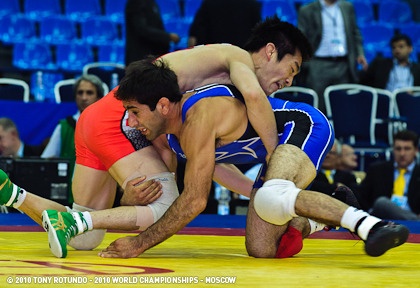 When
Mike Zadick
stepped away from coaching after a long stint as an assistant at Iowa, many wondered when we'd see the passionate, former Olympian on the coaching scene again. We now have our answer. Kevin Dresser has confirmed that Zadick has agreed to an assistant coaching position at Virginia Tech.
But wait, there's more.
Derek St. John
has agreed to take a position as Director of Wrestling Operations as well as joining Virginia Tech's Southeast Regional Training center. Official word from Virginia Tech will come after completion of all paperwork and background checks, etc.
Zadick, 37, has been living in his home state of Montana since his departure from Iowa. His addition to the Virginia Tech Coaching staff further solidifies the connection between the Iowa and Virginia Tech program.
Zadick will be a huge boost to the light andmiddleweights for Virginia Tech. Zadick won a World Silver medal at 132.5 pounds in 2006 but competed collegiately at 149 pounds. He will bring a wealth of experience, talent and skill to push the Hokie room from 133 up to 157 potentially.
NCAA champion Derek St. John. St. John spent the last season as an assistant at North Dakota State. He will be the Director of Operations for the Hokies. St. John was a four-time All American for the Hawkeyes and won an NCAA title in 2013. St. John will join Devin Carter as a member of the Southeast RTC. His addition will bolster the middle weights which feature freshmen David McFadden and Dayton Racer as well as two-time All American Nick Brascetta.
Iowa and Virginia Tech became connected in 2006 when Tom Brands left Virginia Tech for Iowa and brought Brent Metcalf, Joey Slaton and Jay Borschel to Iowa City. Iowa alum Kevin Dresser was then named head coach at Virginia Tech and has taken the Hokies from the bottom of the Division I ranks to a regular fixture of the top 10.
Jog your memory about Mike Zadick by watching his win to make the World Team in 2010 here: