Kamal Bey
has become synonymous with nothing but pure high-flying action. Hence why he's earned the nickname
"The Human Highlight Reel."
It's pretty easy to know when he's on the mat because the crowd will let you know by the sound of the oohs and aahs. For the last three years the Oak Park & River Forest Huskie has been a staple of unorthodox mat savvy movement claiming titles on the state and national levels. But now as he approaches his senior year things are going to change drastically as he makes the move from OPRF to the Olympic Training Center in Colorado Springs.
As he moves to the OTC he will be focusing mainly on Greco, which the now former Huskie is really looking forward to.
"I started to love Greco when I was about three years old and my coach taught me the lateral drop," said Bey. "Ever since then I just loved launching people."
His love of launching has been pretty apparent, especially after watching his
Greco National title run
last weekend in Fargo as he sent everyone flying. But throwing people isn't just Greco specific for Bey. Despite losing the match, he even sent pound-for-pound king Mark Hall into the air with a strong mat return when they met this past season.
But the idea of Bey making the move to the OTC started a while back when USA Greco coach
Matt Lindland
took a trip to the Oak Park wrestling room.
"One day Coach Lindland flew out to the camp and watched practice," Bey said. "After practice he told me that I could have a good future with it. Later that day we were at coach Medlin's house and (Lindland) approached me and said 'how do you feel about coming to the OTC right now?'"
Initially, he was hesitant about the offer. But after giving it some thought and talking it over with his parents, he started to see thing differently.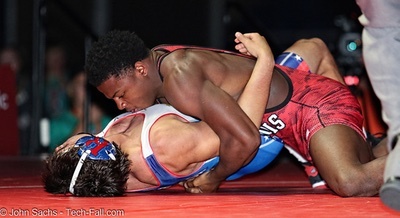 "At first I thought it was crazy because I had to finish my senior year here (at OPRF)," he said. "But then I talked to my parents about it and they thought that it was a good opportunity and told me that I should look into doing it. I mean I want to wrestle Greco for the rest of my life so I started thinking about it more and talking to my teachers and friends and they all supported it."
He has been getting support from all angles, but it was still tough for him to make the decision because he would miss his friends, family and teammates on both the wrestling and football teams. Although he wants to "wrestle Greco for the rest of his life," football is something very important to him that he excels at as well.
"My football coaches wanted me to really think about it because they wanted me to be a captain and a leader on the team this year," Bey said. "But when I told them my decision and everything they were behind me."
He also got some positive reinforcement from wrestling coaches
Paul Collins
and
Mike Powell
.
"Coach Powell was the main one saying that it was a really good option for me because I don't really have much to prove in high school, so he said to take the opportunity to wrestle international competition."
Head coach Paul Collins also wished Bey nothing but the best as he makes the move to the OTC.
"We want what's best for Kamal. He's clearly a phenom in Greco and we don't want to hold him back from pursuing his path," Collins said. "He's a young man who has flourished through our program and Illinois Greco. We have no doubt he will excel with the right training."
Although Greco is main focus and has been his favorite style, he still would like to go to college in the future. Whether or not he wrestles is yet to be determined.
"To be honest I never really saw myself wrestling in college because it's folkstyle and I don't really like that. I always thought about playing football in college," Bey said. "But I do want to go to college though, I just don't know when. I'd like to go to Iowa State though. Iowa State is a dream school for me, it just might be a little further down the line now."
Overall, Bey will be taking his talents to Colorado Springs. And no matter what, fireworks are sure to follow.
"There's some nerves behind me leaving," he admitted. "I get homesick easily and I'll miss a lot of people. The hardest part is going to be saying goodbye. But I am going after my goals and I can't wait to take on the competition."