NCAA Fallout: Willie's Take
Willie Saylor, Sr. Editor

What a show.

Perhaps it's because we know so much about the history, style, and background of all the wrestlers. Perhaps because, in our own brains, and because of all the information aavailable to us, we're able to create a heirarchy of expectations.

Whatever the case, the NCAA tournament is the most compelling and well-run competitions on the planet.

It's not a tournament, it's an experience, and one that stay with you long after you leave the arena.

I could write all day about it. I could probably write an article on each round, for each weight. But here, I'll keep it short and sweet and limit my comments to one situation per weight.

This is what I took away from OKC:


125:
Youngsters: Half (4th through 7th) finished in the money. It's an amazing stat considering 1) the Top 3 (Delgado, Nahshon, Nico) were locks, making for only 5 spots that were truly up for grabs, and 2) only Dylan Peters was ranked Top 8 coming in. Dance (4th) was ranked 18th and Darian Cruz (7th) wasn't ranked at all.
It's just another reminder that talent (provided it's accompanied by hard work) comes through in the end. Sure, there was plenty of talent that didn't place, but Cruz and Dance were prodigious prospects in high school, and that was just 12 months ago.
Almost inconceivably, Darian lost in the first round (to Nico) and wrestled all the way back to AA, beating the 4th, 7th, and 11th ranked wrestlers in the country to do so. We always praise 'road warriors' for such a path to placing. Now consider a true freshmen did it. His only losses were to Nico and Dance
Speaking of Dance - he lost in the second round. His only losses were to Delgado and, in the 3-4 match, to Nico. During his run, he beat #5-Peters, #6-Patterson, #9-Taylor, #16-Youtsey.

133:
True Shocker: CP and I looked at each other, mouths agape. To be sure, the NCAA offers a platter of upsets every year. But nothing prepared us for Brewer's destruction of Jon Morrison.
Morrison had owned the series 6-0. And this season, he didn't just beat Brewer every time, he completely controlled those matches. Brewer came out forceful; everything he did, he did with conviction and it paid off with a cradle for the fall. I'd like to erase from my memory the look on Morrison's face. It was one of heartbreak and disbelief.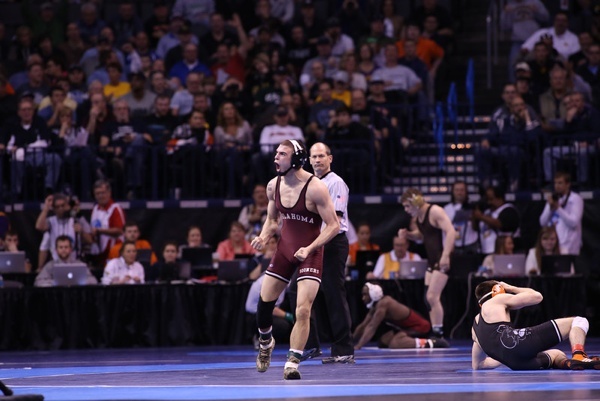 141:
The Do Over: We see it every year - Wrestler A beats Wrestler B on the front side and then the tables are turned on the backside. How can the outcome be so dramatically different in the span of 24 or 48 hrs? Every 7 minute match is a world unto itself.
Evan Henderson controlled his quarterfinal with Port the entire bout. Port then majored Hendo for 3rd. While we did get to see Port-Retherford for the first time, the Henderson upset took away the possibilities of a Carter-Port and/or Stieber-Port showdown. It goes to show that at the Big Dance, "one match at a time" isn't a cliche, it's the truth.

149:
Bracket Bustin': 14, 11, 10, 15. Those were the seeds of the four quarterfinalists in the bottom half of the bracket. Bader and I said in White Board Wars that the bottom half would be a mess, and they were. But neither of us thought it would be to that extent.
Ok, I lied. I said I'd limit myself to one situation per weight class, but I have to hit on a second issue. Kendric Maple. A fantastic career out of Kansas highlighted by a 2013 NCAA title. But he didn't look himself. Not all year, and certainly not in this tournament. His body language conveyed 'uninspired.' Part of that could be a case of 'I've already won a national title, what is there to wrestle back for.' But in conjunction with his entire senior season, it seemed more and more like he lost the fire to compete. College wrestling is a grind. Staying on top of your game, and the keeping the fire in your belly isn't an easy thing to do for 4 or 5 years. That's what I took away from watching Maple.

157:
I'll Ask You:
1. Is James Green the best, or second best, wrestler in the country at this weight?
2. Is Dylan Ness' 'Gator Bacon' junk or art?
3. What happened to Dylan Alton?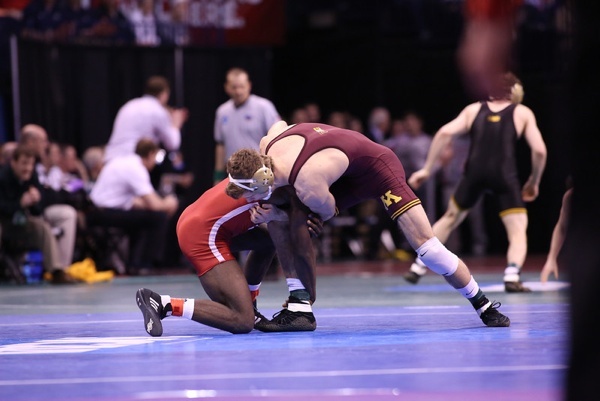 165:
Lookin' Ahead: 165, with one of the greatest college wrestlers I've ever seen, offered the least intrigue, so the bracket played out about as expected. As such, what I couldn't stop thinking about was next year.
Nick Sulzer was in full control of Stephen Monk in their 3rd place bout through two periods. Monk had 1 loss (Cooper Moore, UNI) coming in to the tournament, and 1 loss (to David Taylor) at NCAA's. In the third period, he locked up a cradle on Sulzer and go the fall.
Sulzer will be a Senior next year. 157lb Champ Dieringer will be moving up to 165. And there is a freshman in Ohio (Bo Jordan) licking his chops.
Who ya got?

174:
Take That, World: No way Chris Perry can beat Andrew Howe, right? Howe made it look easy in Bedlam. And then there was the highly controversial Big 12 final. For all intents and purposes, Mike Evans seemed to outwrestle Perry in the semi's. So there's no way Perry beats Howe in the finals.
174 has been an absolute monster the past two years. Incredibly deep and balanced. So Perry had a close one with Evans? Who hasn't had a close one at that weight?
He completely dominated Howe in the second half of the match. He's the best wrestler in the country at 174, hands down. At the beginning of the season, heck, at 7PM Saturday, I never thought I'd say that. Incredible gamer.
A couple other nuggets: Logan Storley wrestled with the passion I've been waiting to see out of him. Robert Kokesh is a gladiator - wrestling with a torn ACL half the tournament. Bryce Hammond scored the opening takedown in his first round bout against Mike Evans. Obviously, he lost. But he wrestled all the way back to earn AA honors.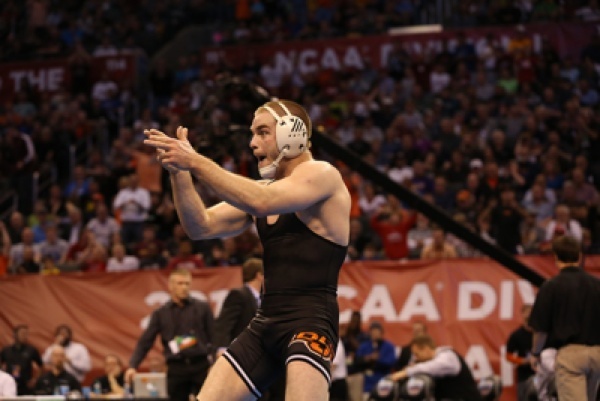 184:
Can You Do it Again, and Again?: First of all...Gabe Dean is the truth. He pushes the pace , is assertive and forceful, and keeps people off balance. Him, Sheptock, and Ruth were shoo-ins for top honors.
But two things here: 1) It really doesn't matter what you've done all year. Jack Dechow proved that. Dechow had a ho-hum season that wouldn't have made you predict a placing in OKC. But he finished 4th, and looked the part. It wasn't a fortuitous draw. It wasn't a case of the bracket playing out to his advantage. This kid is legit.
2) This could be said of any weight in March, but looking through the back side of 184, it jumps off the page at me. Can Wrestler A beat Wrestler B? Yes. Can Wrestler A beat Wrestlers C and D? Yes, and yes. The key is, can wrestler A beat B, C, and D consecutively?
There were certain wrestlers that were out of the tournament by consolation round 3 that are every bit as good as those that AA'd. The difference is stringing together matches to get you to the podium.

197:
Live By the Sword...: Up until the bout happened, CP and I were on the fence about the Heflin-Cox final. Heflin had the ability, but would he pull it off. I took Heflin.
He went through the post-season (including B1G's) with a sort of formulaic approach to getting his hand raised. Keep it close to the vest, don't take unnecessary risks, win the critical situations including ride-outs. In both B1G semi's and NCAA semi's, Heflin beat Schiller in 1-pters. In B1G finals, he beat McIntosh in rideouts. No disrespect to Schiller and/or McIntosh, but Heflin is better than that.
Heflin attempted to win that way in the finals, and it wasn't going to happen against a kid that pushes the pace as much as J'Den.

285:
Go Out There And Take It, Big Fella: I'll admit, I'm one of those guys who has to 'gut out' heavyweight matches. Now, don't get me wrong, I was the first to say that a great heavyweight crop is coming, and two years later, we're seeing unprecedented depth and talent at the last weight.
That being said, I utterly hate the 3-2 rideout, 'play-the-game' bouts that are all too pervasive at the HWT division.
That's why after Gwiazdowski took risks and came up empty in the first period, and after Tony Nelson's patented parallel 'look-like-I'm-doing-something' ride in the second, I thought: 'here we go, a win based on 'playing the game.'
But Gwiazdowski wasn't going out like that. He took it in the 3rd period, with relentless attacks. Not one takedown. But two. Leaving no doubt.
Make no mistake, I'm a big Tony Nelson fan. Love the kid and have since before he was a Gopher. But I root for offense. And Gwiz went out there and made it happen.


Some Random Nuggets:

True Freshman AA's:
Joey Dance - Virginia Tech
Darian Cruz - Lehigh
Zain Retherford - Penn State
J'Den Cox - Missouri

Freshman AA:
Cory Clark - Iowa
Dylan Peters - Northern Iowa
Jason Tsirtsis - Northwestern
Mitch Minotti - Lehigh
Brian Realbuto - Cornell
Isaac Jordan - Wisconsin
Gabe Dean - Cornell
Jack Dechow - Old Dominion

Video Review
- Only 4 of 47 video review challenges were overturned.

Road Warrior - Lost 1st Round, Came Back to AA
Darian Cruz - Lehigh (Nico Megaludis)
Anthony Perrotti - Rutgers (Blaise Butler)
Bryce Hammond - CSU-Bakersfield (Mike Evans)