Super 32
Super Day I In Greensboro
Super Day I In Greensboro
Oct 26, 2013
by Willie Saylor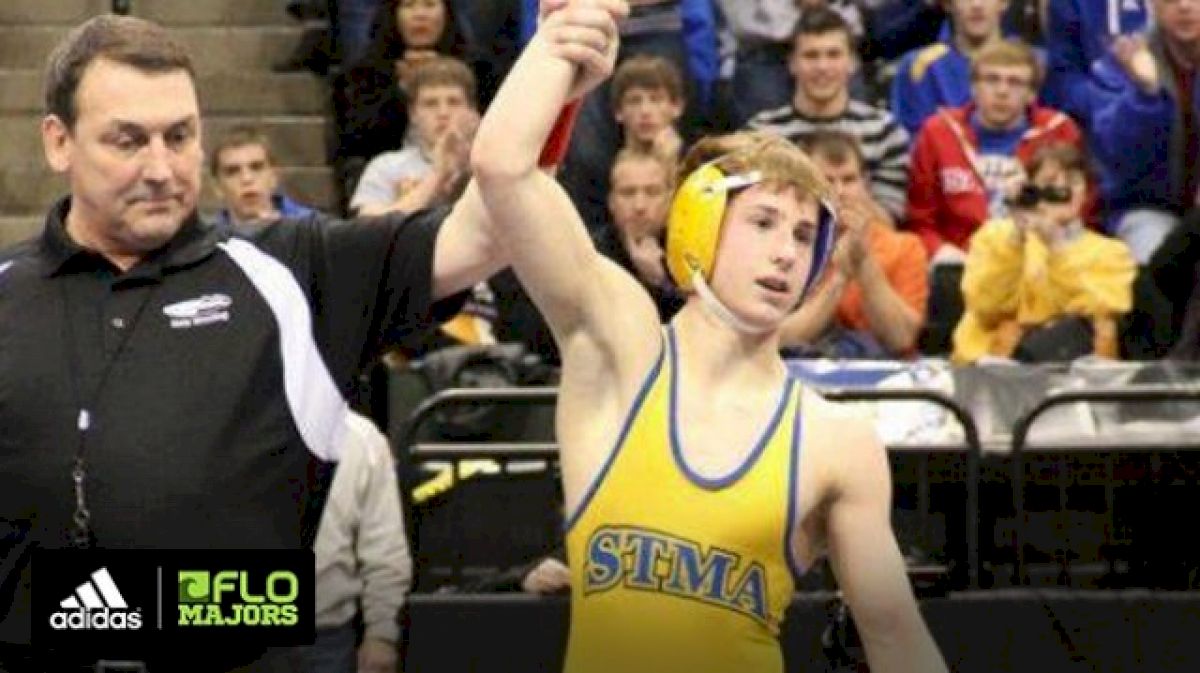 Super Day I In Greensboro
Willie Saylor, Editor


It didn't take long for some of the top ranked wrestlers in the country to be upset on the opening day of Super 32. But what else is new?

Welcome to the toughest tournament in the land.

Three Top 5 wrestlers went down within the first four rounds, setting the stage for what is annually one of the best sessions of high school wrestling in America.

Tomorrow at 8AM, the quarterfinals are wrestled on four consecutive mats, 1 weight at a time. Read the skinny on how the brackets played out on Day I, and get ready for a war in the morning.


106 Quarters:
#6-So. Gage Curry (PA) vs. HM-So. Ian Parker (MI)
#16-So. Ty Agaisse (NJ) vs. #11-Luke Karam (PA)
#4-Fr. Yianni Diakomahalis (NY) vs. Hunter Lucas (OH)
Vincent Artigues (GA) vs. #3-So. Tyler Warner (OH)

Day I Drama: Parker had an intense 3-2 win over 8th grade stud, Sammy Sasso.
Two of the best Freshmen in the country met when Diakomihalis pinned Paxton Rosen. Rosen had beaten #20-Brent Jones the previous round.


113 Quarters:
#1-So. Nick Suriano (NJ) vs. HM-Eli Stickley (OH)
Dustin Warner (OH) vs. #17-Jr. Christian Moody (OK)
#6-Jr. Jose Rodriguez (OH) vs. #8-Fr. Eric Hong (PA)
#2-Fr. Spencer Lee (PA) vs. #11-So. Jack Mueller (TX)

Day I Drama: Warner is a surprise quarterfinalist. He took out #7-Kyle Norstrem, 6-4. PA Fr. Gus Solomon beat #15-Isaac Jimenez.
But the crazy move of the day went to Moody, who leaped over #14-Ethan McCoy at the buzzer for a 1pt win.
We got a dandy in the last quart boys and girls. Lee was the Cadet World Team Member, and Mueller won Fargo.


120 Quarters:
#1-Sr. Sean Russell (GA) vs. HM-Jr. Anthony Cefolo (NJ)
#13-Sr. Kyle Akins (IL) vs. #7-So. Luke Pletcher (PA)
HM-So. Alex Mackall (OH) vs. #12-So. Mickey Phillippi (PA)
Troy Gregor (NC) vs. Nick Ferro (NJ)

Day I Drama: What a mess. The #2, #3, #6, and #7 seeds all fell on Day I.
We thought the shocker here was top seed Brent Fleetwood losing early. But then Ferro pinned #4-Piccininni. Piccininni was cruising 5-0 when Ferro tossed him to his back out of bounds and got the fall.
Akins edged #12-Chad Red. And Pletcher dispatched Fargo Runner-Up Mitchell McKee, 7-2. The Akins-Pletcher bout should be a great one.
And if anyone said they picked either Gregor or Ferro to make the semi's, you're a fibber.


126 Quarters:
#6-Sr. Tommy Thorn (MN) vs. Sr. Kevin Jack (CT)
Sr. Anthony Tutolo (OH) vs. Sr. Dom Forys (PA)
#4-Sr. Ryan Millhof (GA) vs. HM-Jr. Dylan Lucas (FL)
#20-Jr. Davion Jeffries (OK) vs. #9-Sr. Zeke Moisey (PA)

Day I Drama: Two ranked wrestlers, #10-Jared Prince and #19-Trae Blackwell, went down. They were the 4 and 8 seeds, respectively.
In what was a rarity at the lightweights, the bottom half of 126 went to chalk, with all the top seeds pulling through.


132 Quarters:
#8-Sr. Brock Ervin (KY) vs. Sr. Chase Zemenak (PA)
#20-Sr. Coy Ozias (VA) vs. #4-Jr. Michael Kemerer (PA)
#13-Sr. Anthony Giraldo (NJ) vs. #17-Sr. Colton Adams (NE)
#14-Sr. Mike Magaldo (NJ) vs. #6-Jr. Sam Krivus (PA)

Day I Drama: For such a monster bracket (and it might be the best here this year) the top seeds got the job done. Although Zemenak took out #5-Harding, the only real surprise was #16-Meredith dropping a bout to unseeded Dane Robbins.


138 Quarters:
#11-Jr. Patrick Duggan (PA) vs. Joe Ghione (NJ)
#7-Sr. Brock Zacherl (PA) vs. Jake Adcock (GA)
Kyle Lawson (OH) vs. Jacob Wentzel (PA)
Jr. Max Thomsen (IA) vs. #2-Sr. Jason Nolf (PA)

Day I Drama: The #17 Freshman in the country, Kyle Lawson upset #12-Josh Maruca, while his quarterfinal opponent, Wentzel, beat #15-Jonce Blaylock.


145 Quarters:
#16-Sr. Gary Dinmore (NJ) vs. Sr. Malik Amine (MI)
#3-Jr. Logan Massa (MI) vs. Sr. Mike Longo (CA)
#8-Sr. Grant Leeth (MO) vs. Jr. Tommy Dutton (NY)
#20-Jr. Tommy Forte (IN) vs. #18-Jr. Paden Bailey (OK)

Day I Drama: Only a minor upset in Nick Bennett losing. I called a coming out party for Dutton and he's delivered.


152 Quarters:
HM-Jr. Zack Hertling (NJ) vs. HM-Jack Bass (VA)
#4-Sr. Jake Danishek (OH) vs. #13-Sr. Louis Hernandez (NY)
#16-Jr. Cody Hughes (ME) vs. #3-Sr. Fox Baldwin (FL)
#7-Jr. Zach Kelly (PA) vs. Isaiah Crosby (FL)

Day I Drama: Again, only one minor upset. This time it was Crosby taking out HM-Toby Hague. #18-Corbin Allen defaulted after a good win over Danny Bullard.


160 Quarters:
Fr. Jelani Embree (MI) vs. Sr. Bobby Fehr (PA)
#6-Sr. John Schleifer (NJ) vs. HM-Jr. Dom Scalise (PA)
#2-Sr. Garrett Peppelman (PA) vs. Jr. Dayton Racer (MN)
Jr. Ben Schram (OH) vs. Sr. Austin Reese (OH)

Day I Drama: A couple ranked wrestlers go down. #14-Breitenbach lost to Ben Schram and #15-Stackhouse fell to Richard Viruet.


170 Quarters:
HM-Jr. Taylor Lujan (GA) vs. David Peters-Logue (NC)
Sr. Brad Drover (MA) vs. #6-Sr. Drew Garcia (MI)
#1-Sr. Chance Marsteller (PA) vs. #15-Sr. Steven Schneider (NY)
Sr. Austin Repp (MO) vs. #13-Sr. Ryan Harris (OH)

Day I Drama: Steven Schneider continued his impressive fall. But he has a tall task in the morning.


182 Quarters:
#19-Sr. Tom Sleigh (PA) vs. PG - Nicky Hall (NY)
#17-Jr. Ty Wildmo (MI) vs. #11-Sr. Tristan Sponseller (PA)
Sr. Phil Woods (NJ) vs. #19-Sr. Tom Sleigh (PA)
Nick Costa (NJ) vs. #9-Sr. Zack Zavatsky (PA)

Day I Drama: Woods took out #14-Reynolds. He'll get another PA kid in Sleigh in the morning.


195 Quarters:
Tyler Worthing (PA) vs. Sr. Ralph Normandia (NJ) - State 3rd
Sr. Christian Dulaney (MN) vs. #4-Sr. Derek White (OK)
Sr. Michael Oxley (NJ) vs. So. Drew Phipps (PA)
Sr. Corey Damiana (NJ) vs. #2-Sr. Chip Ness (GA)

Day I Drama: Worthing posted a minor upset of Colucci (NJ). Another Jersey foe awaits in the quarters.


220 Quarters:
Jake Gunning (PA) vs. Ian Butterbrodt (MA)
Vinny Feola (NY) vs. Antonio Pelusi (PA)
#5-So. Jordan Wood (PA) vs. Sr. Jerry Thornberry (OH)
#16-Sr. Trent Allen (NC) vs. Sr. Matt Moore (GA)

Day I Drama: Gunning upset HM-Christian Jenco (NJ). Pelusi outlasted Ben Cruz (FL) in OT.


HWT Quarters:
Sr. Logan Turner (VA) vs. Austin Underwood (FL)
#15-Sr. Jesse Webb (VT) vs. Dakota Bell (NC)
Jr. Andrew Dunn (PA) vs. #16-Sr. Jake Scanlan (IA)
Patton Gossett (SC) vs. #14-Sr. Patrick Garren (OH)

Day I Drama: In a very good second round match, returning placer Turner beat FILA finalist Nick Nader.



Tomorrow will be wild! FLO PRO it before 8AM, folks!