Tech Wave Live Events Schedule
Willie Saylor, Editor
Flowrestling is happy to announce our live broadcast schedule for the next three weeks.
On the slate are four of the biggest tournaments in the country that you won't want to miss. Current Tech Wave Members can view all broadcasts for free. If you're not already a member, you can sign up here.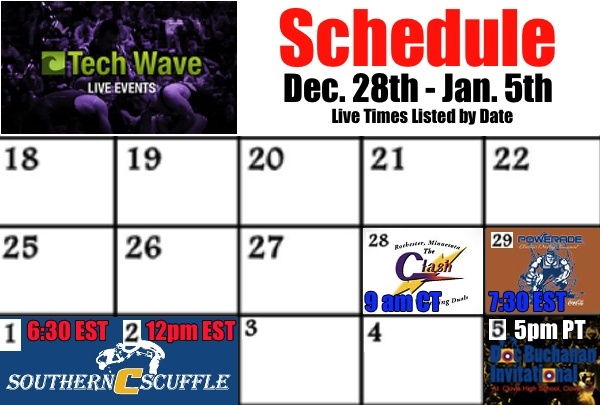 Beast of the East - University of Delaware - December 22nd and 23rd
The Beast of the East is one of high school wrestling's crown jewels. Now in its milestone 20th year, the Beast is perennially one of the country's toughest and most rigorous in-season tournaments.
This year's field features #1-Blair Academy, #2-Wyoming Seminary, #14-Bethlehem Catholic, #15-Central Dauphin and Honorable Mention teams Bergen Catholic, McDonogh, Christiansburg, and Don Bosco.
As always, the match-ups on the individual side will be wild. Potential battles loom everywhere starting with the #1 and #2 106lbers Nick Suriano and Austin Assad. At 120, #1-Nathan Tomasello will look to prevent #4-Darian Cruz from capturing his 3rd Beast Title. #1-Joey Dance will be looking for the title that's always eluded him, having finished Runner-Up the last two years. But he'll have to contend with #2-Ryan Diehl, to get that title. #2-Kyle Snyder looks to stay perfect in his amazing career at the Beast.
And this is just the tip of the iceberg.
Flo will be Live Streaming the Finals at 3:15 EST, Dec. 23rd
Powerade - Canon McMillan High School, Pa - December 28th and 29th
Powerade has established itself as one of the top tournaments in the country annually, and this year's field will be deep. In addition to #1-Blair Academy (NJ) and the 8th ranked host school CM, we'll get to see California power, #10-Clovis. The top team from the Northwest, Hermiston, OR, will be here, along with a powerful Moeller, OH, squad and Baylor, Tennessee.
The individual match-ups will be out of this world. Think of all the possibilities: #1-vs #2 at 170 in Chance Marsteller and Cody Wiercioch, #2-Kyle Snyder vs #3-Thomas Haines in a Super 32 final rematch. 138 is ridiculous with #1-Zain Retherford followed by Mason Manville, Tyler Berger, Joey Galasso, and Josh Maruca. A #2-Brooks Black vs. #3-Nick Nevills bout. And on and on...

Flo will be Live Streaming the Finals at 7:30 EST, Dec. 29th
The Clash XI - Rochester Minnesota, December 28th and 29th
The premier dual tournament in the country, The Clash features epic battles on every mat. Their unique bracketing system ensures tight duals and dramatic finishes.
Once again the Clash staff has put together a terrific field, the results of which will heavily influence the national team rankings.
In tow this year are thirteen of the fifty nationally recognized teams in Florankings: #4-St. Michael-Albertville (MN), #5-Apple Valley (MN), #7-Brandon (FL), #17-Montini Catholic (IL), #18-Oak Park-River Forest (IL), #19-Carl Sandburg (IL), #20-Marist (IL), #22-Kasson-Mantorville (MN), and Honorable Mention squads Simley (MN), Bound Brook (NJ), Pope (GA), Blue Springs (MO), and Kearney (MO).
Additionally the #1 teams in their state classification are here: Thompson (AL), Collins Hill (GA), Lake Stevens (WA), Jefferson (GA), Pierre (SD), and Green Valley (NM).

Flo will be Live Streaming from 8 MATS. Action starts at 9am both days.
Southern Scuffle - University of Tennessee-Chattanooga - January 1st and 2nd
The Scuffle has evolved from a good college tournament, to a great one, to a monolith in the regular season schedule. It's now, quite simply, the best college wrestling tournament this side of NCAA's.
Twenty-two teams flock to UTC this year, including a huge addition in 34-time NCAA Team Champions, Oklahoma State. Along with the #4-Cowboys, #1-Penn State and #2-Minnesota give the Scuffle top end power.
But the fun just gets going with them, as four more ranked teams populate the competition: #7-Missouri, #8-Cornell, #9-Virginia Tech, and #19-Virginia give the Scuffle 7 of the nation's Top 20 teams.
The team race could be considered a 'mini-NCAA's'. But as deep as that is, the individual match-ups might even be more compelling. Lets's just look at 125, where 4 of the Top 6 wrestlers in the Top 20 are here. 149 has 5 of the Top 7. 165 has the Top 4! 174 has 8 of the Top 20. 184 has 3 of the Top 4. 197 has 5 ranked guys, and at HWT, the Top 2 and three of the Top 4 and 4 of the Top 6, are all here. In total, 72 of the nation's 200 ranked wrestlers will all grace the mats in Chattanooga. And that's not including expected redshirts like Devin Carter and Morgan McIntosh.
The premier match-ups? Oh, there's that little Dake-Taylor II thing. A possible Taylor-Caldwell bout. Like the lightweights? How about Nico Megaludis vs. Alan Waters. Another big test for Jordan Oliver...Dylan Ness or Andrew Alton. How about another PSU-Cornell match-up featuring two returning NCAA Champs: Ruth and Bosak. And a 1 vs 2 match-up at HWT between Nelson and Bradley, if and only if they both get past semi's with Gelogaev and McMullan looming.
It's a who's who of college wrestling and a preview of the NCAA tournament no fan will want to miss.
Flo will be Live Streaming the Quarters, Semis and Finals from 4 MATS. Quarters start at 6:30 pm EST, Jan. 1st. Semis start at 12pm EST, Jan. 2nd.


Doc Buchanan - Clovis High School, CA - January 4th and 5th
This year offers some out-of-state flavor as well, with the #2 Wyoming Seminary coming to battle the best California has to offer and challenge the 10-th ranked Clovis Cougars. Also in the field is perennial Oregon powerhouse, Roseburg.

Other nationally recognized California teams are HM-Bakersfield and Reno TOC Runner-Ups, #23-Poway.

On the individual side, twenty-two Flo-ranked wrestlers will compete for the coveted Doc B Cowboy Hat. Zahid Valencia, Aaron Pico and Eric Morris are all ranked #1 in the nation, while Isaiah Martinez is ranked 2nd.

Tech Wave members can get set to watch the action live, as Flowrestling will bring the action to your homes on January 5th, 2013.

Flowrestling will be Live Streaming the Finals at 5pm PT, January 5th.

For the passionate wrestling fan, the next two weeks are filled with great action that we're excited to be able to bring you LIVE!
Continue to check in to FLO for tournament broadcast schedule of rounds and mat assignments.