Olympic Greco Weight Classes:
55KG 60KG 66KG 74KG 84KG 96KG 120KG

Freestyle
Womens

120 KG Greco


ONE BAD DUDE:
Cuba's 120kg Greco Roman king, Mijain Lopez, won the Olympics on Monday, and won them in dominating fashion. Without dropping a single period in his four bouts, Lopez outscored his opponents 14-0.
The country's flagbearer during the openening ceremonies, Lopez has positioned himself among the All-Time greats during nearly a decade of dominance.
Lopez has reached the World or Olympic finals for eight straight years, posting a 6-2 mark in those bouts.
In 2008, he won Senior Worlds and University Worlds within a two month span.
Lopez was 5th in the 2004 Athens' Olympics. In the eight years since, he's dropped just three bouts (one each in the 2011 and 2006 World finals and once at the 2008 Poddubny tournament in Moscow).
He's amassed an international resume rivaling some of the best of all time. And at 29 years of age, he might not even be done.

Gold medal match:

Majian Lopez (CUB) dec. Heiki Nabi (EST) 2-0, 1-0
Lopez was very active during the neutral portions of both periods. Though he didn't score, he dominated positioning.
In the first period clinch, with Lopez on top, he was running out of time before hitting a low gut for 2 late.
Nabi was on top in the second par terre, and got the crowd exited for a moment when he appeared to have a lift working. But Lopez is excellent on bottom and successfully defended the period, and along with it, his 2008 Olympic Title.


U.S. Representative: Dremiel Byers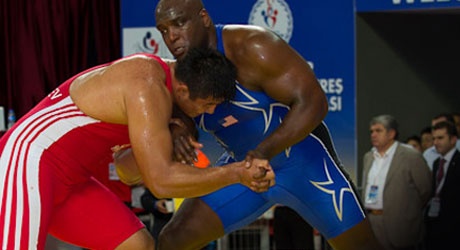 The U.S. Olympian at 120kg, Dremiel Byers, lost a close bout to reigning World Champion Riza Kaayalp of Turkey, 0-1, 0-1.
The brutal top half bracket featured three World Champions: Byers (2002), Kaayalp (2011) and Mejian lopez of Cuba, a 5-Time World Champ and defending Olympic Champ.

Dremiel Strong in First Round
US Heavyweight, Dremiel Byers was in full control in his 1-0, 2-0 opening round win Monday morning. He defeated Muminjon Abdullaev (UZE) by defending the clinch in the first. He scored a two-point exposure with a gut in the second.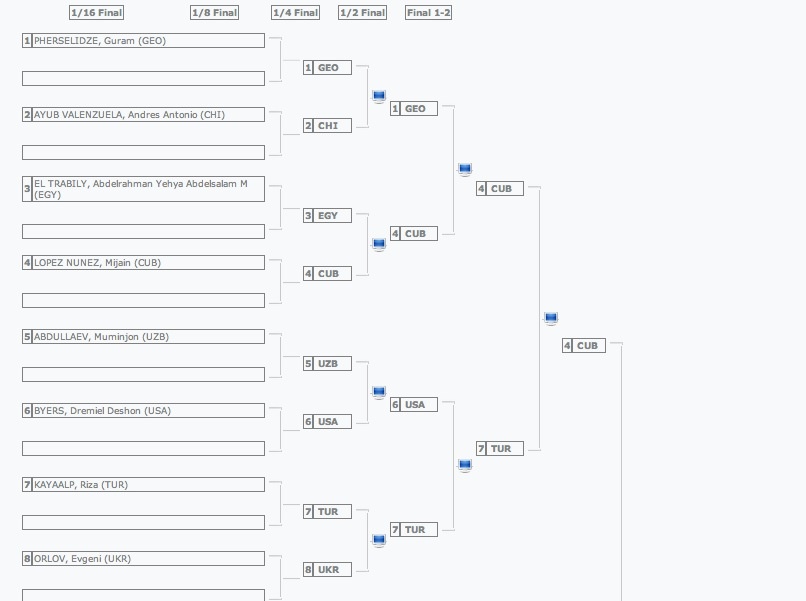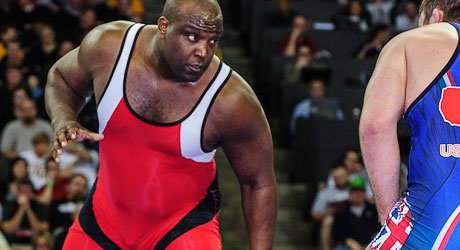 Club:Army
2009 World Silver
2007 World Bronze
2002 World Champion