Olympic Greco Weight Classes:
55KG 60KG 66KG 74KG 84KG 96KG 120KG
Freestyle Womens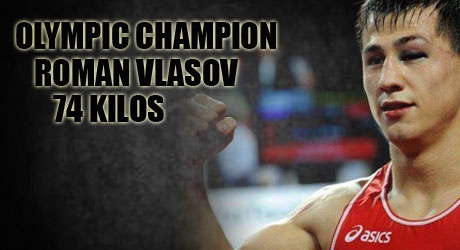 The 74kg greco-roman final was a very competitive and evenly matched bout. The final paired defending World Champion and odds-on favorite, Roman Vlasov of Russia, v.s. World Bronze and Silver Medalist, Arsen Julfalakyan of Armenia.
The match opened with some great activity.

Julfalakyan

made a point to initiate the action and was commonly seen pressuring into Vlasov (hard!) while pushing the pace. Vlasov could sense

Julfalakyan's plan of attack, however, and managed to match

Julfalakyan's intensity with solid counters and tactical hand fighting throughout. Neither scored so at the 1:30 mark,

Julfalakyan was placed down in parterre. Vlasov initially tried for a big lift, but

Julfalakyan defended well, so he transitioned to his gut wrench. Vlasov's gut wrench worked -giving him the period 2-0.
The second period was much of the same with
Julfalakyan pressuring in hard -almost charging- while working for inside position against Vlasov. Vlasov matched Julfalakyan's intensity with his own again, and midway through the period, the match turned into a real scrap. Neither wrestler was able to manage a takedown, however, so they once again went to the clinch. After a series of unsuccessful starts (and cautions handed out to each wrestler), Julfalakyan locked up his reverse lift. He was unable to secure it, though, and transitioned to a head pinch instead. Vlasov battled out of that position as well and managed to defend long enough to secure his first (of what may become many) Olympic Championship for the young Russian at 74kg.
Roman Vlasov over
Arsen Julfalakyan: 2-0, 1-0
74 KG Greco
U.S. Representative: Ben Provisor




Round 1 and 2 Recap
In his 1st round match, Provisor gutted out a tough 0-3,1-0,1-0 decision against Bel Caballero of Cuba. Provisor lost the 1st period but managed to score on a pushout in the 2nd and later defended a gut wrench for parterre in the 3rd to win the come-from-victory. Winning placed him in the round of 16.
1st round: WIN 0-3, 1-0, 1-0
Provisor never seemed to get in a groove in his round of 16 match. After not scoring for 1:30, both wrestlers were placed in parterre. Provisor had trouble on top and could not turn opponent,

Datunashvili of Georgia -forcing him to lose the 1st period: 0-1. The 2nd period didn't go well either. Early in the 2nd period,

Datunashvili hit a nasty arm spin for 3 and then a very solid gut for another two points.

Datunashvili cruised from there -winning a comfortable 1-0, 6-0 decision. Provisor needs

Datunashvili to make the finals to stay in medal contention.

Round of 16: LOSS 0-1, 0-6
Of note: deep into the 2nd period, Ben Provisor got his arm locked into his opponent's arm pit and seemed to tweak his elbow. Provisor appeared physically hurt and had to take a fair amount of injury time before finishing the period and match. One wonders if this will affect him granted he wrestles again.

Click the bottom right of bracket to view full screen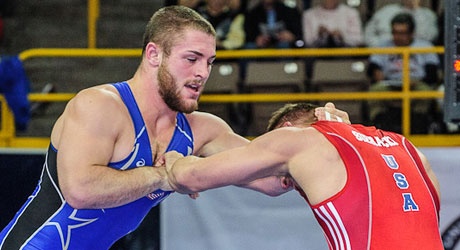 www.wrestlersarewarriors.com
Club: Sunkist Kids
2011 Pan American Games Siver



Event schedule for greco 74 kg. All greco 74 kg rounds take place August 5th 2012.
7:00 AM CST-----Qualification
7:30 AM CST-----Round of 16
8:30 AM CST-----Quarter Finals
9:00 AM CST-----Semi Finals
11:45 AM CST----Bronze Medal
12:25 PM CST----Finals