10. Iowa State vs Wisconsin...Who is getting out of the cellar? These two teams have had uncharactisticly horrible dual meet seasons. Both are unranked in dual rankings. They face off in the first round and both teams need to get a win for morale.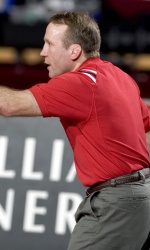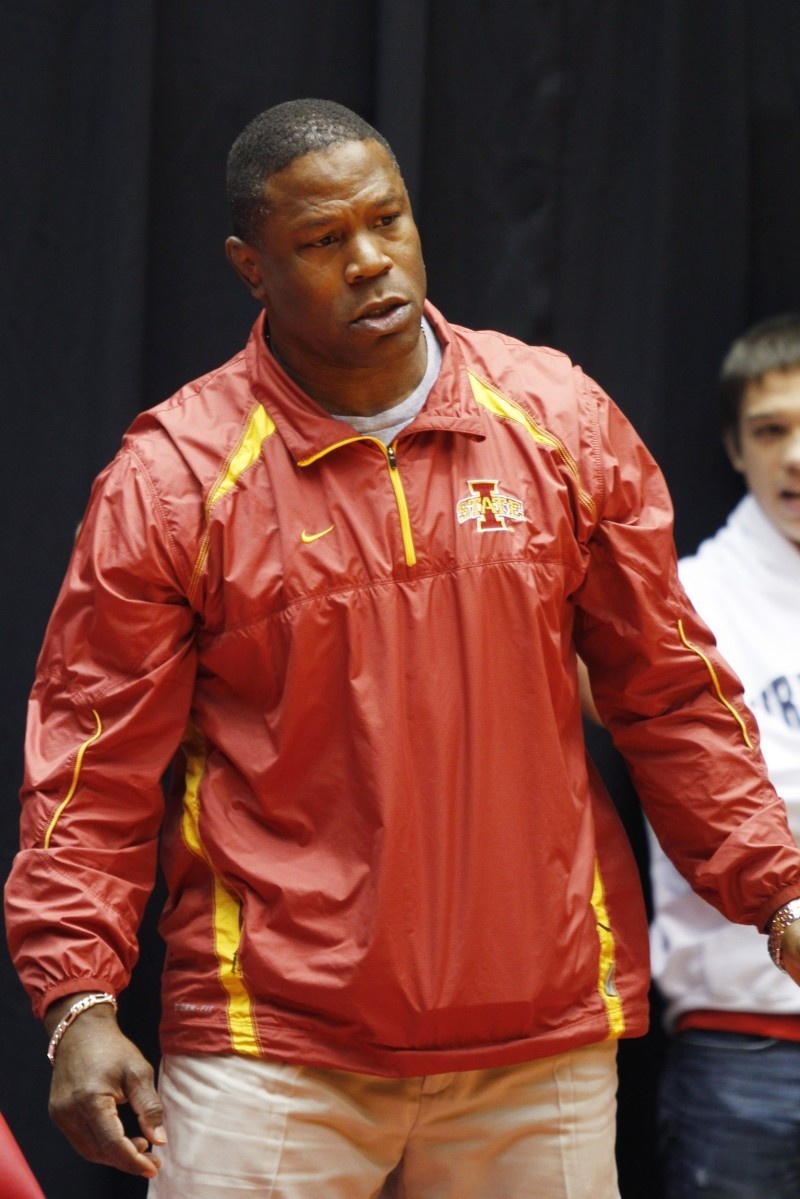 9. #12 Oklahoma's Mark Cody faces former Team (UR) American. Mark Cody is a wizzard of a coach and built American University Wrestling up from the dust of the earth. Last year American finished 5th at NCAAs! This year Cody has taken over an Oklahoma squad that has had some pretty flat performances. Although American is ranked 10th in tournament rankings they have a relatively weak dual team. Oklahoma is the opposite, they have a weak tournament team but a stronger Dual team. Great first round match up with a lot of back story.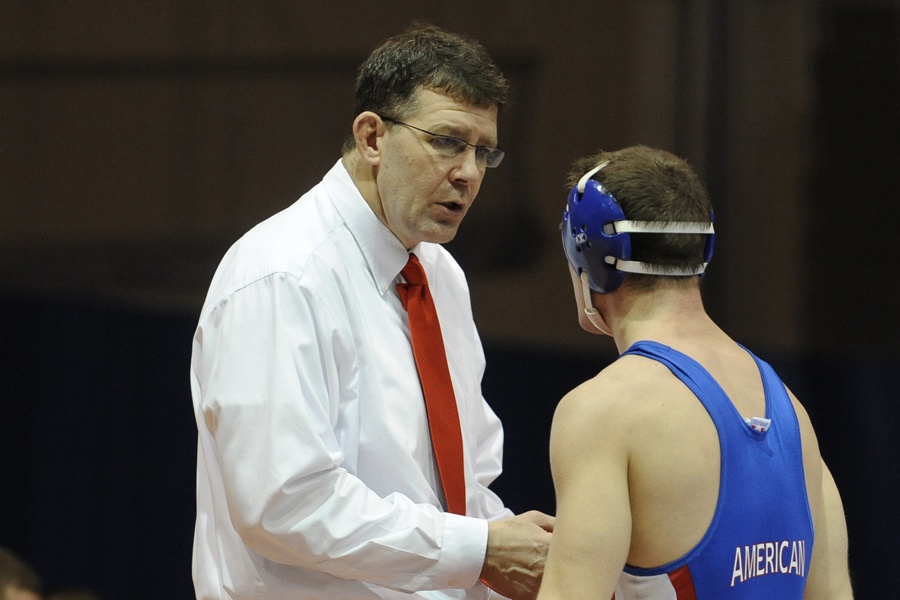 8. #6 Ohio State vs #8 Nebraska in Semis. Last time these two teams met they had a barn burner match with Nebraska winning 18-16. #6 Ohio State must win for the fans to see a #3 Stieber vs #1 Oliver match up in the finals. If Ohio State wins the fans will most likely get to see a very rare dual between #6 Ohio State vs #1 Oklahoma State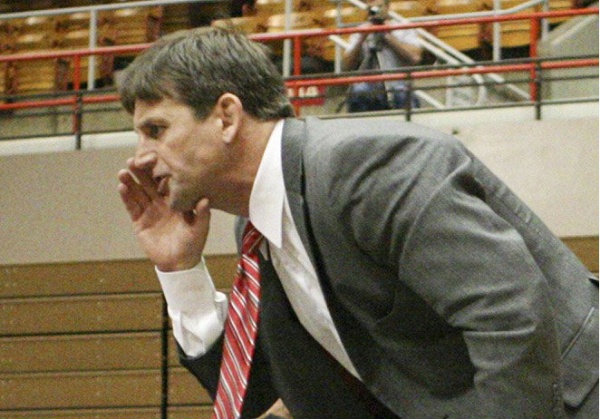 7.
Can Branch's Cowboys Give Oklahoma State a Run For Their Money? Wyoming won 4 or 5 matches from Oklahoma State in their first dual, and if Wyoming can hold the same punch without the element of surprise
and
on the road they are the real deal. An Upset would be an all out shocker.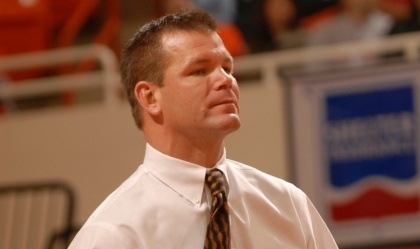 6. 133lbs #4 Ramos (Iowa) vs #2 Devin Carter (Virginia Tech)
This match up is very likely to happen so long as Virginia Tech beats Northern Iowa and Iowa and VT stick to their lineups.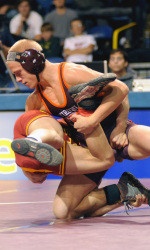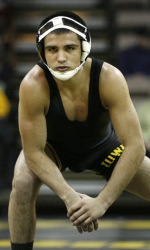 5. Will #3 Cornell stay in the elite, or will #7 Illinois take their spot?
After repeat
Runner U
p performances at the NCAA Tournament, Rob Koll's Big Red doesnt look as strong as previous years, but are coming on strong toward the end of the season. They likely have to defeat a tough #7 Illinois squad to adance from their region. If Cornell can advance they remain in that elite core gorup of teams. On the other hand Illinois hasnt been in the elite in quite some time.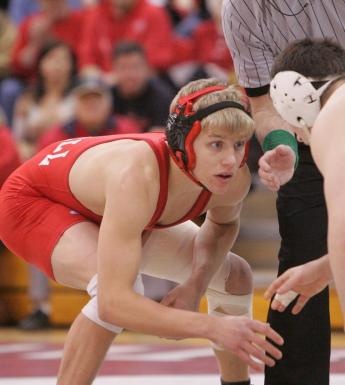 4. 125 lbs #3 Alan Waters (Mizzou) vs #2 Zack Sanders (Minnesota) This Alan Waters kid is a real great surprise for Mizzou. In the RPI rankings (as opposed to the coaches rankings) he actually is ranked 1! Zach Sanders is way more established though. If Waters faces and beats Sanders he will have entered a new class and will be in a great position to earn a #2 seed or higher.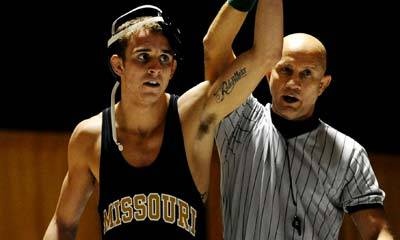 3. 141 lbs #4 Mangrum (Oregon state) vs #6 Marion (Iowa)
Remember when #6 Marion (Iowa) made the NCAA Finals two years ago? Well he is ranked 6th now. Despite that he is one of the nations most exciting wrestlers to watch. Oregon State's Jim Zalesky will have a hard time to get past Iowa to win the region but getting a moral victory by having #4 Mangrum win against Marion will be BIG. #6 Marion (Iowa) cant just wrestle exciting, he has got to win to position himself from a seeding standpoint and mental standpoint heading into NCAAs. Also a huge Match for Iowa as a team. Marion has to perform down the stretch for Iowa to be in the hunt against Penn state Oklahoma State and the rest. This match tells us where he is at.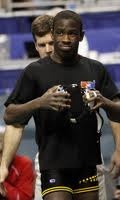 2. Is #4 Minnesota Back for a Title? Remember when they pulled out a title in 2007? That is also the last year they won the National Duals. At times this year Minnesota looked stellar and other times they seemed a bit flat. IF they can win another National Duals Title they should have the confidence to go into St Louis and win it all. First they have to get out of their region: Kent State, Missouri and Michigan all vying to take em down.


1. 133lbs: #3 Logan Steiber (Ohio State) vs #1 Jordan Oliver (Oklahoma State)
In the most dramatic weight class of the year we can expect an all out war from these two studs - IF they meet. #6 Ohio State has to get past #8 Nebraska for this match up to be possible. A ton of NCAA seeding implications on the line here.