Iowa Wins 6 Titles At Prestigious Missouri Valley Open
Iowa Wins 6 Titles At Prestigious Missouri Valley Open
Iowa won the most individual titles at the Missouri Valley Open, but several teams had a solid showing at the prestigious in-season tournament.
Nov 19, 2023
by Kyle Klingman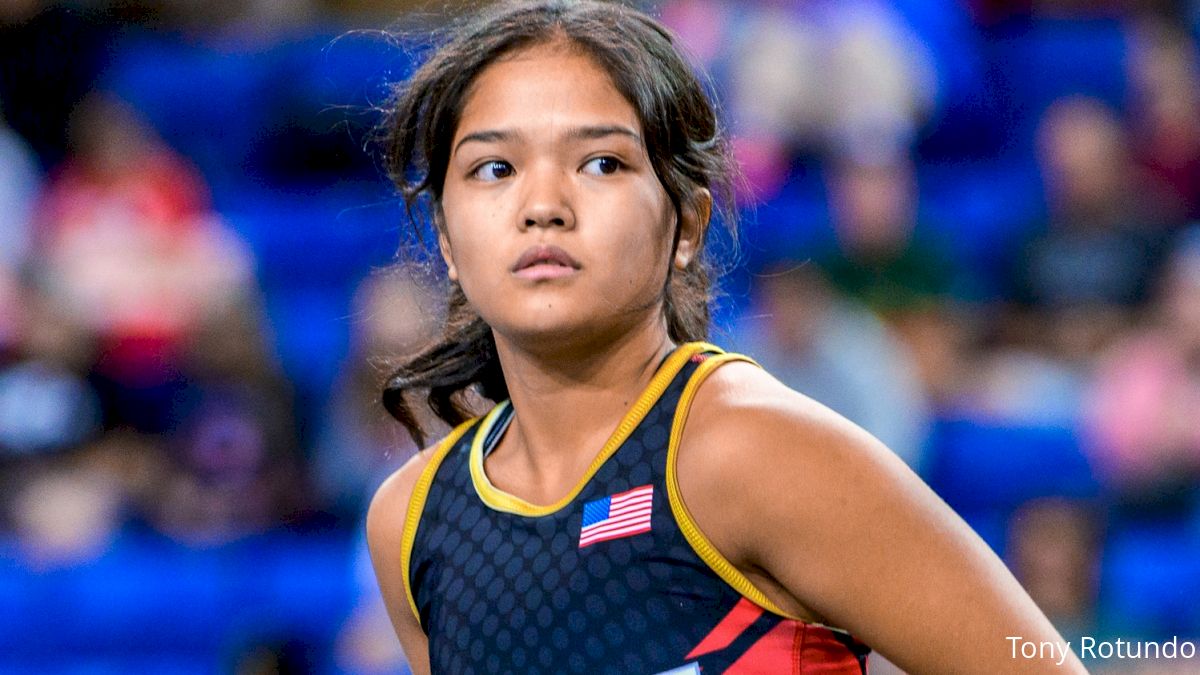 The University of Iowa sent a robust squad to the Missouri Valley Open over the weekend and took six titles out of 11 contested weight classes.
This tournament featured many of the best wrestlers from multiple divisions, and it included a handful of open wrestlers, too. Five of the finals featured an NAIA vs NCAA matchup with a 3-2 split in favor of the NCAA.
Sterling Dias and Emilie Gonzalez squared off in a rematch of last year's 101-pound finals when both wrestled unattached. Both were Hawkeyes this time around with Dias winning 6-6 after falling to her teammate 7-0 in the Princeton Open final.
William Penn's Mia Palumbo notched a hard-fought 2-1 win against in-state foe Ava Bayless, while Gonzalez's identical twin sister — Brianna — defeated Salyna Shotwell of McKendree 8-0 in the 116-pound finals and her teammate Felicity Taylor won by the same score over Sophia Smith of Oklahoma City to take the 123-pound crown.
It was an all-NAIA final at 130 with Southern Oregon's Carolina Moreno defeating Texas Wesleyan's Elizabeth Duvall, 6-2. Iowa's Ester Han had five falls and one tech to take the 136-pound crown, and her teammate Reese Larramendy defeated Texas Wesleyan's Mea Mohler, 5-1, in the 143-pound final.
Southern Oregon's Caitlyn Davis defeated Sacred Heart's Maddie Sandquist, 7-2, at 155 pounds but the match of the afternoon was a 170 pounds. Dymond Guilford — a four-time national collegiate champion for Missouri Baptist and Cumberlands — wrestled unattached and defeated Iowa's Kylie Welker, 4-2.
Guilford and Welker are part of the deep 76-kilogram domestic field that includes seven different wrestlers who have reached Final X, the last leg in the qualification process for the Worlds and Olympics. This was a rematch of the National Team match won by Welker.
Simon Fraser's Julia Richey teched Iowa's Alyvia White, 12-0, for the 191-pound title, and Samantha Calkins (Iowa) won at 235 pounds, which isn't a contested weight at either of the four-year college national championships.
Tournament Results
Click here for full brackets and results
101 Pounds
1st Place - Sterling Dias of Iowa
2nd Place - Emilie Gonzalez of Iowa
3rd Place - Stefana Jelacic of Lourdes
4th Place - Alyssa Quezaire of Missouri Baptist University
5th Place - Esther Walker of Midland University
6th Place - Abbeygael Cabaug of Vanguard
7th Place - Juliana Alejandro of Tiffin University
8th Place - Isabella Morales of Colorado Mesa
1st Place Match
Sterling Dias (Iowa) won by decision over Emilie Gonzalez (Iowa) (Dec 6-6)
3rd Place Match
Stefana Jelacic (Lourdes) won by fall over Alyssa Quezaire (Missouri Baptist University) (Fall 1:35)
5th Place Match
Esther Walker (Midland University) won by tech fall over Abbeygael Cabaug (Vanguard) (TF 10-0)
7th Place Match
Juliana Alejandro (Tiffin University) won by decision over Isabella Morales (Colorado Mesa) (Dec 4-2)
109 Pounds
1st Place - Mia Palumbo of William Penn
2nd Place - Ava Bayless of Iowa
3rd Place - Alexsys Jacquez of University of Saint Mary
4th Place - Emma Baertlein of Southern Oregon University
5th Place - Natalie Reyna of Southern Oregon University
6th Place - Elizabeth Dosado of University of the Cumberlands
7th Place - Adriana Gomez of Colorado Mesa
8th Place - Kylee Slyter of Baker University
1st Place Match
Mia Palumbo (William Penn) won by decision over Ava Bayless (Iowa) (Dec 2-1)
3rd Place Match
Alexsys Jacquez (University of Saint Mary) won by decision over Emma Baertlein (Southern Oregon University) (Dec 5-1)
5th Place Match
Natalie Reyna (Southern Oregon University) won by decision over Elizabeth Dosado (University of the Cumberlands) (Dec 8-5)
7th Place Match
Adriana Gomez (Colorado Mesa) won by decision over Kylee Slyter (Baker University) (Dec 10-8)
116 Pounds
1st Place - Brianna Gonzalez of Iowa
2nd Place - Salyna Shotwell of McKendree University
3rd Place - Payton Stroud of McKendree University
4th Place - Avery Ashley of Oklahoma City University
5th Place - Camille Fournier of Texas Wesleyan
6th Place - Maddie Mackenzie of Simon Fraser University
7th Place - Icart Galumette of Campbellsville University
8th Place - Katerina Pendergrass of Gannon University
1st Place Match
Brianna Gonzalez (Iowa) won by decision over Salyna Shotwell (McKendree University) (Dec 8-0)
3rd Place Match
Payton Stroud (McKendree University) won by fall over Avery Ashley (Oklahoma City University) (Fall 2:24)
5th Place Match
Camille Fournier (Texas Wesleyan) won by fall over Maddie Mackenzie (Simon Fraser University) (Fall 4:04)
7th Place Match
Icart Galumette (Campbellsville University) won by decision over Katerina Pendergrass (Gannon University) (Dec 8-2)
123 Pounds
1st Place - Felicity Taylor of Iowa
2nd Place - Sophia Smith of Oklahoma City University
3rd Place - Carissa Qureshi of Unattached - California
4th Place - Shelby Moore of McKendree University
5th Place - Alexandra Fitzgerald of Sacred Heart
6th Place - Ella Jauregui of Unattached - California
7th Place - Victoria Seal of Simon Fraser University
8th Place - Julia Vidallon of McKendree University
1st Place Match
Felicity Taylor (Iowa) won by decision over Sophia Smith (Oklahoma City University) (Dec 8-0)
3rd Place Match
Carissa Qureshi (Unattached - California) won by decision over Shelby Moore (McKendree University) (Dec 10-1)
5th Place Match
Alexandra Fitzgerald (Sacred Heart) won by fall over Ella Jauregui (Unattached - California) (Fall 2:50)
7th Place Match
Victoria Seal (Simon Fraser University) won by tech fall over Julia Vidallon (McKendree University) (TF 12-2)
130 Pounds
1st Place - Carolina Moreno of Southern Oregon University
2nd Place - Elizabeth Duvall of Texas Wesleyan
3rd Place - Jennifer Soto of McKendree University
4th Place - Bella Williams of Unattached - Oklahoma
5th Place - Forfeit Forfeit of Unattached
6th Place - Joanna Vanderwood of William Penn
6th Place - Devin Patton of William Penn
7th Place - Skye Realin of Central Methodist University
8th Place - Piper Cadden of Unattached- Kansas
1st Place Match
Carolina Moreno (Southern Oregon University) won by decision over Elizabeth Duvall (Texas Wesleyan) (Dec 6-2)
3rd Place Match
Jennifer Soto (McKendree University) won by decision over Bella Williams (Unattached - Oklahoma) (Dec 4-2)
5th Place Match
Joanna Vanderwood (William Penn) and Devin Patton (William Penn) (DFF)
7th Place Match
Skye Realin (Central Methodist University) won by tech fall over Piper Cadden (Unattached- Kansas) (TF 10-0)
136 Pounds
1st Place - Esther Han of Iowa
2nd Place - Gianna Moreno of Friends University
3rd Place - Alexandra Szkotnicki of McKendree University
4th Place - Janiah Jones of Unattached - Missouri
5th Place - Piper Hall of Vanguard
6th Place - Aileen Lester of Ottawa University
7th Place - Jade Trolland of Simon Fraser University
8th Place - Mattison Parker of Texas Wesleyan
1st Place Match
Esther Han (Iowa) won by fall over Gianna Moreno (Friends University) (Fall 4:18)
3rd Place Match
Alexandra Szkotnicki (McKendree University) won by tech fall over Janiah Jones (Unattached - Missouri) (TF 11-0)
5th Place Match
Piper Hall (Vanguard) won by tech fall over Aileen Lester (Ottawa University) (TF 11-0)
7th Place Match
Jade Trolland (Simon Fraser University) won by decision over Mattison Parker (Texas Wesleyan) (Dec 6-6)
143 Pounds
1st Place - Reese Larramendy of Iowa
2nd Place - Mea Mohler of Texas Wesleyan
3rd Place - Emma Walker of Campbellsville University
4th Place - Ella Schmit of Iowa
5th Place - Bella Amaro of Southern Oregon University
6th Place - Reagen Gallaway of Hastings
7th Place - Serenity De La Garza of Missouri Valley College
8th Place - Khadijah Sanusi of Sacred Heart
1st Place Match
Reese Larramendy (Iowa) won by decision over Mea Mohler (Texas Wesleyan) (Dec 5-1)
3rd Place Match
Emma Walker (Campbellsville University) won by fall over Ella Schmit (Iowa) (Fall 2:27)
5th Place Match
Bella Amaro (Southern Oregon University) won by fall over Reagen Gallaway (Hastings) (Fall 6:00)
7th Place Match
Serenity De La Garza (Missouri Valley College) won by fall over Khadijah Sanusi (Sacred Heart) (Fall 1:08)
155 Pounds
1st Place - Caitlyn Davis of Southern Oregon University
2nd Place - Madison Sandquist of Sacred Heart
3rd Place - Destiny Rodriguez of McKendree University
4th Place - Paige Maher of Simon Fraser University
5th Place - Athena Willden of William Jewell College
6th Place - Josselinne Campos of Unattached - Kentucky
7th Place - Taydem Khamjoi of Unattached - California
8th Place - Sheanareial (Nari) Miller of Texas Woman's University
1st Place Match
Caitlyn Davis (Southern Oregon University) won by decision over Madison Sandquist (Sacred Heart) (Dec 7-2)
3rd Place Match
Destiny Rodriguez (McKendree University) won by tech fall over Paige Maher (Simon Fraser University) (TF 10-0)
5th Place Match
Athena Willden (William Jewell College) won by fall over Josselinne Campos (Unattached - Kentucky) (Fall 0:59)
7th Place Match
Taydem Khamjoi (Unattached - California) won by tech fall over Sheanareial (Nari) Miller (Texas Womens University) (TF 13-2)
170 Pounds
1st Place - Dymond Guilford of Unattached - California
2nd Place - Kylie Welker of Iowa
3rd Place - Haley Ward of Iowa
4th Place - Lily El-Masri of Vanguard
5th Place - Jewel Gonzalez of Gannon University
6th Place - Annabelle Helm of Gannon University
7th Place - Abby McIntyre of Grand View
8th Place - Love Daley of Sacred Heart
1st Place Match
Dymond Guilford (Unattached - California) won by decision over Kylie Welker (Iowa) (Dec 4-2)
3rd Place Match
Haley Ward (Iowa) won by decision over Lily El-Masri (Vanguard) (Dec 8-6)
5th Place Match
Jewel Gonzalez (Gannon University) won by tech fall over Annabelle Helm (Gannon University) (TF 11-0)
7th Place Match
Abby McIntyre (Grand View) won by fall over Love Daley (Sacred Heart) (Fall 1:34)
191 Pounds
1st Place - Julia Richey of Simon Fraser University
2nd Place - Alivia White of Iowa
3rd Place - Jaycee Foeller of Unattached - Iowa
4th Place - Lessly Sandoval of University of Saint Mary
5th Place - Madeline Hodges of Sacred Heart
6th Place - Noami Duenas of University of the Cumberlands
7th Place - Andjela Prijovic of Unattached - Iowa
8th Place - Elisa Robinson of Baker University
1st Place Match
Julia Richey (Simon Fraser University) won by tech fall over Alivia White (Iowa) (TF 12-0)
3rd Place Match
Jaycee Foeller (Unattached - Iowa) won by fall over Lessly Sandoval (University of Saint Mary) (Fall 2:28)
5th Place Match
Madeline Hodges (Sacred Heart) won by decision over Noami Duenas (University of the Cumberlands) (Dec 5-3)
7th Place Match
Andjela Prijovic (Unattached - Iowa) won by fall over Elisa Robinson (Baker University) (Fall 1:21)
235 Pounds
1st Place - Samantha Calkins of Iowa
2nd Place - Isabeau Shalack of Colorado Mesa
3rd Place - Payton Sholander of Wayland Baptist University
4th Place - Jaycee Portee of Texas Woman's University
5th Place - Aaliyah Ivarra of Avila
6th Place - Asia Young of Central College
7th Place - Martha Vizcarra of Baker University
8th Place - Rose Rother of Iowa Central Community College
1st Place Match
Samantha Calkins (Iowa) won by decision over Isabeau Shalack (Colorado Mesa) (Dec 5-2)
3rd Place Match
Payton Sholander (Wayland Baptist University) won by fall over Jaycee Portee (Texas Woman's University) (Fall 0:30)
5th Place Match
Aaliyah Ivarra (Avila) won by forfeit over Asia Young (Central College) (FF)
7th Place Match
Martha Vizcarra (Baker University) won by decision over Rose Rother (Iowa Central Community College) (Dec 4-0)