NCAA
Five Things You Need To Know About D3 Wrestling This Season
Five Things You Need To Know About D3 Wrestling This Season
Six national champions and more than 40 All-Americans are back in Division III, and the stage is set for another battle between the D3 power programs.
Nov 17, 2023
by James Nelson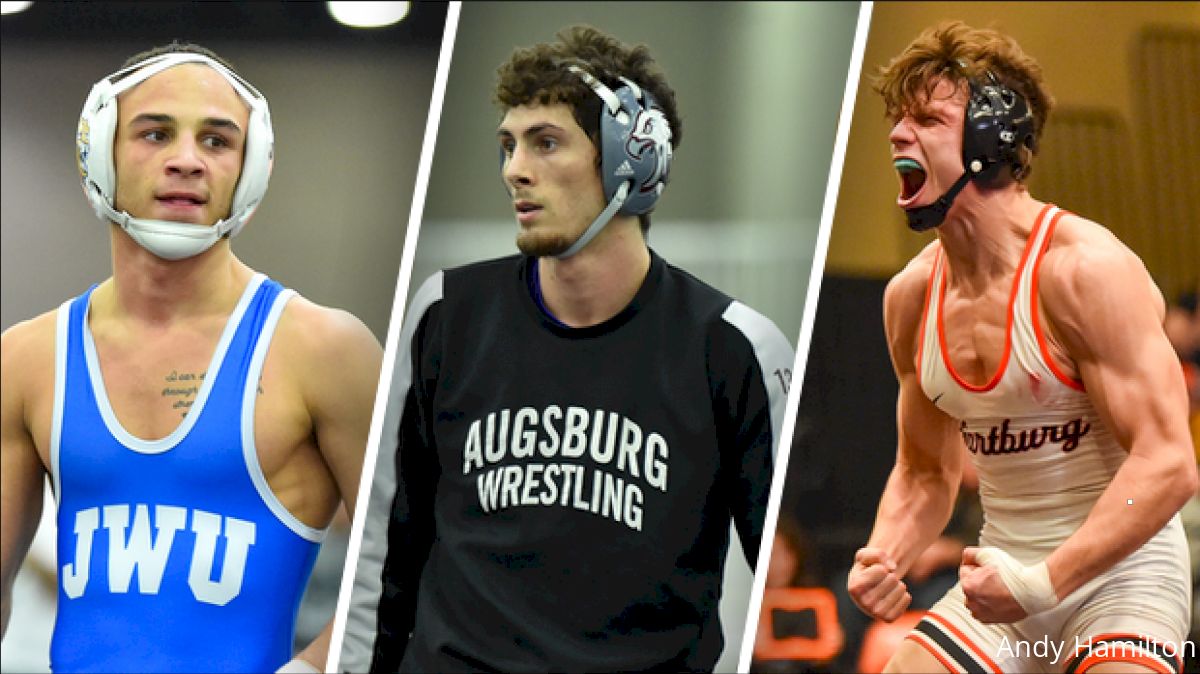 The Division III wrestling season has gotten into full swing over the last two weekends.
Six national champions return, four national runner-ups and more than 40 All-Americans return, which means the 2023-24 season is poised to be a wild, crazy and entertaining season that will feature twists at every turn.
The national championships will be held March 15-16 in La Crosse, Wisconsin at the La Crosse Convention Center.
Flowrestling breaks down some of the storylines that will play out this season.
Team To Beat
Defending national champion Augsburg University is the easy choice here.
Head coach Tony Valek's team returns six All-Americans, including defending 141-pound national champion Sam Stuhl.
Stuhl, a transfer from North Dakota State, won last year's title after entering the championships in Roanoke, Va., unseeded.
Tyler Kim is a three-time All-American and opens the season ranked #1 at heavyweight. Bentley Schwanebeck-Ostermann, another three-time All-American, is the preseason #1 at 184.
Cooper Willis at 165, Charlie Stuhl at 149 and Seth Goetzinger at 174 are the other returning All-Americans.
Additionally, the Auggies return lineup veterans Derek Steele, Cade Willis, Parker Venz and Blake Jagodzinske.
With that much experience and production returning, Augsburg is easily favored to win its 15th NCAA championship.
Top Contenders
Any conversation about the favorite to win the Division III crown that starts with Augsburg will always include Wartburg College
The Knights finished second to the Auggies last year, but just a half-point ahead of Baldwin Wallace, three ahead of North Central College and just 5.5 in front of Wisconsin-La Crosse.
That was the top-five in 2023, but it would not be shocking if those five teams, perhaps in a different order, all reside in the top five in 2024.
Wartburg returns a pair of national champions in Zane Mulder at 174 and Massoma Endene at 197. Joe Pins at 133 (2022) and Nathan Fuller at 165 give the Knights four returning All-Americans.
Whom else will help the Knights make up the 40-point difference in La Crosse is yet to be determined, but head coach Eric Keller has a roster of nearly 70 to reload with.
Zach Cook returns five national qualifiers at North Central, including 149-pound national runner-up Javen Estrada. Christian Guzman (125), Alex Villar (157), Bradley Rosen (141) and Robby Bates (285) also provided the Cardinals plenty of firepower.
At La Crosse, head coach Dave Malecek returns national champion Nolan Hertel at 157 and All-Americans Noah Leisgang at 165 and Michael Douglas at 285. Tyler Goebel at 149 and Ben Kawcynski at 197 also have national tournament experience.
Baldwin Wallace returns national champion Michael Petrella at 149. He is ranked #1 at 149, but won at 157 at the Ithaca College Invitational to open the season.
Returning All-Americans Jaden Hinton at 133 and Doug Byrne at 285 also provide the Yellowjackets with plenty of potential national tournament points.
Top Returning Stars
The division has six returning champions – Joziah Fry of Johnson and Wales at 125, Stuhl at 141, Petrella at 149, Hertel at 157, Mulder at 174, Jaritt Shinhoster of UW-Whitewater at 184 and Endene at 197.
Additionally, national runner-ups Javen Estrada of NCC at 149, Matthew Lackman of Alvernia at 165, Jared Stricker of UW-Eau Claire at 174, and Coy Spooner of the U.S. Coast Guard Academy at 197 return.
When you are talking best of the best, the list should start with Fry, and Petrella is not far behind.
Fry, a Campbell transfer, had as dominant of a season as any wrestler in Division III in the last decade going 43-0 with 31 bonus victories en route to winning the 125-pound title for the Wildcats.
Baldwin Wallace's Petrella has been as good, pound-for-pound, as any wrestler in Division III the last two seasons.
A runner-up in 2022 when he posted 37 wins and 11 falls, he followed it up with 33 wins, 15 falls, and 10 other bonus wins on his way to the 149-pound title in Roanoke.
Since transferring from Iowa State, Wartburg's Mulder is 63-4 with his title last year, a podium finish (fourth) in 2022 and he was runner-up during the COVID NWCA National Championships in 2021.
Newcomers To Watch
Though veterans dominate the D3 landscape, it's worth tracking the progress of a trio of freshmen.
Heavyweight Jake Walker will join the Wartburg wrestling team sometime in the weeks ahead. Right now, he's focused on football. Walker is a defensive lineman for the third-ranked football team with national title aspirations. He'll be a welcomed addition to a wrestling squad that's chasing a title as well. Walker was a three-time Iowa state finalist and three-time Fargo All-American and a 16U freestyle finalist.
Freshman Jack Richardson registered a technical fall at 157 pounds in his debut for Johnson & Wales. Richardson was a two-time New England high school champion.
North Central appears to be in good shape at 125 pounds for years to come. In addition to Guzman, the Cardinals also have freshman Ethan Spacht, who placed fourth in a tough Illinois high school state tournament bracket as a senior. Spacht dropped a 4-2 decision against Guzman on the opening weekend of the season at the Pointer Open.
News, Notes And Nuggets
Four new programs have joined the Division III ranks for 2023-24 – Saint Vincent College located in Latrobe, Pa., Blackburn College in Carlinville, Ill., Illinois Wesleyan in Bloomington, Ill., and Utica College (New York).
Currently there are 123 teams set to wrestle this winter in Division III.
Four more are expected to join in 2024-25 — Maine Maritime, Misericordia (Pa.), Penn State-Altoona (Pa.), Randolph (Virginia). Two more have announced for 2025-26 — Arcadia (Pa) and Northland (Wisconsin), while Lyon (Arkansas) is transitioning from NAIA to Division III also in 2025-26.