2023 Bill Farrell Memorial International Open
2023 Women's Freestyle Bill Farrell Memorial International Preview
2023 Women's Freestyle Bill Farrell Memorial International Preview
Six spots in the 2024 Olympic Trials are on the line at this year's Bill Farrell Memorial International.
Nov 16, 2023
by Kyle Klingman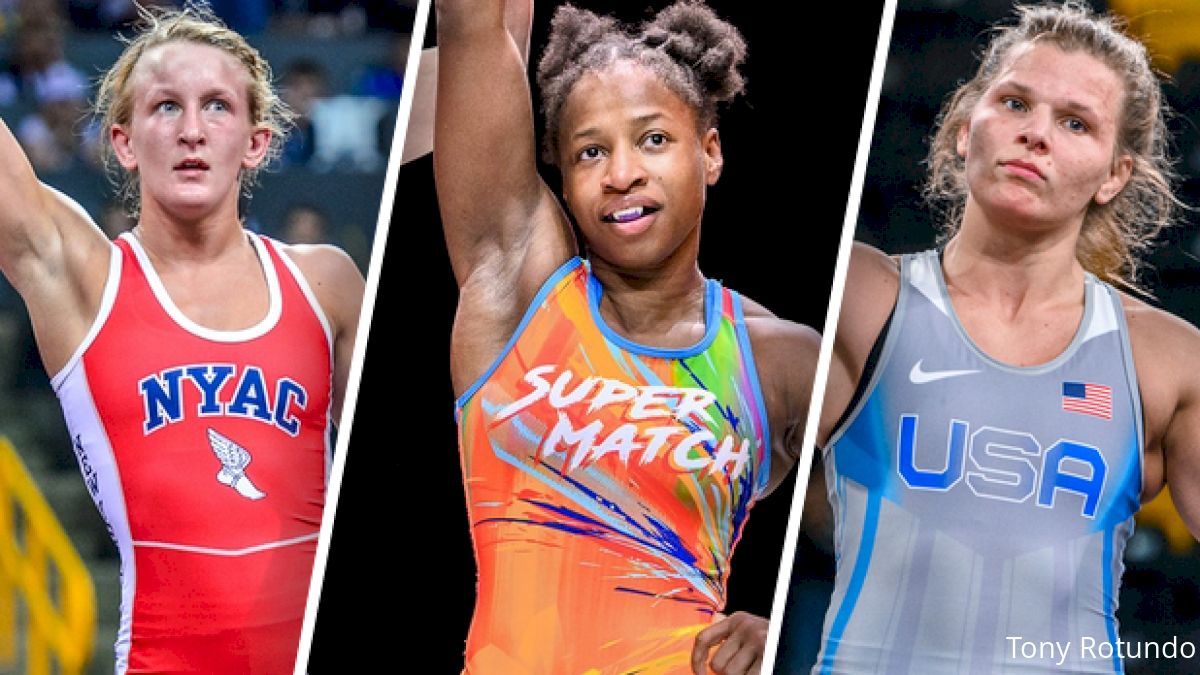 The 2023 Bill Farrell Memorial International has added significance this year. On the line are six berths for April's 2024 Olympic Trials.
The women's freestyle competition is Friday, November 17, and will be streamed live on FloWrestling. The top U.S. place winner (in the top four) in each weight who has not already qualified will advance to the Challenge Tournament of the Olympic Trials.
The tournament will only contest the six Olympic classes: 50 kg, 53 kg, 57 kg, 62 kg, 68 kg, and 76 kg.
Below is a breakdown of each weight class and who to look out for this weekend.
50 Kilograms
Domestic Breakdown: This weight is a mix of seasoned veterans, college stars, and promising prospects.
Three-time age-level World champion and five-time collegiate national champion Emily Shilson returns after missing this year's US Open due to an injury. Sage Mortimer placed third and second at the National Collegiate Wrestling Championships for King but transferred to Grand Valley State and will take an Olympic redshirt.
Shilson defeated Mortimer during the finals of the 2023 NCWWC tournament in March, then faced off a few weeks later at the 2023 U23 National Championships. The best-of-three series ended in controversy, so the Bill Farrell Memorial International could be the first time they meet since Women's Nationals.
Wyoming Seminary's Clare Booe has been on a roll of late. The high school star won the East Stroudsburg Open by knocking off two college All-Americans. Erica Pastoriza, a 2021 Cadet World champion, is a true freshman at William Jewel and might take an Olympic redshirt, too. She competes at 101 pounds so moving up to 50 kg (110 pounds) will test her readiness.
Erin Golston is the class of the domestic field, though. She is consistently on US National Teams and is a two-time World bronze medalist. Former college stars Charlotte Fowler, Arelys Valles, and Nina Pham round out a tough field in a tough weight class.
American Entries
Mariah Anderson
Clare Booe
Charlotte Fowler
Erin Golston
Aleeah Gould
Sage Mortimer
Erica Pastoriza
Nina Pham
Vanessa Ramirez
Emily Shilson
Avery Steldt
Arelys Valles
Foreign Entries
Katie Dutchak (Canada)
Madison Parks (Canada)
Miyu Nakamura (Japan)
Svetlana Ankicheva (Kazakhstan)
53 Kilograms
Domestic Breakdown: Haley Augello, 29, is returning to competition following a four-year layoff. The 2016 Olympian will use the Bill Farrell Memorial International as her first step to make the 2024 team.
College national champion Marissa Gallegos is always formidable, as are Lauren Mason, Alisha Howk, Vayle Baker, and Areana Villaescusa. Howk is moving down from 55 kilograms where she reached Final X and was a 2023 U23 World teamer. Mason is a four-time college All-American who made the 2022 National Team.
The Canadians will keep this weight honest. Karla Godinez Gonzalez, Samantha Stewart, and Diana Weicker are all formidable — so placing in the top four won't be easy.
American Entries
Haley Augello
Vayle Baker
Juliana Diaz
Marissa Gallegos
Alisha Howk
Ella Jauregui
Morgan Johnson
Lauren Mason
Areana Villaescusa
Alex Waitsman
Foreign Entries
Serena DiBenedetto (Canada)
Jade DuFour (Canada)
Karla Godinez Gonzalez (Canada)
Sueanne Harms (Canada)
Samantha Stewart (Canada)
Diana Weicker (Canada)
57 Kilograms
Domestic Breakdown: Alex Hedrick and Xochitl Mota-Pettis have both reached Final X but both fell to Helen Maroulis who has a bye to the Olympic Trials best-of-three finals. Maroulis may be a common opponent but each wrestles a completely different style. Hedrick is methodical and deliberate, while Mota-Pettis is wide-open and exhilarating. XMP teched Hedrick during the 2023 US Open finals, so this will be a chance for both to make adjustments.
They will be tested by college stars Lexi Janiak (Aurora) and Virginia Foard (King) who are in the midst of their college seasons. Janiak won a bronze medal at the U20 2023 World Championships and will compete in the NWCA All-Star Classic on Tuesday, November 21.
Keep an eye out for Brenda Reyna and Amanda Martinez. Reyna was a college national champion for McKendree, while former North Central star Martinez is a past National Teamer. Martinez and Hedrick typically have tough, tight matches — so be on the lookout for another showdown between these two.
A robust foreign field means anything can happen at this weight.
American Entries
Hailey Corona
Jaclyn Dehney
Killian Delaney
Virginia Foard
Alex Hedrick
Alexis Janiak
Katrina Kling
Amanda Martinez
Xochitl Mota-Pettis
Kira Pipkins
Brenda Reyna
Foreign Entries
Gabriela Cross (Canada)
Annika Fines (Canada)
Tianna Kennett (Canada)
Vivian Kutnowski (Canada)
Macy Malysiak (Canada)
Alexandria Town (Canada)
Himeka Tokuhara (Japan)
Ainur Ashimova (Kazakhstan)
Karoline Ortiz Rosado (Puerto Rico)
Nes Marie Rodriguez Tirado (Puerto Rico)
62 Kilograms
Domestic Breakdown: Of the six contested weights, this might be the most wide-open. Lauren Louive and Lexie Basham have reached Final X at 59 kilograms so this tournament will test their readiness at a heavier weight.
Ana Luciano and Ashlynn Ortega, former King University stars and teammates, will contend, as should 2019 Cadet World medalist Skylar Hattendorf, Maya Letona, and SaVannah Cosme.
A tough foreign field means making the finals for an American will be even tougher.
American Entries
Lexie Basham
SaVannah Cosme
Aine Drury
Hanna Errthum
Skylar Hattendorf
Maya Letona
Lauren Louive
Ana Luciano
Marisol Nugent
Ashlynn Ortega
Marisa Roth
Andrea Schlabach
Foreign Entries
Angelina Lelo (Angola)
Lais Nunez de Oliveira (Brazil)
Ella Doornaert (Canada)
Ana Godinez Gonzalez (Canada)
Aleah Nickel (Canada)
Miki Rowbottom (Canada)
Kirti Saxena (Canada)
Angelina Rodriguez Miranda (Cape Verde)
Tynys Dubek (Kazakhstan)
Diana Kayumova (Kazakhstan)
68 Kilograms
Domestic Breakdown: Two-time World medalist Mallory Velte will try her hand at 68 kilograms after stints at 62 and 65 kg. Her track record makes her a favorite, but she'll have plenty of opposition.
Solin Piearcy had a solid showing at the 2022 World Cup and will battle fellow college national champions Kaylynn Albrecht and Alex Glaude. Iowa's Rose Cassioppi reached the US Open finals at 72 kg and is moving down for her shot at the Olympic Trials. Past Senior National Team members Jackie Cataline and Marilyn Garcia will also contend.
Linda Morais, a 2019 World champion for Canada, will make this a fun weight to watch.
American Entries
Kaylynn Albrecht
Rose Cassioppi
Jackie Cataline Surber
Noelle Gaffney
Marilyn Garcia
Alexandria Glaude
Anastasia Hardin
Lydia Krauss
Josette Partney
Solin Piearcy
Olivia Pizano
Stella Steigler
Mallory Velte
Foreign Entries
Nyla Burgess (Canada)
Elise Daynes (Canada)
Angelina Ellis Toddington (Canada)
Linda Morais (Canada)
Katie Mulkay (Canada)
Elena Sehic (Canada)
Mei Shindo (Japan)
Madina Bakgergenova (Kazakhstan)
76 Kilograms
Domestic Breakdown: This field is small but mighty. Yelena Makoyed, Skylar Grote, and Precious Bell have all reached Final X. Makoyed was the first recipient of USA Wrestling's Women's College Wrestler of the Year and, at one point, she won four international ranking tournaments in a row. Tristan Kelly and Brooklyn Hayes still have college eligibility and could play spoiler here.
American Entries
Destane Garrick
Skylar Grote
Brooklyn Hays
Tristan Kelly
Shenita Lawson
Yelena Makoyed
Precious Bell Wieser
Foreign Entries
Taylor Follensbee (Canada)
Briana Fraser (Canada)
Shauna Kuebeck (Canada)
Vianne Rouleau (Canada)
Faith Telford (Canada)
Ariana Xavier (Cape Verde)
Zhamila Bakbergenova (Kazakhstan)