2023-24 Missouri Wrestling
Mizzou Wrestling Taking Competition Lessons Back To Room | Tiger Insider
Mizzou Wrestling Taking Competition Lessons Back To Room | Tiger Insider
Missouri won the team title and five individual crowns at the Tiger Style Invite, but three close finals losses stuck with coach Brian Smith.
Nov 15, 2023
by Matthew Smith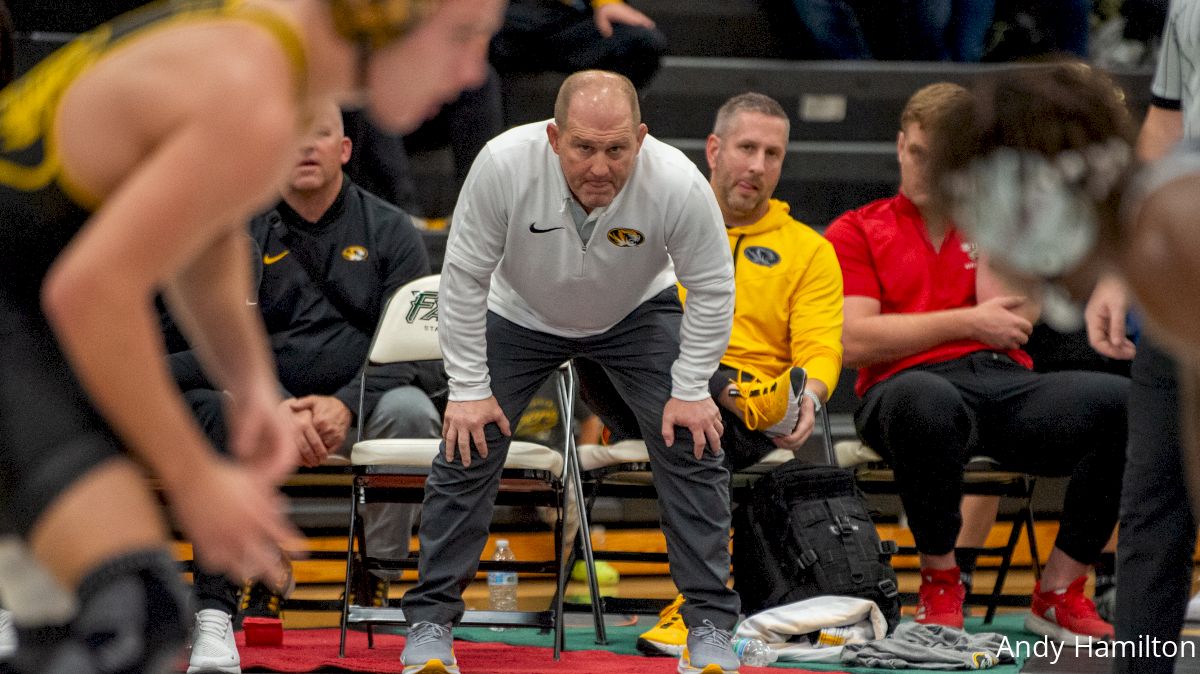 Brian Smith and his wrestlers had just finished rolling up the mats Saturday inside the Staley High School gymnasium when the longtime Missouri coach stopped to reflect on the Tigers' first full-team performance of the season.
Mizzou ran away with the team title at the Tiger Style Invite, where 11 Tigers reached the finals, five won titles and Smith's squad finished 38.5 points ahead of second-place Little Rock.
There were plenty of superlatives — Noah Surtin (125), Brock Mauller (157), Keegan O'Toole (165), Clayton Whiting (184) and Zach Elam (285) won titles — but three losses in the finals stuck with Smith in the immediate aftermath of the opener.
"I thought we wrestled pretty good throughout the day, scoring a lot of bonus points, but my mind is thinking of the tight losses at '33, '41 (and) '74 — those three I really think we had opportunities and didn't wrestle good in certain positions and capitalize when we could've," Smith said. "We just have to go back and work with them."
Smith was referring to Zeke Seltzer at 133, Josh Edmond at 141 and Peyton Mocco at 174. Seltzer battled back from a 4-0 deficit in the third period before dropping an 8-5 overtime decision against Little Rock's Nasir Bailey. Edmond got ridden out in a 2-1 tiebreaker defeat against Maryland's Kal Miller. Mocco dropped an 8-7 decision against Cal Poly's Adam Kemp at 174.
Mocco is a five-year starter with more than 80 career victories, three conference finals appearances and All-America honors on his resume. The Tigers know what they have here.
But Seltzer is in the Mizzou lineup for the first time, Edmond is just beginning his second year as a starter and there's some experience issues to work through. Smith wants to see them continuing to stay aggressive throughout matches.
"It's getting them to understand that physical and mental part of the sport, which is my job and my coaches' job," Smith said. "We've got to get them improving in those areas."
Mizzou vs. Mizzou Finals At 157 and 184
Two all-Mizzou finals added clarity to one weight battle and complexity to another.
Mauller, a three-time All-American at 149, defeated Cam Steed for the second time in two weeks, following up his 2-1 wrestle-off win at 157 with a 7-2 victory in the Tiger Style finals. Smith said the Tigers are locked in with Mauller "as long as he stays at '57. That's up to him."
In Saturday's bout with Steed, Mauller scored a takedown in the opening minute and another in the closing seconds to widen the scoring margin.
"Brock scores when he has to and is just impossible to score on half the time," Smith said. "He had a solid tournament, but when I see him in the practice room when he opens up, man, he's really, really good. I'd like to see that guy more in matches at NCAAs and Big 12s and all through the season. He knows how to win tight matches, but I'd like to see him blow it open a little more because he has the talent to do that."
At 184, Whiting used an overtime takedown to win a 4-1 decision against returning NCAA qualifier Colton Hawks.
How will the Tigers sort out the starting responsibilities moving forward?
"We'll see," Smith said. "It's going to be who's wrestling the best toward the end of the year. They'll both get some time. They're both really good, high-quality kids. Somebody's gotta jump out and take the spot, so we'll see. That was a good win for Clayton."
Back To Work
Mizzou returns to action Sunday with a big dual in Columbia.
Arizona State makes the 1,300-mile trip to take on the Tigers. It's the fifth time the two programs have met since Zeke Jones took over in Tempe.
The Sun Devils downed the Tigers 19-17 last year, thanks to five victories in matches determined by two points or fewer.
"It's definitely a big dual for us," Smith said. "There's a lot of good matches. The atmosphere of the Hearnes (Center), our guys look forward to it and they definitely feed off of it."
The stage could be set for seven battles between ranked opponents, including marquee bouts at 157 (#7 Mauller vs. #4 Jacori Teemer) and 285 (Missouri's #5 Zach Elam vs. #4 Cohlton Schultz).
Teemer has returned to the ASU lineup after an injury shelved him last season. It'll be Mauller's first true test after bumping up to 157.
Elam and Schultz will square off for the third time. Schultz leads the series 2-0, including a major decision win last year in Tempe.
Kaufman/Brand/Bayly Open Recap
Mizzou sent 13 wrestlers to the Maryville Kaufman/Brand/Bayly Open on Nov. 4 and came home with 12 medals and six titles.
Korbin Shepherd (133) and James Conway (157) won titles in the Elite Division and Preston Spray (125), Owen Uhls (141), Carter McAllister (149) and Jarrett Stoner (285) won Amateur Division titles.
"I just like the energy of everybody," Smith said. "Even in some losses, our guys were wrestling really hard.
"We are still making little mistakes, hanging in ties. I think the biggest thing is going forward on their feet. A lot of these guys, they break away and step away from it and back out. So we continue to work on it this week. And of course, bottom. The bottom, with younger guys, is difficult in college because people ride so hard. It was good to see them get out of the room and get to have some success because they've been in the room with a lot of our older mature team."