2023-24 Virginia Tech Wrestling
Virginia Tech Wrestling Gets 'Wake-Up Call' vs. Ohio State | Hokie Insider
Virginia Tech Wrestling Gets 'Wake-Up Call' vs. Ohio State | Hokie Insider
A 24-12 home loss to Ohio State prompted some refocusing for the Virginia Tech wrestling team, while two Hokies are preparing for the All-Star Classic.
Nov 15, 2023
by Jim Carlson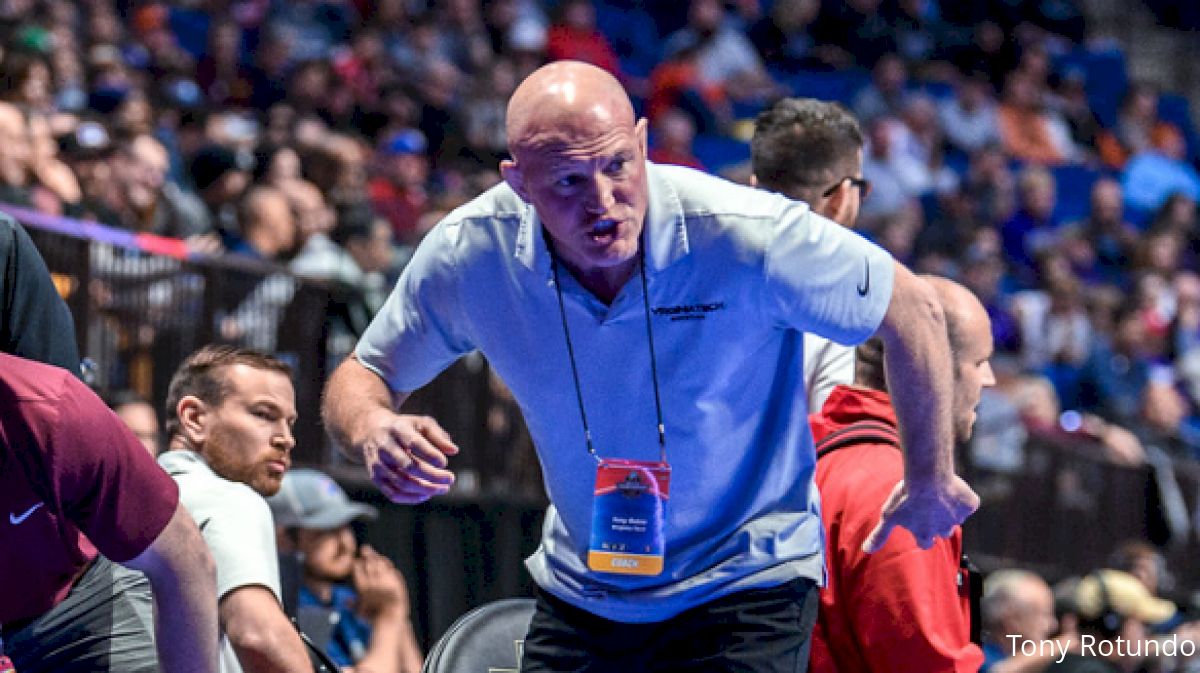 Things were all set up for a Cassell Coliseum crowd of over 5,000 to watch Virginia Tech show off its #4 ranking and its five highly ranked wrestlers. Instead, it was #13 Ohio State which showed up and showed out.
The Hokies (1-1) went 4-for-10, yielded six bonus points and suffered a 24-12 spill to the Buckeyes (2-0) in a key ACC-Big Ten matchup on Nov. 10 in Blacksburg.
"The biggest disappointment for me was just the fact that we had such a good crowd and our fans have been incredible and very supportive," Virginia Tech coach Tony Robie said. "We definitely let them down and didn't live up to the billing, I guess."
Momentum started rolling the Buckeyes' way at 125 when redshirt freshman Brendan McCrone upset fourth-ranked All-America Eddie Ventresca 11-3.
"That guy (McCrone) is good in certain positions and we wrestled in those positions a lot," Robie said. "Eddie probably didn't stay where he was good. He just has to get better and learn how to compete now that he's not as much of an unknown."
Wins by fourth-ranked Sam Latona (133), fourth-ranked Caleb Henson (149) and sixth-ranked Bryce Andonian (157) enabled by Hokies to forge a 9-9 tie at the halfway point, but the Buckeyes finished 4-for-5 including a fall at 184, a pair of one-point wins and a narrow, three-point victory.
None of the losses sat particularly well with Robie.
"We have to turn the page and move forward," he said. "At the end of the day, it's still November; it was November 10th, so we have a long way to go.
"But I think everybody saw it as a wake-up call, and quite honestly, I'm not sure it wasn't needed, I felt like. Hopefully, it'll kind of get us back to focusing on the right things and wrestling with some urgency and wrestling with a chip on our shoulder and wrestling like we have something to prove."
Robie said team leaders such as Latona, Henson and Mekhi Lewis (174) had some words for the team afterward.
"Some encouraging words," he said, "but also talked about some things that some people need to do differently and do better. It was definitely a wake-up call, but we'll find out, right?"
The veteran Hokies' coach told his team that on Friday night it will have its work cut out for them at Rutgers in another ACC-B1G contest.
"They have a really strong lineup, and there's no holes in that lineup at all; they are a really good dual-meet team so we're gonna have to wrestle our best in that match. I think that will really indicate how we rebound from that Ohio State match," Robie said.
Virginia Tech heads to Philadelphia after Friday's stop in Piscataway, New Jersey, for a Sunday appearance at the Keystone Classic at The Palestra. Teams competing are Penn, Drexel, Indiana, Utah Valley, Sacred Heart, Appalachian State, Duke, Franklin & Marshall and Harvard as well as the Hokies.
Robie said Latona and Lewis will not compete in Philly because they'll be wrestling in Tuesday's NWCA All-Star Classic at Penn State.
"Quite honestly, I think right now we have a handful of guys who can do really well at any tournament and can score a lot of points at the NCAAs for us, but in a dual-meet setting we've got to figure some things out," he said.
"And we have some weight classes that are hurting us right now. That's kind of where our focus is right now is to see some improvement in some of the weight classes that maybe didn't wrestle well against Ohio State and give some other guys some opportunities as well."
Some All-Star Opinions
Latona is slated to face Lehigh's Connor McGonagle at the NWCA All-Star Classic while Lewis, a 2019 NCAA champ, has a third dust-up with Penn State's three-time NCAA champion Carter Starocci. Starocci defeated Lewis in the 2022 NCAA finals on 15 seconds of rideout riding time and also 2-0 in last year's All-Star outing in Austin, Texas.
"I think the top-bottom wrestling with Mekhi has hurt him in his matches with Carter, so we've got to be able to get away or we've got to be able to ride," Robie said. "He's (Lewis) obviously incredibly hard to score on, so if he can score one takedown and then continue to work … and if he gets two takedowns, it's hard for me to see anybody beating him.
"Obviously, that's gonna be hard to do against a guy like Starocci. I'm looking forward to it. It's a good evaluation opportunity for us to see where we're at and then possibly see what we need to work on, but Mekhi is locked in and ready to go right now. I know he's excited about the opportunity and the challenge that he faces."
The same applies to Latona, Robie said.
"For Sam, he's always improving and getting better," he said. "And I think every time out he continues to get a little bit better. I think we've seen that this season. For him, it's just getting to his leg attacks and then finishing. He can get to the legs against almost anybody and if he can continue to finish takedowns ...
"But they're both excited. It's going to be a great event, something that's pretty cool for them to be a part of."
The Thanksgiving Menu
The Hokies will have two full off days over the Thanksgiving break and half-days on each side of that, according to Robie.
"We'll work out Wednesday morning and bring them back Saturday afternoon so they get to go home … the guys that are within driving distance," he explained. "And a lot of will stick around and we'll do a Thanksgiving thing here with the guys who are here, but we definitely give them a couple of days to decompress and go see their family.
"Our sport is less than ideal in terms of being able to spend holidays with your family. So we try to do what we can to allow them to do that."