2023 Bill Farrell Memorial International Open
Olympian Haley Augello Returns To Competition Following Four-Year Layoff
Olympian Haley Augello Returns To Competition Following Four-Year Layoff
Olympian Haley Augello is out of retirement and will attempt to make the 2024 Olympic team at 53 kilograms.
Oct 27, 2023
by Kyle Klingman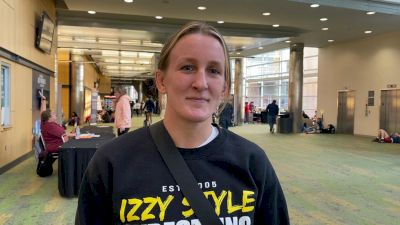 Haley Augello is back and she's ready to take on the world again. Augello made the 2016 Olympic team at 48 kilograms before announcing her retirement from competition at the age of 25.
The Lockport, Illinois, native will compete at the upcoming Bill Farrell Memorial International on November 17-18 at 53 kg in an attempt to qualify for the Olympic Trials on April 19-20, 2024. Her last domestic competition was the 2019 Bill Farrell where she finished second.
"I'm training again to compete and hopefully to make the 2024 Olympic team and potentially 2028, as well," Augello said. "I've watched Worlds and I've watched the Olympics all these years since I retired back in 2019. Being at the World Championships this year was so electric and it's hard to shove (those feelings) back down.
"I just woke up one morning and I didn't want any regrets. I want to live every day to the fullest. I don't want to look back and wonder. I'm excited to do all the right things and put in the work, train hard, and give it 110 percent this time around."
Augello, 29, won the 2011 Cadet World Championships at 46 kg and was a 2017 Senior World team member at 53 kilograms after winning three WCWA titles for King University (2014-15, '17). She currently trains with Izzy Style Wrestling in Addison, Illinois.