Big 12
Northern Iowa Wrestling Perseveres Despite Facility Instability
Northern Iowa Wrestling Perseveres Despite Facility Instability
Doug Schwab and his UNI wrestlers were forced to relocate from the 98-year-old West Gym and they've found a new home across town in Cedar Falls.
Oct 2, 2023
by Andy Hamilton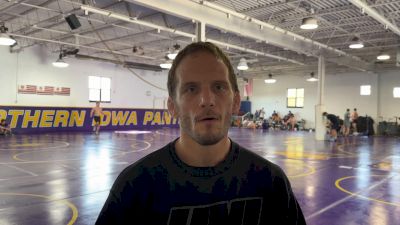 The clock on the freshly painted white wall is ticking toward noon on the final day of September and Doug Schwab is yelling instructions to his Northern Iowa wrestlers.
His commands are filled with messages about opportunity and response — words the Panthers have been putting into action in recent weeks.
Their longtime home — the West Gym — has been vacated, forcing Schwab and his team to pack up and move a couple miles off campus to a Cedar Falls training facility that's been remodeled in short order.
The building belongs to Shawn Kelly, a former Northern Iowa wrestler and the president of Black Hawk Roof Company, and everything about the place is blue collar. On this day, weights are scattered on the cement outside in an area the Panthers have dubbed "The Yard." Nearby are pallets of shingles, barrels of adhesive and a forklift parked on a trailer.
There's a strong construction vibe here.
The building was once the site of a weight lifting gym, but the Kelly family turned it into a wrestling room and launched the USA Mat Club. They set out to create an inclusive wrestling environment, purposefully leaving Cedar Falls out of the club name with hopes that wrestlers from other communities would also come here to train.
And they did. Kyven Gadson, who went on to win an NCAA title at Iowa State, trained at the USA Mat Club with his Waterloo East teammates. So did state champions from powerhouse Don Bosco of Gilbertville. Of course, so, too, did Kelly's son, Michael, an NCAA qualifier at Iowa.
"It's a community club," Shawn Kelly said. "We had kids from all over coming in there, and if kids couldn't afford it, we didn't care, they still got in. It's not a money issue."
When Northern Iowa locked down the West Gym in the early stages of the COVID-19 pandemic, Schwab called the Kellys and they opened the USA Mat Club doors for the Panthers.
This is where Schwab again turned in July when his team was forced to find a temporary training facility after structural engineers deemed the West Gym unsafe for occupancy.
It was initially supposed to be a two-week stay at the USA Mat Club while engineers worked to brace the east wall at the West Gym. But efforts to stabilize the wall were unsuccessful, and the Panthers were left looking for a training facility to replace the building they called home for nearly 100 years.
"For me, this made a whole lot of sense," Schwab said. "For one, we had already been in here, we had been able to train here. The possibilities of it, you see the room. We have more mat space than we had in the West Gym. That's a huge thing having more space where we get to work on our craft. I don't know any other space where we'd have that right now."
The school offered the wrestling program the option of moving into the Wellness and Recreation Center just north of the UNI-Dome and McLeod Center, where the Panthers wrestled their home duals last season. But Schwab wanted a place his team could call home, something that felt more like a traditional wrestling room and a place his athletes could access 24 hours a day, if necessary.
"That's something that wasn't going to be able to happen on campus in the situation we were in," he said. "To me, there was so much benefit (to moving into the USA Mat Club)."
The transformation of USA Mat Club in Cedar Falls: Northern Iowa wrestling's current training headquarters pic.twitter.com/RMHgl4oBKy

— Andy Hamilton (@Andy_Hamilton) October 2, 2023
Future Plans For The Panthers
While the weeks passed and the Panthers started settling into their new digs, questions began to surface about Northern Iowa's commitment to its wrestling program. Why wasn't the school better prepared for the demise of a facility built in 1925? Why weren't administrators articulating short- and long-term plans for the program to the public? Is the program's future any more stable than the West Gym walls?
"The West Gym has been having issues for a few years and no one thought about a possible short- and a definite long-term solution for a wrestling facility?" said Gary Steffensmeier, a three-time All-American for the Panthers. "That is unacceptable and doesn't make sense."
While Schwab opted to remain focused on the perseverance of the Panthers, others around him seethed over the fact the program was left scrambling to find a new home.
"I am deeply disappointed and frustrated," said Northern Iowa graduate, wrestling donor and UNI Foundation trustee Sandy Stevens. "This outstanding program should never have been placed in this situation. I hope that going forward, UNI administrators will give it the respect and support it deserves."
It appears that's what's happening.
After Schwab outlined his vision for the future home of the Panthers during an interview with Flowrestling on Saturday, the Northern Iowa coach was asked if other key stakeholders on campus share that same vision and if the program is on solid footing.
"Absolutely," he said. "That's what's to come. There's a press release coming out. I'm getting in front of it a little bit. But I can tell you from the alums and guys I've talked to, the silence has kind of been deafening as far as are we on solid footing, are we on solid ground?
"I talk to my bosses and it's, 'Absolutely, look at what you've done with the program. Look at how these guys represent the program. Look at the GPA and we've got a guy (Parker Keckeisen) in the (2023 NCAA) finals and these guys are beating teams like Ohio State.' In that respect, it's not a thought. But to the wrestling community, I think that's something you need to make sure you're very clear (about) because it's happened before and in our world that's definitely a concern. The press release that's coming out is certainly going to help squash that."
Schwab indicated that school officials are eyeing a standalone facility on campus. He envisions a place that has West Gym elements intertwined with modern amenities. In a perfect world, he'd like to see Northern Iowa eventually move into its next 100-year home.
For now, the Panthers have tried to replicate the West Gym as much as possible. In the past month, they've installed their purple and gold mats in their temporary home. The team repainted the walls and the Black Hawk Roof Company crew knocked out a wall, creating enough space for nearly four full mats — roughly 25-percent more mat space than they had at the West Gym.
"It's been a whirlwind of getting things done, but I saw a vision of what this place could be for us and our guys and I shared that with them," he said. "As soon as I felt like the West Gym was done, it was time for us to move forward."
A few projects still need to be completed. Weight racks and plates sit alongside the mats and there's a wall mat section that still needs to be tacked up. Kelly is installing two rooftop heating, ventilation and air conditioning units this week and he plans to remodel the locker room area.
It's beginning to feel like home for the Panthers. This is where they'll likely be for the next two or three years, and they're moving forward.
"That's what I'm going to echo and continue to talk about and what I'm probably most proud of," Schwab said. "Our guys have responded very well. They haven't played victim to this thing. They haven't put their head down in any way. They've controlled what they could and they've taken it as a challenge that we'll be stronger from this."