Are You Ready To Take The Spartan Fitness Challenge?
Are You Ready To Take The Spartan Fitness Challenge?
Learn more about the Spartan Fitness Challenge and how to participate.
Sep 27, 2023
by Kyle Klingman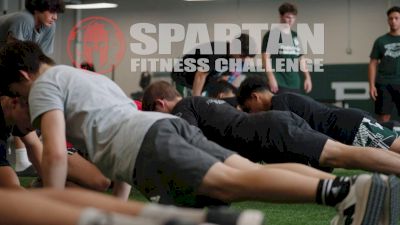 Olympic gold medalist Dan Gable says that America needs wrestling to survive.
Why? Because of the values it instills.
"There are certain things that are so needed in terms of the qualities, in terms of what you need as a person, and in terms of what you need in a team — and wrestling provides that," Gable says. "Every kid who learns how to compete in life is going to be what we want in America and across the world.
"Why not give every kid a chance to compete and to have some toughness and to have some humility? Why not give every kid a chance to live because he or she learns the skills of life through nutrition, conditioning, and education?"
The National Wrestling Coaches Association is asking the same questions — and its answer is the Spartan Fitness Challenge.
The Spartan Fitness Challenge encourages and rewards high school and college students who commit to making physical activity a part of their daily lives. This challenge is a simple but effective way to track progress and make healthy choices a lifelong endeavor.
"Our operating hypothesis is that wrestling has the fittest athletes," said Dave Fallon, director of student development for the NWCA. "This is a way to highlight how wrestling is a great solution for kids who are looking to be more active and get the most out of the sport they choose to participate in. This is a way to encourage and recruit kids who might not otherwise think about the sport.
"Wrestling is leading the way as part of a solution to highlight the positive impact of high school-age kids leading healthy and active lifestyles. It has positive implications it has on reducing obesity, anxiety, mental health, physical health, and diet."
What should I know?
The Spartan Fitness Challenge consists of three graded and evaluated events:
— Half-mile Run
— Push-ups
— Crunches
Participants receive an individual score based on the scoring criteria and teams/classes receive an overall score based on the collective average of their participant's scores.
How to get started?
Visit spartanfitnesschallenge.com
What are the benefits?
The mission of the Spartan Fitness Challenge is to promote fitness literacy and healthy competition among high school athletes nationwide through our physical fitness challenge. Sponsored by Spartan Races, we aim to inspire and empower young athletes to push their limits and achieve their best.