2023 Senior World Championships
How Every College Did At The 2023 World Championships
How Every College Did At The 2023 World Championships
Find out how every college performed at the 2023 Senior World Championships in Belgrade, Serbia.
Sep 26, 2023
by Kyle Klingman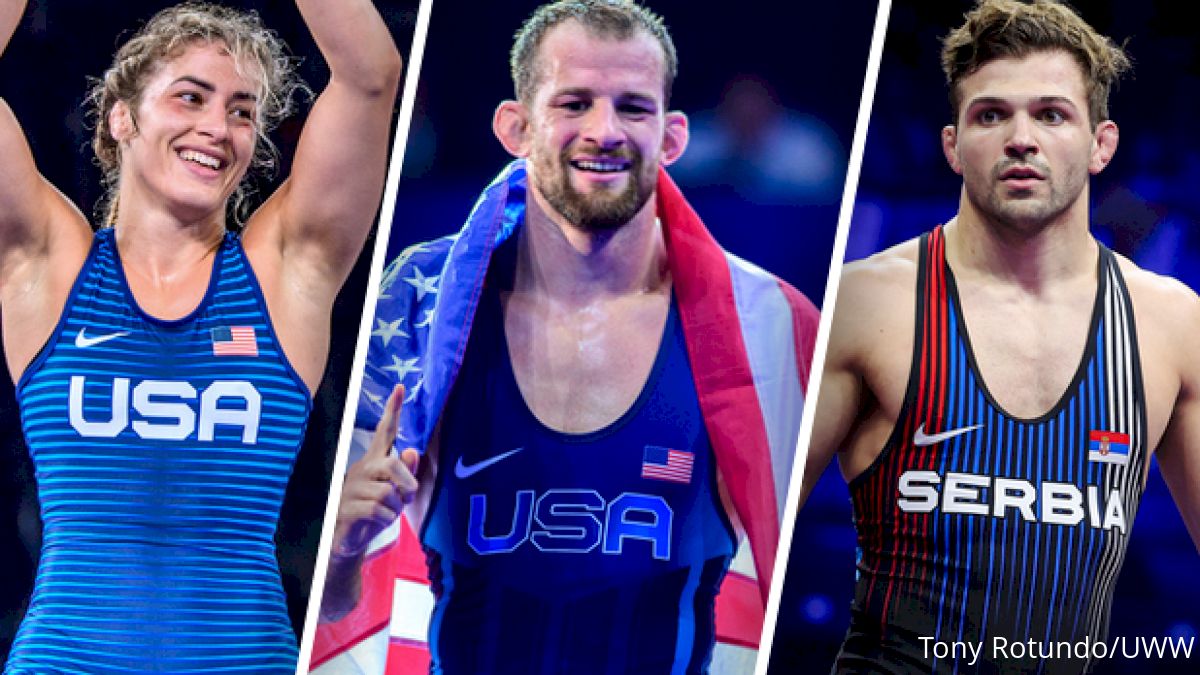 Below is a comprehensive list of the wrestlers who competed at the 2023 World Championships, results from the tournament, and the colleges they attended. Some wrestlers are listed twice since they attended multiple schools.
Of the 39 schools that sent a wrestler to the Worlds, Michigan had the most with six, while Simon Fraser (Burnaby, Canada) was second with five. The Wolverines secured the most medals (3) with five different countries represented.
Every wrestler listed competed in freestyle unless otherwise noted.
Arizona State - One Medal
130 kg (GR): Cohlton Schultz (USA) — 10th (1-1 record)
74 kg: Anthony Valencia (MEX) — 14th (1-1 record)
92 kg: Zahid Valencia (USA) — Bronze (3-1 record)
Brown - No Medals
61 kg: Nick Lattanze (CAN) — DNC
Clarion - No Medals
74 kg: Bekzod Abdurakhmonov (UZB) — 16th (1-2 record)
Campbellsville - One Medal
62 kg: Grace Bullen (NOR) — Bronze (4-1 record)
62 kg: Kayla Miracle (USA) — 14th (1-1 record)
Cerritos CC - No Medals
125 kg: Jonovan Smith (PUR) — 16th (1-2 record)
Columbia - No Medals
74 kg: Cesar Alvan (BRA) — 44th (0-1)
Cornell - Two Medals
61 kg: Vito Arujau (USA) — Gold (5-0 record)
74 kg: Kyle Dake (USA) — Silver (4-1 record)
97 kg: Ben Honis (ITA) — 25th (0-1 record)
Cumberlands - No Medals
125 kg: Aaron Johnson (JAM) — 21st (0-1 record)
Dubuque - No Medals
55 kg (GR): Brady Koontz (USA) — 10th (1-1 record)

Duke - No Medals
65 kg: Josh Finesilver (ISR) — 15th (1-1 record)
74 kg: Mitch Finesilver (ISR) — 17th (1-1 record)
86 kg: Matt Finesilver (ISR) — 33rd (0-1 record)
Elmhurst - No Medals
97 kg (GR): Joe Rau (USA) — 19th (1-2 record)
George Mason - No Medals
60 kg (GR): Ibrahim Bunduka (SLE) — 16th (0-1 record)
Grand View - No Medals
62 kg: Alexis Gomez (MEX) — 31st (0-1 record)
Illinois - No Medals
87 kg (GR): Zac Braunagel (USA) — 17th (1-1 record)
65 kg: Abdullah Assaf (PLE) — 42nd (0-1 record)
57 kg: Zane Richards (USA) — 20th (0-1 record)
Iowa State - No Medals
65 kg: Austin Gomez (MEX) — 22nd (1-1 record)
74 kg: Anthony Wesley (CPV) — 42nd (0-1 record)
King - One Medal
50 kg: Sarah Hildebrandt (USA) — Bronze (3-1 record)
59 kg: Victoria Baez Dilone (ESP) — 14th (0-1 record)
62 kg: Angelina Miranda (CPV) — 27th (0-1 record)
Lehigh - No Medals
57 kg: Darian Cruz (PUR) — 17th (0-1 record)
Lock Haven - No Medals
79 kg: Chance Marsteller (USA) — 14th (1-1 record)
McKendree - No Medals
68 kg: Emma Bruntil (USA) — 5th (3-3 record)
Menlo - No Medals
57 kg: Gulumjon Abduallaev (UZB) — 7th (2-2 record)
Michigan - Three Medals
74 kg: Malik Amine (SMR) — 27th (0-1 record)
86 kg: Myles Amine (SMR) — Bronze (4-1 record)
86 kg: Matt Finesilver (ISR) — 33rd (0-1 record)
57 kg: Stevan Micic (SRB) — Gold (5-0 record)
125 kg: Mason Parris (USA) — Bronze (4-1 record)
61 kg: Joey Silva (PUR) — 15th (1-1 record)
Minnesota - No Medals
72 kg (GR): Pat Smith (USA) — 8th (1-1 record)
Missouri Baptist - One Medal
57 kg: Helen Maroulis (USA) — Bronze (4-1 record)
Missouri Valley - One Medal
55 kg: Jacarra Winchester (USA) — Silver (3-1 record)
Newman - No Medals
86 kg: Noel Torres (MEX) — 45th (0-1 record)
North Carolina - No Medals
65 kg: Lachlan McNeil (CAN) — 43rd (0-1 record)
86 kg: Ethan Ramos (PUR) — 24th (0-1 record)
Northern Iowa - No Medals
65 kg: Colin Realbuto (ITA) — 11th (1-1 record)
Northwestern - One Medal
65 kg: Sebastian Rivera (PUR) — Silver (4-1 record)
Ohio State - One Medal
55 kg (GR): Brady Koontz (USA) — 10th (1-1 record)
97 Kg: Kyle Snyder (USA) — Bronze (4-1 record)
Oklahoma City - One Medal
59 kg: Jennifer Page (USA) — Bronze (3-1 record)
Oklahoma State - No Medals
79 kg: Chance Marsteller (USA) — 14th (1-1 record)
Old Dominion - No Medals
74 kg: Shane Jones (PUR) — 18th (1-1 record)
Penn - No Medals
74 kg: Adam Thomson (CAN) — 22nd (1-1 record)
Penn State - Two medals
65 kg: Nick Lee (USA) — 7th (3-1 record)
70 kg: Zain Retherford (USA) — Gold (4-0 record)
86 kg: David Taylor (USA) — Gold (5-0 record)
Presbyterian - No Medals
125 kg: Jonovan Smith (PUR) — 16th (1-2 record)
Rutgers - One Medal
65 kg: Sebastian Rivera (PUR) — Silver (4-1 record)
Simon Fraser - One Medal
76 kg: Justina Di Stasio — 8th (2-2 record)
57 kg: Helen Maroulis (USA) — Bronze (4-1 record)
62 kg: Ana Godinez Gonzalez (CAN) — 13th (1-1 record)
55 kg: Karla Godinez Gonzalez (CAN) — 5th (2-2 record)
53 kg: Dominique Parish (USA) — 22nd (0-1 record)
Wheeling - No Medals
97 kg: Maxwell Lacey (CRC) 11th (1-2 record)
Wisconsin - No Medals
65 kg: Austin Gomez (MEX) — 22nd (0-1 record)