Fargo Numbers Show Explosive Growth For Women's Wrestling
Fargo Numbers Show Explosive Growth For Women's Wrestling
USA Wrestling released its annual participation numbers. And women's wrestling continues to rise.
Sep 21, 2023
by Kyle Klingman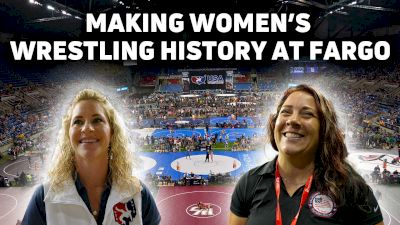 Good news for women's high school wrestling. USA Wrestling provided historical data for female participation at Fargo, female wrestlers who are members of USA Wrestling, and female leaders who are members of USA Wrestling.
And the numbers look good. The following data shows how far women's wrestling has come.
Fargo growth (16U and Junior Nationals)
2018: 792
2023: 1605
USA Wrestling female athlete membership growth
2008: 3003
2023: 35,838
USA Wrestling female leader membership growth
2019: 1665
2023: 4056
Below are full historical figures for each demographic.
Women's Fargo Numbers

** 2023 in Fargo was the first time 16U and Junior had identical schedules, meaning essentially zero athletes eligible for 16U and Junior competed in both like previously. Unique female participants up from 1163 in 2022 to 1602 in 2023.
USA Wrestling Members: Female Athletes
USA Wrestling Members: Female Leaders