2023 Senior World Championships
Amit Elor Is Leaning Toward 68 kg Olympic Run After Second 72 kg World Gold
Amit Elor Is Leaning Toward 68 kg Olympic Run After Second 72 kg World Gold
After winning her 2nd straight gold medal at 72 kg at the Senior World Championships, Amit Elor announced that she's leaning toward 68 kg for the Olympics.
Sep 21, 2023
by David Bray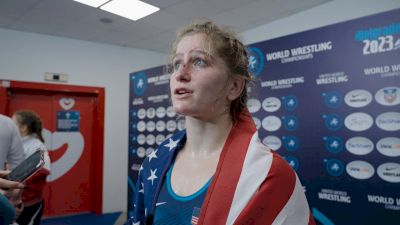 Amit Elor is only 19 years old, but she has already secured two straight gold medals at the Senior World Championships. Elor's 72 kg weight class will not be contested at the Paris Olympics, so she'll have to decide whether to compete at 68 kg or 76 kg next year, and, at least for now, she's leaning toward 68 kg.
In Elor's post-tournament interview, she explained that she has intentionally avoided cutting weight throughout her career but that she believes 68 kg might be the right division for her on the road to Paris because she tends to be lighter than her current weight of 72 kg, but she also won't hesitate to move to 76 kg if her body has a tough time getting to the smaller weight class.
We likely won't know Elor's final decision for a while. "Probably I'm going to know by January of next year. I really want to start competing at whatever weight I"m going to go to at the Olympics, but, you know, I could decide literally a few weeks before the Olympic Trials...I want to listen to my body, and if I just feel that that's right, that's what I'm going to do."
The US has yet to qualify the 68 kg weight class for the Olympics. Emma Bruntil, the representative at the weight, lost in her match to qualify and finished 6th. Adeline Gray qualified the 76 kg weight class for the Olympics by earning a World bronze medal this year.
Elor's senior level gold medals only make up a third of her six total world golds. She secured U20 gold in 2022 and 2023, U17 gold in 2021, and U23 gold in 2022. She could add to her tally at the 2023 U23 World Championships next month.
Amit Elor's gold medal match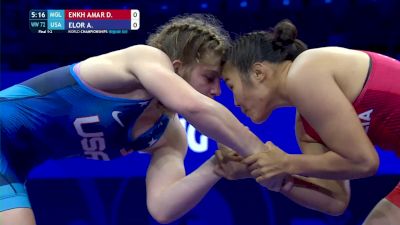 Unlock this video, live events, and more with a subscription!
Get Started
Already a subscriber? Log In