EIWA
Princeton Promotes Joe Dubuque To Head Coach
Princeton Promotes Joe Dubuque To Head Coach
Princeton promoted Joe Dubuque on Tuesday, filling the head coaching vacancy created last week when Chris Ayres left to take over at Stanford.
Sep 20, 2023
by Andy Hamilton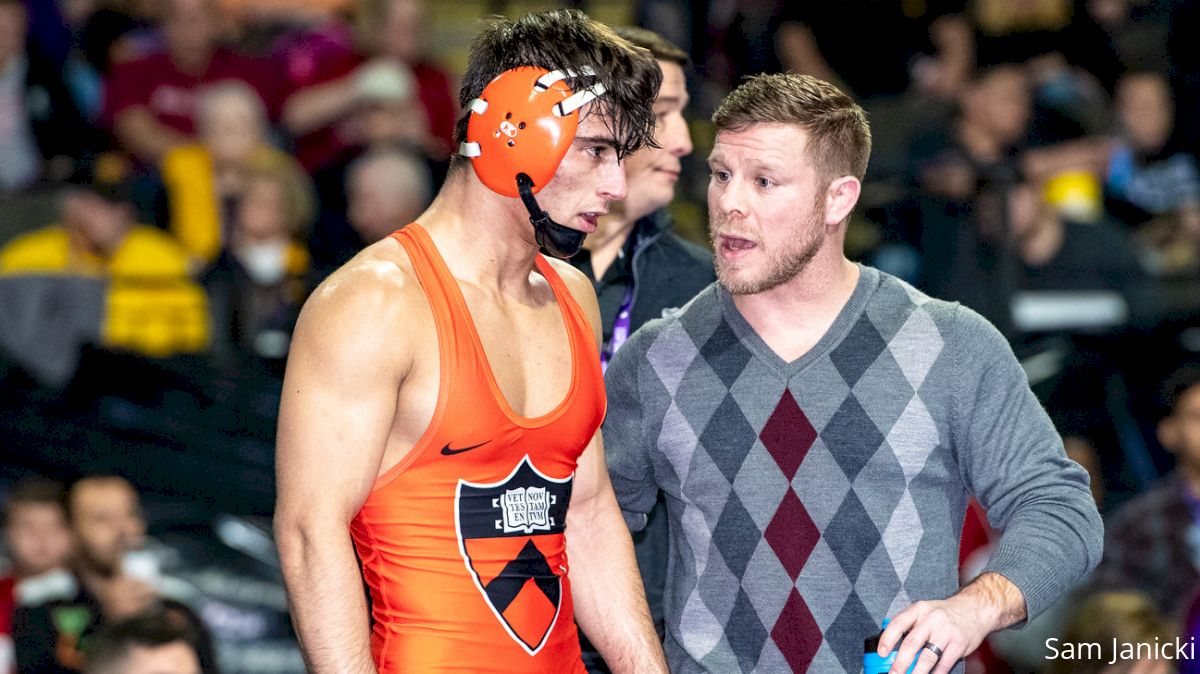 Joe Dubuque's decade-long run as a Princeton assistant coach has come to an end.
Now it's his turn to lead the Tigers.
Princeton promoted its longtime assistant coach on Tuesday, elevating Dubuque to fill the head coaching vacancy created last week when Chris Ayres left to take over at Stanford.
"I'm thrilled to name Joe as the head coach of Princeton Wrestling," Princeton athletic director John Mack said in a story on the school's athletic website. "Rarely do you have the opportunity to hire a coach with Joe's exceptional resume as both a coach and a wrestler. Most importantly, Joe has proven himself to be a tremendous leader for our wrestling program and someone who upholds the high values of our University."
Dubuque's promotion means college wrestling's coaching carousel — which had been spinning rapidly in recent weeks — has likely come to a halt for this offseason.
In late-June, James Green left his post as USA Wrestling's freestyle developmental coach to resume his competitive career at Nebraska. Green's move knocked over a series of coaching dominoes that ultimately led to Princeton putting Dubuque in charge of the Tigers.
Oklahoma State assistant Zack Esposito left Stillwater and took Green's old job at USA Wrestling. North Carolina coach Coleman Scott left his role in Chapel Hill to fill the open spot on the Oklahoma State staff. Stanford coach Rob Koll left the Cardinal to take Scott's old job as the leader of the Tar Heels, and then Ayres departed Princeton for Stanford.
Dubuque spent 10 years as an assistant at Princeton under Ayres. During that time, the Tigers had four of their top nine finishes at the NCAA Championships, including a 13th-place finish this past season, a modern-day record for the program.
In Dubuque's time on the staff, the Tigers won their first Ivy League championship in 34 years and had 14 All-Americans, including Patrick Glory, who became the school's first second national champion in March.
"I am extremely excited for this opportunity, it is absolutely my dream job," Dubuque said in the release on the Princeton athletic website. " I am thrilled to continue to work with Associate Head Coach Sean Gray as we identify, recruit and develop elite student-athletes with high goals on the mat, in the classroom and in our campus community. We've worked together for over 10 years and the addition of Quincy Monday to the coaching staff only strengthens our passion for Princeton University and Princeton Wrestling as a coaching staff. Lastly, I would not be in this position if it wasn't for my friend and mentor, Chris Ayres, to whom I am forever grateful. It's time to get to work Tiger Nation, LET'S GET WILD!"