2023 Senior World Championships
It's On: Kyle Dake vs. Zaurbek Sidakov Set For Monday In World Finals
It's On: Kyle Dake vs. Zaurbek Sidakov Set For Monday In World Finals
Multi-time World champions Kyle Dake and Zaurbek Sidakov navigated through the star-studded 74-kilogram bracket to set up a World title bout on Monday.
Sep 17, 2023
by Andy Hamilton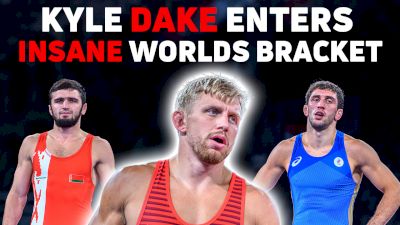 The long-awaited showdown between Kyle Dake and Zaurbek Sidakov is finally about to happen.
The multi-time World champions navigated through the star-studded 74-kilogram bracket Sunday in Belgrade, setting up a much-anticipated clash in Monday's gold medal bout.
"That's the match I've been looking forward to," Dake said Sunday. "He's a great competitor and I want to compete against the best, so I'm going to go out and scrap it out for six minutes and we'll see who's the best."
It wasn't a particularly smooth ride to the finals for Dake or Sidakov, nor was it expected to be in a weight loaded with World medalists.
Sidakov used two scores in the final minute to get past 2018 World silver medalist Avtandil Kentchadze of Georgia, 7-6, in the opening round and clipped 2014 World champ Khetik Tsabolov 6-4 in the quarters.
Dake gave up 11 points on Sunday — he surrendered 15 in his previous 17 matches at the World Championships — and had to dig himself out of a three-point deficit in the second period against Japan's Daichi Takatani in the quarterfinals.
"Sometimes it's going to be really ugly and you're just going to have to figure it out," Dake said. "That's just a part of the game and I'm just working to get better as the tournament goes on. Hopefully I can wrestle my best match tomorrow."
Dating back to the days when Dake started collecting title belts at 79 kilograms and Sidakov took hold of the crown at 74 kilos, the wrestling world has been waiting for this and wondering how a potential bout between the two superstars might play out.
The speculation is almost over — at last.
There was thought that it would happen three years ago in Tokyo after Dake made the cut down from 79 kg for the Olympics, but the four-time NCAA champ from Cornell got derailed in the quarterfinals by Magomedkhabib Kadimagomedov of Belarus, and Sidakov went on to claim his third World-level gold.
A possible Dake-Sidakov bout never materialized two months later when the Russian opted not to wrestle at the 2021 World Championships and Dake went on to win the title at 74.
Sidakov and the rest of the Russian athletes were banned from competing at the 2022 World Championships in the wake of Russia's invasion of Ukraine. Meanwhile, Dake captured his fourth World title.
With the war still ongoing, it was uncertain as recently as last week whether Sidakov would be allowed to compete in Belgrade. But he and his Russian teammates are in the tournament, competing as neutral athletes.
"Obviously, it's difficult and it isn't easy watching the World Championships (when) you cannot attend," Sidakov said through a translator in an interview Friday with Flowrestling. "I'm very happy and feel very privileged and thankful that I can be here at this World Championship and represent my country."
Getting into the bracket was one thing for Sidakov. Navigating through it was another.
The 74-kilogram class started with four past World champions and seven others who medaled at international wrestling's highest level. Two of the top contenders — Kadimagomedov and two-time World champ Frank Chamizo — got bounced in the first round.
Now it's down to Dake and Sidakov to sort out who's leaving Belgrade with the belt.
"It will definitely be a tough and interesting match for people," Sidakov said.