2023 Senior World Championships
Six Women's Freestyle Storylines To Follow At The World Championships
Six Women's Freestyle Storylines To Follow At The World Championships
The star-studded American women's freestyle team is headed to Belgrade with a squad filled with World champions.
Sep 14, 2023
by Derek Levendusky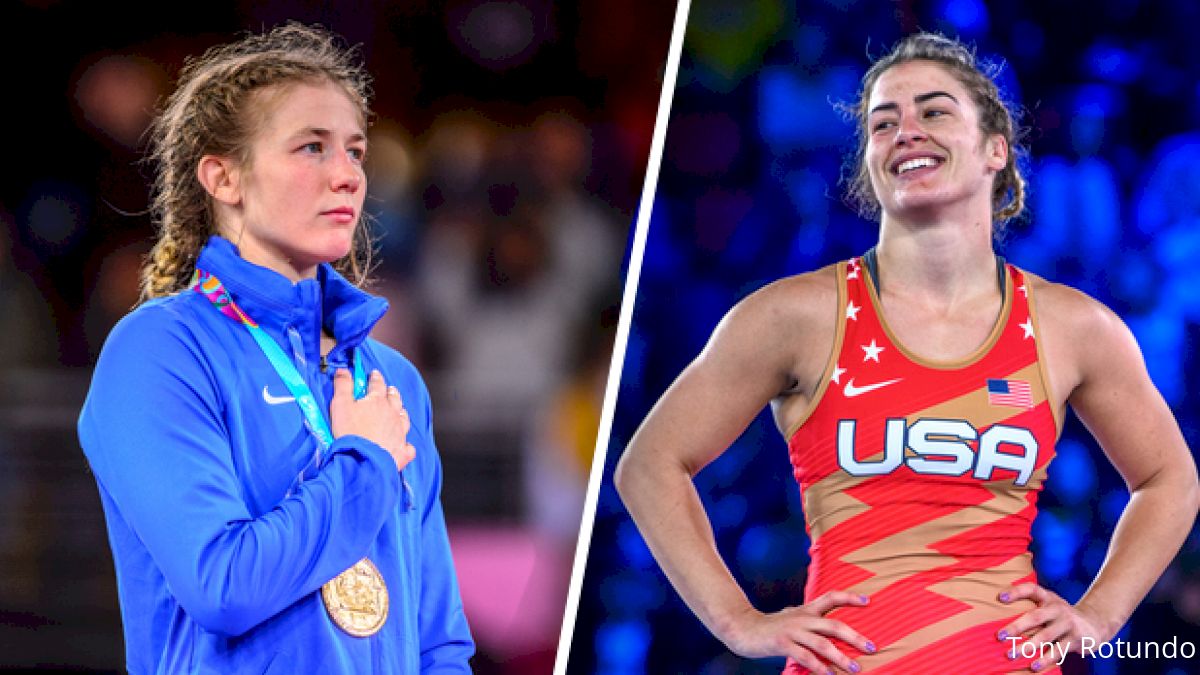 The 2023 Senior World Championships begin Saturday, returning to Belgrade, Serbia for the second straight year. The U.S. women's freestyle team will compete from the 18th through the 21st.
Here are six storylines to keep an eye on heading into Worlds.
1. Gray's Pursuit Of Gold #7
In what's already been a stellar and legendary career, Adeline Gray heads to Belgrade seeking her 10th World-level medal and seventh title. She's looking to pass Kristie Marano-Davis for tops on the American women's freestyle World medal list. Davis' resume includes two golds, five silvers, and two bronzes. Gray's resume boasts six golds, an Olympic silver, and two bronzes. Should Gray come home with hardware, she would also tie Jordan Burroughs with 10 medals. Legendary Bruce Baumgartner holds the top spot on the American list with 13 World-level medals.
2. Can Helen Maroulis Do It Again?
It's a big story whenever Helen Maroulis is on the mat. The 2016 Olympic gold medalist made another World team and will head to Belgrade in search of her fifth World title. In all, she's won eight World-level medals, including four golds. She'll compete at 57 kilograms.
3. Amit Elor Seeking Second Straight Triple Crown
Returning World champ Amit Elor seeks to secure her second straight trifecta after winning the U20, U23, and Senior World titles last year. In Belgrade last year, she became the youngest wrestler in U.S. history to win a Senior World title at 18. She has a chance to do it again this year and she's off to a good start, winning the U20 World title again last month in Amman, Jordan.
4. Three Seasoned Wrestlers Get Their First Opportunity At Worlds
After a lot of success domestically and internationally, Jennifer Page (59 kg), Macey Kilty (65 kg), and Emma Bruntil (68 kg) are each heading to the Senior World Championships for the first time.
Page, 30, broke through to earn the spot at 59 kg, where she looked tough at the World Team Trials and Final X. The Nittany Lion Wrestling Club member dropped from 62 kg at the U.S. Open to 59 kg at the Challenge Tournament, and dominated her way to earn the spot. Having made two Junior world teams almost a decade ago, she heads to Belgrade with a lot of experience under her belt and can certainly make some noise at this weight.
The wrestling world watched Kilty sustain serious injuries two years in a row, preventing her from competing for the opportunity to represent her country at the last two World Championships. With an impressive resume of multiple age-level World medals and Senior-level medals at both the prestigious Yasar Dogu tournament and the Yarygin, Kilty seems poised to earn her first medal at the World Championships.
Bruntil is no stranger to international wrestling, racking up accolades while competing for the U.S. National Team over the last few years, including a silver medal at the 2022 Zouhaier Sghaier, a silver at the 2022 Matteo Pellicone, a bronze at the 2022 Yasar Dogu, gold at the 2022 Ivan Yarigan, gold at the 2022 Dan Kolov-Nikola Petrov, and silver at the 2023 Ibrahim Mustafa. To make the World team this year, she had to take down perennial World team contender Forrest Molinari, the 2021 World bronze medalist. Despite the fact that this is Bruntil's first Senior World Championships, her history shows she's a battle-hardened athlete and a legitimate medal contender.
5. Winchester And Parrish Seeking Second Titles
Jacarra Winchester won the World title in 2019 and though she didn't medal, made the 2020 Olympic team. This year, she has a chance to earn her second World medal and second World title as she heads to Belgrade. At 53 kg, Dominique Parrish made her first World team last year and made the most of it, winning the gold. This year, she heads back to Belgrade with a chance to go back-to-back.
6. Two Silvers Each For Hildebrandt or Miracle. Is it Time For Gold?
Sarah Hildebrandt (50 kg) claimed a silver medal in Budapest in 2018, a silver in Oslo in 2021, and a bronze last year in Belgrade. Meanwhile, 62-kilogram teammate Kayla Miracle won a silver each of the past two years. They've both been close a couple of times. Can Hildebrandt or Miracle break through to win their first World titles? Stay tuned and watch all the action on FloWrestling.