NFHS
High School Wrestling Participation Tops 300K For First Time In 45 Years
High School Wrestling Participation Tops 300K For First Time In 45 Years
High school wrestling is coming off a historic year of growth after participation numbers topped 300,000 for the first time since 1978.
Sep 7, 2023
by Andy Hamilton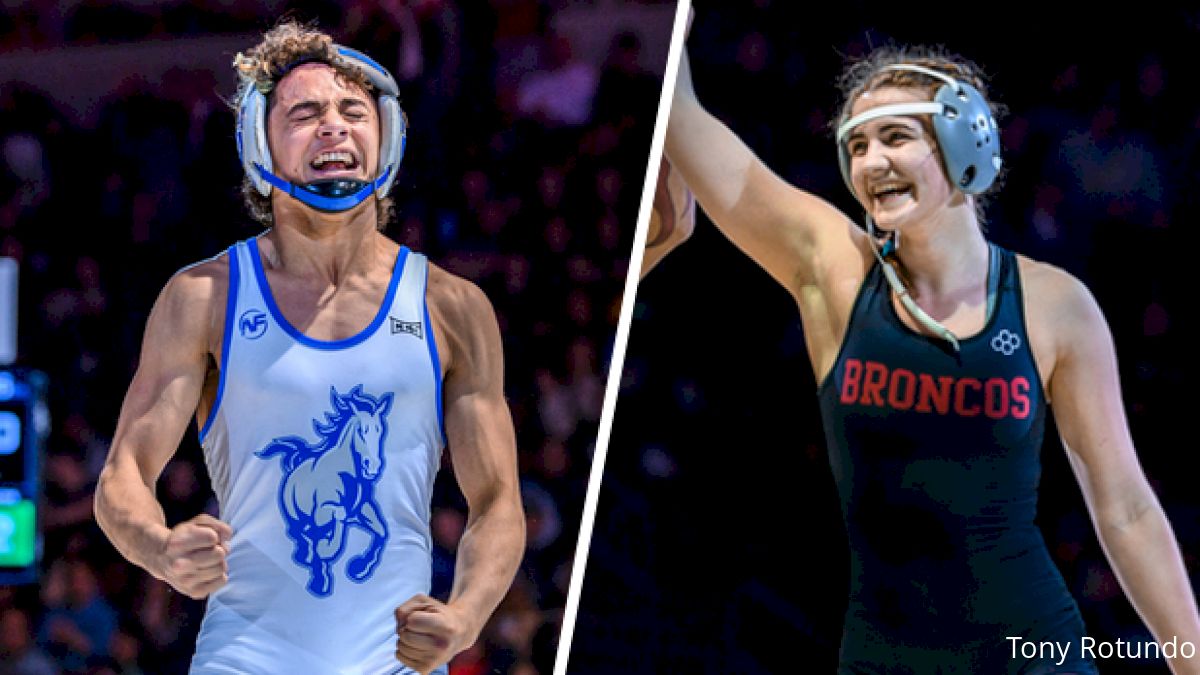 High school wrestling participation numbers are on the rise across the board again — and they're up big.
Thanks to a 9.6-percent increase in boys participation and another staggering season of growth on the girls side, the sport reached a 45-year high for high school participants during the 2022-23 school year, according to the National Federation of State High School Associations.
All together, 305,593 athletes participated in high school wrestling last season — 256,466 boys and 49,127 girls — marking the first time the sport has eclipsed the 300,000 mark since 1978.
"It's absolutely fantastic," National Wrestling Coaches Association executive director Mike Moyer said. "There's a lot of organizations in the wrestling ecosystem that work hard every day and everybody should take great pride in knowing their contributions are giving us a good outcome."
Overall, the high school wrestling participant base grew 16 percent from 2021-22.
"Obviously, the sport of wrestling is being contested at a level we haven't seen before in high schools and that's encouraging," said USA Wrestling executive director Rich Bender, whose organization had a record-setting year last year with nearly 300,000 members. "We ought to be really encouraged about the fact the trajectory of both men's and women's participation at the high school level in our sport is in the right direction. A 9-percent growth on the men's side and really impressive growth on the women's side should be encouraging for anybody involved in the sport of wrestling, and it's a testament to the infrastructure that exists in our sport and the exposure that kids have to the sport even prior to high school and junior high."
High school girls participation numbers have been rapidly ascending in recent years as the number of states that sanctioned girls wrestling rocketed from six as recently as 2017 to 40 now. Girls high school wrestling has seen double-digit percentage increases in seven of the last eight years the NFHS has published its participation survey (it didn't publish the data during 2019-20 and 2020-21 school years due to the COVID-19 pandemic), but nothing quite like this.
High school girls wrestling went from 31,654 participants in 2021-22 to 49,127 last year. The 55.2-percent growth was the highest increase since 1993.
Meanwhile, boys participation is back to pre-pandemic numbers after eclipsing the 256,000 mark for the first time since 2015 when the sport was in the midst of a six-year stretch of declining numbers on the boys side.
"This is going to sound really, really odd, but if you think about COVID and the impact it could have on a sport like wrestling, social distancing and wrestling are the antithesis of one another," Bender said. "But at the end of the day, I would challenge you to find a sport that came through COVID in a more positive way than wrestling did. And I say that because there are some foundational things that are built into the culture of wrestling that helped us in a COVID environment. We're accustomed to health and skin checks before we wrestle. There's a culture built into our sport that if you're sick, you don't wrestle. You respect your opponent.
"The fact that our sport didn't take a massive step back during COVID gave us the opportunity when things really opened up and there were no restrictions on participation or social distancing, wrestling was right there at the front of the gate when it opened up. We were ready to roll."
Moyer sees more opportunity —- and need — for growth in the years ahead.
"We have a little bit of momentum and we need to build on that and continue to grow," he said. "We need to keep pace with all the new intercollegiate men's and women's programs that are being added. We can't grow high school participation fast enough to keep up with that. I would also say this: It also really highlights the need for us to increase the number of coaches — boys and girls coaches. We can't count on a sustainable model where the boys coaches are also coaching the girls. We need a lot more focus on separate coaches so neither team gets sort of the short end of the stick.
"We need more participants, we need more coaches, we need more officials. All of those things will be a byproduct of increased participation. If we get more students in our sport and keep them longer, those other goals are easier to achieve."
NFHS HS Wrestling Participation Since 2000-01