2023 World Team Trials Challenge Tournament
World Team Trials Challenge Tournament Live Blog
World Team Trials Challenge Tournament Live Blog
Final X spots are on the line and we're blogging all the action from the finals of the World Team Trials Challenge Tournament in Colorado Spring!
May 21, 2023
by Andrew Spey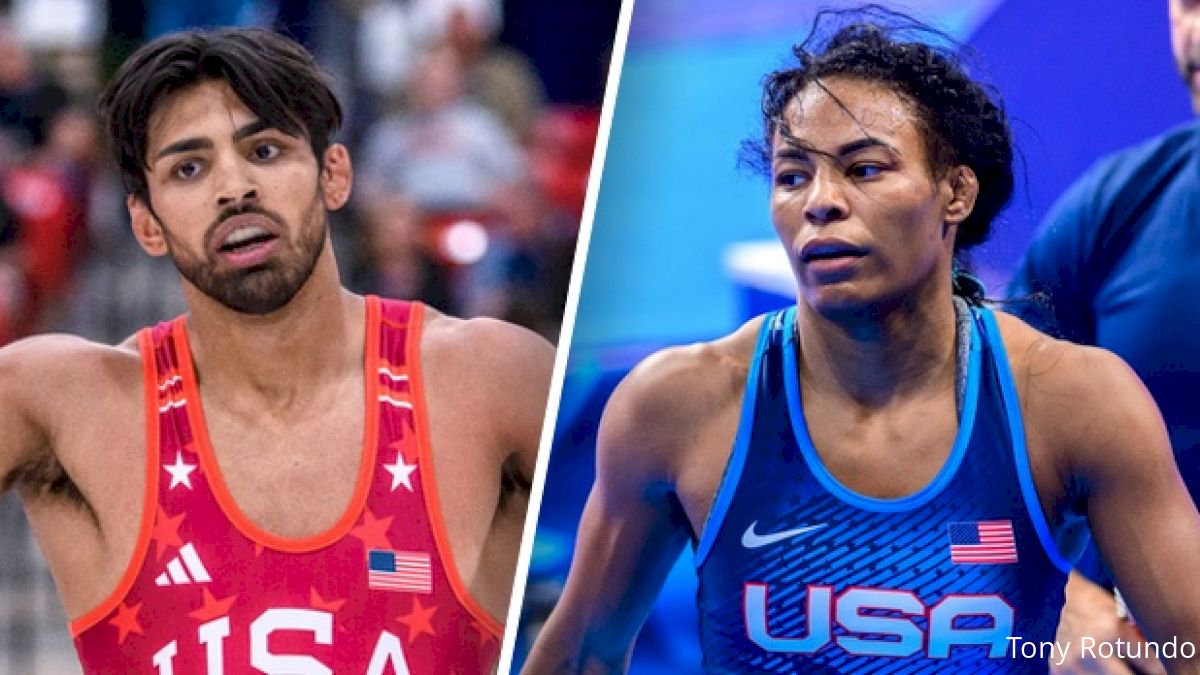 The last spots at Final X will be determined this weekend in Colorado Springs, and we're covering all the action for you in our award-winning live blog.
Saturday will feature all 10 Greco-Roman weights, while Sunday will have three men's and four women's freestyle weight classes. You can look up brackets, results and more inside FloArena.
Women's Freestyle
55 kgs: Jacarra Winchester, Titan Mercury WC vs Areana Villaescusa, Army WCAP
First bout on the docket is former world champ, Olympian, and last year's 5th placer at worlds Jacarra Winchester vs a strong challenger in Arena Villaescusa. A tight bout is broken up by Winchester a little over halfway through the first period when Jacarra forces a step out and then hits a go behind as they go out of bounds. Could have been one but two is offered and confirmed. Villaescusa challenges and loses. Winchester adds another slick takedown, no doubt about that one, to make it 5-0 going into the break.
Winchester is shutting all of Villaescusa's attacks down in the second period. And a nifty footsweep sends Villaescusa crashing to the floor. Winchester covers and locks up a high gut, taking Villaescusa over and running the score up to 9-0. Winchester elected not to compete at the U.S. Open, putting all her qualifying eggs in the Challenge Tournament basket. And it pays off as Winchester hits a double to seal the deal. 11-0 is the final and Winchester will face Alisha Howk in Final X. Jacarra cheeses for the camera perhaps more than any other American wrestler. She is a delight.
Jacarra Winchester CO (OPTC/TMWC) VSU Areana Villaescusa CO (Army (WCAP)), 11-0 4:40

59 kgs: Maya Nelson, Sunkist Kids WC vs Jennifer Page, Nittany Lion WC
A potential rival for Jacarra and the title of 'most joyful celebrator' is Maya Nelson, a form U20 gold medalist, taking on the Penn State trained Jen Page. First point goes to Page for a step out. Nelson then gets put on the activity clock. Nelson goes for an armspin but slips off, no harm no foul. Clock expires, though, so Page gets her second point. Page also going for an armspin and also gets awarded a 'slip throw' so they're brought back up to their feet, 2-0 in favor of Page. Another step out for Page makes it 3-0 and Nelson unfortunately needs injury time. Thankfully Maya is okay to continue and we hit the break, still 3-0.
Nelson on the attack in the second. Gets in on Page's legs, works an exposure for two in the scramble, Page is able to cover for a reversal for one point and its 4-2, Page leads, but Nelson will hold criteria if she scores two more point in any way. We'll pause for blood time with 2:08 on the clock. Nelson shoots soon after the restart but Page counters and rolls her through for a two-point turn and a four-point lead. Page scrambles on top and guts Nelson over for another turn and a 8-2 lead. Nelson cautioned for negative wrestling (not opening up on bottom) and one more point for Page and they go back to par terre. Another turn for Page and she's one point from a tech-fall. Page can't finish the match in that sequence so back to neutral, though with short time on the clock. Nelson salvages a takedown in the closing seconds but it's not enough. Jen Page is going to Final X to take on Michaela Beck!
Jennifer Page PA (NLWC/TMWC) VPO1 Maya Nelson CO (Sunkist Kids Wrestling Club), 11-4

68 kgs: Alexandria Glaude, Beaver Dam RTC vs Emma Bruntil, Titan Mercury WC
Two more challengers for the world team spot recently vacated by the great Tamyra Mensah-Stock, the World and Olympic gold medalists who retired from wrestling to pursue a career with the WWE. Bruntil gets to Glaude's legs and finishes cleanly. Quick transition to a leg lace and Glaude is in trouble. Buntil gets one turn, now another. She's got room to work. Two more turns (plus one for good measure) and it's a 10-0 first period tech-fall for Emma Bruntil! Bruntil impressively advances to Final X for a series with Forrest Molinari!
Emma Bruntil WA (OPTC/TMWC) VSU Alexandria Glaude OR ( BEAVER DAM RTC/TMWC), 10-0 1:33

76 kgs: Adeline Gray, Beaver Dam RTC vs Dymond Guilford, Titan Mercury WC
A rematch from the U.S. Open semifinal that had one of the craziest endings in memory. Gray not trying to rely on cautions this time. A single leg is methodically converted for two and Guilford does well to stop Gray from locking up a leg lace and they're back to neutral, 2-0 in favor of Gray. A flurry at the boundary and Guilford tightrope walks the edge and Gray steps out, making it 2-1. Guilford on the attack now but Gray sprawls and flattens her out. Gray scoots behind and makes it 4-1. Instead of going for a lace Gray says she'll try a trap arm gut, and its a good idea as Gray gets a turn. And the turns keep coming and they don't stop coming until it's 12-1! Gray's corner had to challenge to get that last, match-clinching turn confirmed! Less than a year after having twins Gray is back in Final X, where she'll have a rematch with Kennedy Blades! And there are Gray's twins, in her arms as she collects her Final X medal. What a moment for Adeline.
Adeline Gray CO (New York Athletic Club) VSU1 Dymond Guilford CA (OPTC/TMWC), 12-1 2:43

---
Men's Freestyle
61 kgs: Nahshon Garrett, Lehigh Valley WC vs Daton Fix, Cowboy WC
We go right into the men's action after the women's bouts conclude. Blast double from Garrett is absorbed by Fix. Daton plos ahead looking to set up his trademark inside trip. Garrett counters with a lat drop. No exposure but two awarded for a correct throw. Man this is a fun weight class. Single leg for Garrett and FIx somehow shakes free. Fix needs some blood time as Garrett still leads 2-0. Our ace broadcast crew thinks the blood is from Garrett's pulverizing double that Fix ate early in the bout. Back in action and Garrett changes level and goes for another blast double. He slams Fix down to the mat for four and Fix needs some time getting back to the center. He may have landed awkwardly. Fix is okay though, well, okay enough to wrestle. He'll have some bruises tomorrow I'm sure. Fix with an underhook, marches Garrett to the boundary. A whizzer and a hip from Garrett has Fix going out of bounds first and its 7-0. Make that 7-1 as Garrett hit with a caution and 1 for hands to the face. He was warned about that before. Double from Garrett in short time but Fix defends and we hit the halfway mark of an action packed bout. Nearly all the points for Nahshon though, 7-1.
Fix charges ahead but Garrett once again retreats to the boundary and then counters with a whizzer and gets a step out from Fix. 8-1. Still over 2 minutes to go. Garrett waiting for Fix to make his move. Then makes one of his own. Level change double but in the scramble Garrett gets ahold of Fix's singlet and doesn't let go. He's warned but he doesn't pick up another caution or concede a point. Still 8-1. Daton works Garrett to the boundary again but this time covers him as they go to the ground and its a takedown for Fix, the score is 8-3. Back to neutral. Fix pressuring in. Gets a step out but Garrett can trade points for time. 20 seconds to go, 8-4 lead for Garrett. And that's how it will finish. Great tournament by Garrett through a deep weight class. He'll take on a fellow Cornellian in Vito Arujau at Final X!
Nahshon Garrett PA (LVWC/TMWC) VPO1 Daton Fix OK (CWC/TMWC), 12-4

92 kgs: Kollin Moore, Ohio RTC vs Zahid Valencia, Sunkist Kids WC
Zahid took the last month since the Open to bulk up a weight class. Moore went the other way, having spent a lot of time at 97kg. Both these guys can move, too. About 40 seconds in Valencia hits a double and then transitions into a lace to get two and two. Moore scrambles on top for one. Back to neutral. Single leg for Valencia, Moore tries to kick free but Valencia holds tight and pounces for two more and a 6-1 lead. Moore a little slow to get up. Kollin goes a duck under, one of his best moves, but Valencia explodes into him, counters and scores two, plus has a trap arm to get two more. Zahid leads 10-1. Moore trying to claw his way back but Valencia out-scrambles him and caps off the match with a go-behind. And just like that, stymied at 86kg, Zahid bumps up less than a month later and makes Final X at 92kg. Incredible performance by Valencia!
Zahid Valencia AZ (Sunkist Kids Wrestling Club) VSU1 Kollin Moore OH (ORTC/TMWC), 12-1 2:15

125 kgs: Nick Gwiazdowski, Spartan Combat RTC vs Mason Parris, Cliff Keen WC
It's already here, our last match of the tournament! Gwiz quick-strike single, and he marches Parris out of bounds and it's 1-0 early in the bout. Another shot from Gwiz, great defense from Parris, excellent scramble but no more scores. Now a shot from Parris, Gwiz is on his butt but he somehow Houndini's his way back to his feet. Parris had him dead-to-rights but still no additional scores. Tremendous action though. Still 1-0 in short time. We got to the break same score.
Parris in on a shot early in the second, Gwiz far ankle defense. Great scramble, Parris elevates and gets two on an exposure. Gwiz still fighting, locks up a cradle! But he'll settle for the reversal, just a single point. 2-2, Parris holds criteria. Another scramble was initiated by Parris. Another exposure for Parris. Almost a fall! Asked for by the whistle, not confirmed by the chairman. Restart, late in the match, 4-2 Parris leads. 30 seconds to go, Gwiz needs more than a two. Gwiz shoots, tries a peak out, and Parris pounces as Gwiz was trying to retreat back to neutral. That will ice the match for Mason Parris! A rematch with Gable Steveson in Final X for Mason Parris!
Mason Parris IN (CKWC/TMWC) VPO1 Nick Gwiazdowski NC (SPAR/TMWC), 6-2

And that's a wrap from Colorado Springs! Greco happened yesterday but can be found below. Thanks for reading and sorry for the typos. See you at Final X!
---
Greco-Roman
55 kgs: Dalton Duffield, Army WCAP vs Camden Russell, MWC Wrestling Academy
Duffield strikes first by throwing Russell by from double unders. With Russell down on the mat Duffield lifts and pancakes for a four point score and its 6-0 after barely a minute of wrestling. Duffield lifts again and sends Russell flying for another four pointer and that's two more than he needed to get the tech. Duffield advances to Final X!
Dalton Duffield CO (Army (WCAP)) VSU Camden Russell NE (MWC Wrestling Academy), 10-0 1:50

60 kgs: Ildar Hafizov, Army WCAP vs Randon Miranda, Rise RTC
Two veterans take the mat in the first Olympic weight class of the day. Miranda gets the first point via passivity as Hafizof goes down in par terre. Miranda takes some time put gets a body lock around the waist and lifts Hafizov off the mat. Miranda walks him to the boundary and drops him out of bounds for another point. Not the most dramatic finish to that move but it was effective.
Miranda takes that 2-0 to the break. 42 seconds into the second period and Miranda gets whistled for passivity. Hafizov now trails by just a point. He secures a lock high up on Miranda, adjusts his feet and then rolls through for a two point turn. Hafizov keeps the same lock and brings Miranda up off that mat, hitting another turn but this time for four. That makes it 7-2 as Miranda breaks free in Ildar's last attempt at a turn. Back on their feet and Hafizov gets hit with a caution and 2, not 100% on the penalty but could be .negative wrestling'. 7-4 now but time ticking away. Miranda flattens Hafizov from feet and its trouble for Ildar! Or is it? Leg foul is called. Miranda challenges and loses so its 8-4 and Hafizov just needs to run out a little clock. And he does! Hafizov goes back to Final X.
Ildar Hafizov CO (Army (WCAP)) VPO1 Randon Miranda CA (Rise RTC), 8-4

63 kgs: Sammy Jones, GR National Team vs Xavier Johnson, Army WCAP
Johnson able to move Jones around the mat. And marches Jones off the mat in fact. They call Jones for fleeing and its 2-0, Johnson leads, Jones also with a caution. Front headlock for Jones but it's whistled for an illegal grip. Referee indicating that it was a choke hold. And now Jones gets whistled for passivity and Johnson will have a chance on top in par terre. Gut wrench from Johnson, and Jones goes over. Another turn and Johnson leads 7-0. One more point and it's a tech. Incredible fight from Jones to not turn one final time and they wrestle back to neutral. Jones survives until the halfway point.
Jones working for a front headlock in the second period. He's been more active and now Johnson gets hit with passivity and Jones will get to work on top. 90 left in the match. Jones gets a turn off a gut wrench. Nearly gets a second turn but Johnson narrowly avoids going over and we're back to neutral with a minute left, Johnson leading 7-3. Jones picks up the pace but Johnson shutting him down. Johnson does get hit with a caution and 1 penalty point for fleeing Jones attempt to lock up a hold. It's not enough though, as Johnson will take it 7-4. Johnson is pumped! Still a little dazed from an accidental head butt maybe, otherwise he seems fired up about Final X.
Xavier Johnson NC (Army (WCAP)) VPO1 Sammy Jones MI (Greco-Roman National Team), 7-4

67 kgs: Jesse Thielke, Army WCAP vs Alejandro Sancho, Army WCAP
Two Olympians will face off next. Or will they? No Thielke and Sancho gets his hand raised. Not sure what's up with Thielke but no explanation for that forfeit as of now. Congrats to Sancho in any event!
Alejandro Sancho CO (Army (WCAP)) VFO Jesse Thielke CO (Army (WCAP)), 0-0
72 kgs: Patrick Smith, Minnesota Storm vs Noah Wachsmuth, New York Athletic Club
Not a ton of action in the first 90 seconds and Wachsmuth gets hit for passivity. Smith leads 1-0 and goes to work on top. Nearly has a gut wrench, as Smith rolls all the way through but Wachsmuth contorts himself and does not expose and we go back to neutral. Smith starts walking Wachsmuth out of bounds with underhooks so Wachsmuth goes for a YOLO throw and its ruled a slip. Wachsmuth can't stop from being pushed out in the next sequence and Smith gets his second point. A third point comes via step out and Smith leads 3-0 at the break.
Smith bulldozes Wachsmuth out again early in the second period. Front headlock for Smith, as he looks to scoot behind for a takedown but savvy hips from Wachsmuth and slips free. One minute to go, still 4-0 Smith. And that's how it finishes. Pat Smith is going to Final X once again!
Patrick Smith MN (Minnesota Storm) VPO Noah Wachsmuth CO (New York Athletic Club), 4-0

77 kgs: Aliaksandr Kikiniou, California vs Payton Jacobson Sunkist Kids WC
Kikiniou a recent transfer from Belarus, is a 43 year old with a world medal back in 2009. Not sure how old Jacobson is but I'm confident he is younger than Kikiniou. Jacobson goes down after a little more than a minute and Kikiniou has a 1-0 lead. Kikiniou gets a turn one way with a gut wrench, can't get Jacobson to turn the other direction but then takes him back the original direction for a second turn and a 5-0 lead. Kikiniou's not done though. Two more turns and that's all she wrote, 9-0 victory for Kikiniou! Or is it? Jacobson challenges. Not sure what is being challenged but its moot as the challenge is lost and Kikiniou wins officially 10-0!
Aliaksandr Kikiniou CA (California) VSU Payton Jacobson WI (Sunkist Kids Wrestling Club), 10-0 1:40

82 kgs: Ben Provisor, New York Athletic Club vs Ryan Epps, Army WCAP
No scores but a couple flurries after 90 seconds of wrestling. Epps gets put underneath and it's a 1-0 lead for Provisor. Front headlock for Provisor but it's not tight enough and Epps breaks free and they wrestle back to neutral. Fierce handfighting in the last 60 seconds of the period but no more scores as we hit the break, still at 1-0 for Provisor.
Second period is a lot like the first, though now Provisor gets put down and Epps now leads on criteria with the score 1-1. Epps tries to work a gut wrench but couldn't get Privisor off the ground much and they go back to neutral with no more scores. Provisor gets another chance on top (but no more scores, you can only get one point for passivity). Provisor has Epps in the air, nearly gets the turn but Epps hip heists and avoids going past 90 degrees. Or does he? Provisor's corner challenges. The challenge is lost so now Epps leads 2-1 but a 1 point score will still give Provisor the lead so not a costly challenge. Provisor tries a couple of throws but he slips off both times. Clock ticking down. And Epps wins the match 2-1!
Ryan Epps MN (Army (WCAP)) VPO1 Ben Provisor PA (New York Athletic Club), 2-1

87 kgs: Richard Carlson, Minnesota Storm vs Zac Braunagel, Illinois RTC
Lots of pushing and shoving but no scores after 90 seconds. Carlson gets dinged for passivity so Braunagel gets a point and a chance to work on top in par terre. Carlson successfully defends and they'll go back to their feet, still 1-0 in Braunagel's favor. We go to the break, same score.
Second period underway. Braungel catches Carlson and whips him over for a feet to back throw. I want to call that a lat drop but need to see a replay to be sure. Either way its a 5-0 lead for Braunagel, who holds a commanding lead in the second period. A step out gives Braunagel another point (and nearly destroyed a camera) and a 6-0 lead. And that will be the score at the end of the match. Braunagel wins 6-0 and punches his ticket for Final X!
Zachary Braunagel IL (Illinois Regional Training Center/Illini WC) VPO Richard Carlson MN (Minnesota Storm), 6-0
97 kgs: Cade Lautt, Tar Heel WC vs Christian Dulaney, Minnesota Storm
Cade Lautt (not his brother Clay, as I had erroneously typed) taking on Christian Dulaney in our penultimate matchup. Dulaney strikes first, with two underhooks and a lot of horsepower. Dulaney whips Lautt over for four points. A minute later Dulaney strikes again, hitting an arm drag and eventually pancaking Lautt to his back again for another four points and the 8-0 tech-fall. Dulaney moves on to Final X with a first period shut out!
Christian Dulaney MN (Minnesota Storm) VSU Cade Lautt NC (Tar Heel Wrestling Club), 8-0 2:01

130 kgs: Adam Coon, Cliff Keen WC vs Donny Longendyke, Minnesota Storm
2019 World silver medalist Adam Coon gets the first score with an over/under body lock that had Donny Longendyke bailing on the position, wisely giving up two rather than a fall. But Coon soon makes it 6-0 with a pair of gut wrenches. Longendyke lasts the rest of the period without giving up any further points.
About a minute into the second period Coon gets to within one point of a tech-fall with a step out. Coon has a body lock again and he throws Longendyke by and collects two more points for the takedown. And that'll do it! The Greco-Roman matchups for Final X are all locked in, and Adam Coon will be there at heavyweight!
Adam Coon MI (Cliff Keen Wrestling Club) VSU Donny Longendyke MN (Minnesota Storm), 9-0 4:12