2023 Final X - Newark
Four-Time World Champ Dake Collides With NLWC Teammate Nolf At Final X
Four-Time World Champ Dake Collides With NLWC Teammate Nolf At Final X
Kyle Dake has won the last four meetings with Jason Nolf by a combined 22-3 count, but Nolf kept it close last year at Final X.
May 20, 2023
by Andy Hamilton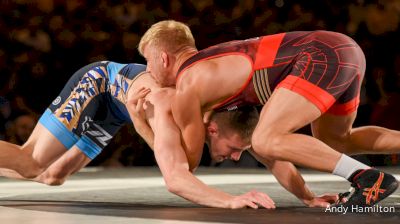 Unlock this video, live events, and more with a subscription!
Get Started
Already a subscriber? Log In
Kyle Dake had just passed one of the essential checkpoints last summer on his way to a fourth World title when he likened the journey to scaling Earth's highest mountain.
"Anybody who's climbed Everest more than once, (people will ask), 'Was it easier this time now that you know how to do it?'" Dake said after sweeping Jason Nolf in the best-of-three 74-kilogram series last June. "No, all the conditions are always changing. What are the things you're going through with your health to your mental standpoint to your life? Who are the guys you're stepping out on the mat against? It always changes, so it's always something exciting, something new, new event, new teammates, and you try to go out and do your best."
Dake has a new zip code this year, along with new coaches and new practice partners after relocating from his alma mater — Cornell — to the Nittany Lion Wrestling Club, where he now trains alongside Nolf.
That, in itself, provides an interesting twist to the June 10 rematch series when they wrestle another best of three at Final X presented by Tezos.
"You just train," Nolf said when asked about Dake after defeating fellow Pennsylvanian and former Penn State teammate Vincenzo Joseph in April at the U.S. Open. "It's nothing different. Cenzo's been in my room my whole life, so I just continue to do what I do and be ready."
Though Nolf has trimmed the margins in his series with Dake, their four previous meetings during the past 28 months have demonstrated Dake's strength, savvy and well-rounded skill set. He's been adept at controlling the center of the mat, he's given Nolf few prime scoring opportunities and he's responded with quick points each time he's faced a deficit.
Dake beat Nolf 5-0 at a Nittany Lion Wrestling Club in February of 2021 when he took care of all of the scoring in the first period on a step-out point and a four-point chest wrap off a Nolf attack.
Dake made quick work of Nolf a couple months later at the Olympic Trials when he fired off a quick low-single, climbed up the body and launched Nolf for five before picking up an additional caution and two for fleeing and then ending the bout in 42 seconds after a pair of gut-wrench turns.
Nolf narrowed the gap last June. In fact, he led both bouts after the break before Dake rallied back to win 4-2 and 2-1.
In the first bout, Nolf capitalized on a low-single shot early in the second period and broke Dake down for a takedown to go up 2-1 with 2:16 to go. Dake immediately responded with an attack off a restart and took Nolf out for one step-out point plus a caution and one to go up 3-2. He tacked on another step-out point with 1:38 left and fought off a Nolf shot in the closing seconds to claim victory.
The second match played out similarly. Nolf led 1-1 on criteria with 1:46 left after they exchanged activity clock points. Facing a deficit, Dake went on the attack and drove Nolf out seven seconds later for what proved to be the decisive point. Nolf got to a leg twice in the final 45 seconds, but Dake fended off both shots to clinch the series.
"It's just preparation, really — belief in myself and belief in my coaches that I know what to do when I'm out there," Dake said afterward. "Everyone's going to have a different game plan coming in, and if you try to come attack me it gets my counter-offense going and makes it so I can score a lot of points.
"Jason did a good job of keeping me off top. I don't know how many, but a lot of my points come from par terre. He had a good game plan and going out and wrestling smart for six minutes is the key and controlling the center, controlling the tie and trying to control the pace. But they had a good game plan."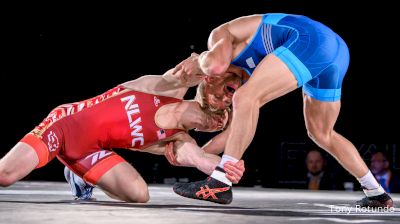 Unlock this video, live events, and more with a subscription!
Get Started
Already a subscriber? Log In
Dake has wrestled a limited schedule in the 12 months since. He won his fourth World title last September when he dominated his first three opponents and then navigated his way through the semis, beating Iran's Yones Emamichoghaei 2-2, and finals with a 3-1 win against Slovakia's Tajmuraz Salkazanov 3-1 in the finals.
He's coming off a gold medal-winning performance at the Pan Am Championships, where he registered four shutout technical superiority wins.
Meanwhile, Nolf kicked off his 2023 season in February by winning the Zagreb Open, where he defeated Iran's Emamichoghaei 3-3 in the finals. In his most recent outing, Nolf secured his place in Final X by rallying back from an early four-point deficit, scoring all of his points after the break to beat Joseph 10-5. The win came on the heels of a 9-2 semifinal victory against Keegan O'Toole.
"In my semifinal match, I got out to a really quick lead — 9-0 — and then I kind of started wrestling defensively, waiting for him to shoot and then run around him. But Keegan made amazing adjustments and he started shooting from the open (with an) outside step, so the match didn't end as strong as I wanted to," Nolf said. "(Against Joseph in the finals), I knew when I got a lead I've got to stay offensive and keep firing and keep scoring, and I was able to do that."
Final X is the Beat the Streets New York Benefit
It is the second straight year Final X will serve as the Beat the Streets New York Annual Benefit. This year's event will be the 13th BTSNY Annual Benefit. These unique and electrifying annual events help BTSNY raise more than $1 million each year to support local youth wrestling programs which empower young people in New York City. The BTSNY Annual Benefit after-party will follow the conclusion of Final X. Benefit tickets and sponsorship packages (Final X plus exclusive after-party celebration access), that also provide the best wrestling-event seats, are available at give.btsny.org/beatthestreetsbenefit2023. For more information on ticket packages, email Katrin Pokalyukhin at katrin@btsny.org. Event-only tickets for Final X without access to the BTSNY after-party celebration are available on Ticketmaster.