2023 World Team Trials Challenge Tournament
The Full World Team Trials Challenge Tournament Greco-Roman Preview
The Full World Team Trials Challenge Tournament Greco-Roman Preview
The remaining Greco tickets to Final X will be punched as established stars prepare to navigate a more compressed-than-usual Challenge Tournament.
May 19, 2023
by Timmy Hands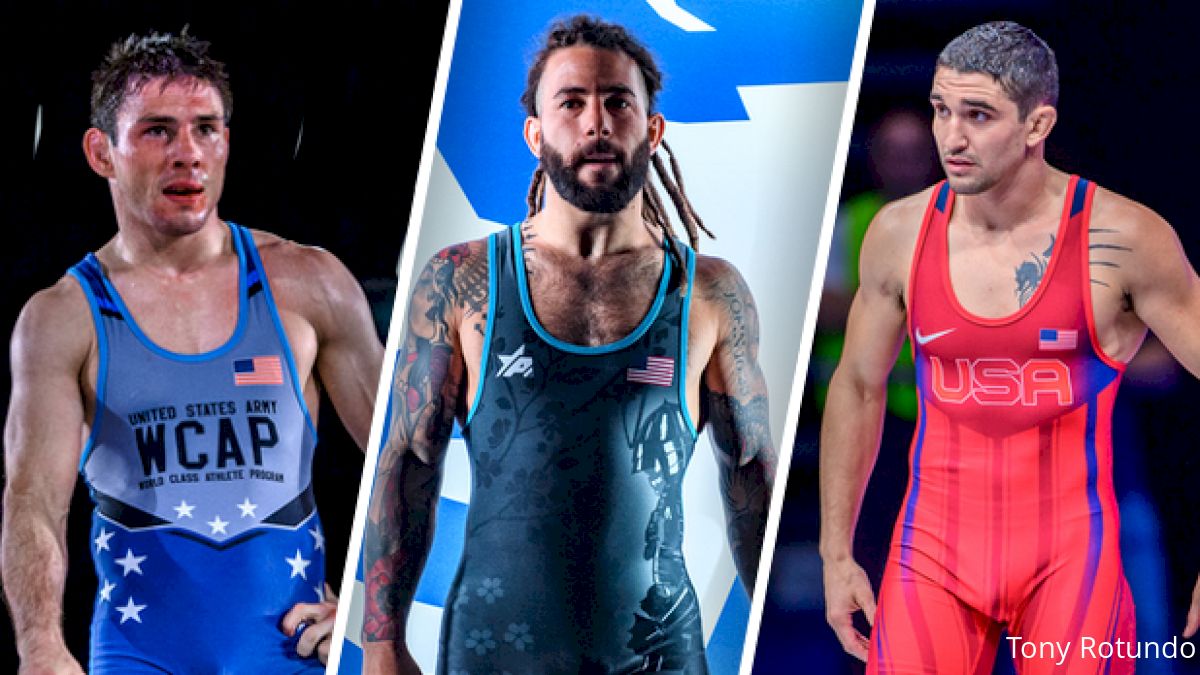 Ten down, 10 more to go. The remaining tickets to Final X will be punched Saturday evening for Greco-Roman as a who's who of established stars prepare to navigate a more compressed-than-usual World Team Trials Challenge Tournament. Selection procedures for 2023 were condensed in an effort to render the most difficult brackets plausible. With a collection of young, talented athletes on the rise combined with a large number of recent World and Olympic Team members, the U.S. program is banking on this event to deliver the kind of roster that can make waves in Belgrade, as well as hopefully attract more fans and supporters to their cause.
55 kg
Final X Entrant #1 — Brady Koontz (TMWC/Dubuque RTC)
Seeds
1. Dalton Duffield (Army/WCAP)
2. Camden Russell (MWC)
3. Billy Sullivan (Army/WCAP)
4. Jacob Cochran (Army/WCAP)
5. Tirso Lara (Top Gun)
Duffield is the most experienced and accomplished athlete out of this mix but perhaps could be threatened in spaces by Russell should they meet in the final round. Sullivan, likely the slickest and most technically-sound overall in the bracket, is due for a big moment or two, as well. But with Duffield coming off of a recent win at the Pan-Ams – and the fact that he has already become accustomed to large domestic stages – it is going to take a lot to stop him from advancing to Newark.
60 kg
Final X Entrant #1 — Dalton Roberts (Army/WCAP)
Seeds
1. Ildar Hafizov (Army/WCAP)
2. Mike Fuenffinger (Army/WCAP)
3. Max Black (NMU/NTS)
4. Dylan Koontz (TMWC/Dubuque RTC)
5. Jonathan Gurule (NMU/NTS)
6. Randon Miranda (Unattached)
7. Phillip Moomey (Spartan Combat RTC)
The return of Fuenffinger (both to competition as well as to this weight category) complicates matters. He is the only other U.S. athlete besides Roberts to have defeated Hafizov since '16, and there is obviously Army room familiarity working in his favor. Black is on a roll, and Koontz could be an X-factor. In a sense, that leaves it up to Miranda to potentially play Hafizov's spoiler. A down Open performance has relegated him to underdog status, which in its own way might be an advantage. None of the above are on Hafizov's level technically, but they are all capable of pushing him in different ways provided they are still in the running come the second period.
63 kg
Final X Entrant #1 — Hayden Tuma (Suples)
Seeds
1. Sammy Jones (Sunkist/CTT)
2. Dylan Gregerson (UVRTC)
3. Xavier Johnson (Army/WCAP)
4. Savion Haywood (Iguana WC)
5. Corbin Nirschl (MWC)
Jones, who represented the U.S. in this weight category at the past two World Championships, has history with both Gregerson and Johnson, which would mean more if the sample sizes were bigger and, when it comes to Johnson, more recent (they last met in '19). Gregerson – who took a loss to Jones in November – really made waves at the Open, thanks to a tremendous level of aggression and improved par terre work. Johnson might have had some ring rust, plus he had just come off of injury. Haywood definitely left an impression in Vegas but is not ready yet. Nirschl had a tough Nationals and is better than what he showed, especially on the backside. Three weeks isn't a ton of time, though it could be enough to close some gaps.
67 kg
Final X Entrant #1 — Robert Perez III (Sunkist)
Seeds
1. Jesse Thielke (Army/WCAP)
2. Alex Sancho (Army/WCAP)
3. Chayse La Joie (CARTC)
4. David Stepanyan (NYAC/NTS)
5. Joel Adams (TBW)
6. Nick Leonetti (NMU/NTS)
Sancho was bounced from the Open following his loss to Cadet World champ Adams, a defeat that generated massive amounts of attention, what with the whole narrative of a high schooler (who also happens to be superbly-talented, to say the absolute least) taking out an Olympian, plus the headlock-to-sleep mini-controversy before the end-of-match ruckus. Assuming Sancho has made peace with all that, and is healthy, he will remember how to tactically weaponize his angst. Thielke, meanwhile, went up to 67 in Vegas and delivered a classic against Alston Nutter, was operating quite smoothly throughout, and then fell victim to Robert Perez. Thielke has nothing to prove here, and is such a pro's pro that there will be no after-effects. The most compelling entrant is LaJoie, who took an early L to Adams but then proceeded to go on a backside tear that brought all of his talent and tenacity to light. If momentum is indeed a thing, one has to figure that he's got it.
72 kg
Final X #1 - Justus Scott (Army/WCAP)
Seeds
1. Patrick Smith (Minnesota Storm)
2. Noah Wachsmuth (NYAC)
3. Jack Ervien (Viking WC)
4. Michael Hooker (Army/WCAP)
Who is comfortable betting against Pat Smith? Seems a foolish thing to do. Smith was pushed (hard) by Ervien in the semifinal, and did not exactly torch Bobby Treshock prior to that match – which is why it's difficult to picture him not having addressed perceived problematic areas over the past few weeks. Hooker at his best could give Smith issues, however, so long as he doesn't beat himself in the process. For those in the U.S. who do not normally give Greco much of a chance, Wachsmuth is someone worth discovering. Not only is he a National Team member, we're also talking about a rugged and gritty throwback type who can score from a variety of positions once he gets moving.
77 kg
Final X #1 - Kamal Bey (Army/WCAP)
Seeds
1. Aliaksandr Kikinou (Poway)
2. Payton Jacobson (Sunkist/NTS)
3. Burke Paddock (NYAC)
4. Jesse Porter (NYAC)
5. RaVaughn Perkins (NYAC)
The quarterfinal bout between Perkins and Porter will stand as one of the most important matches of the entire tournament, in any weight category. Perkins gave 43-year-old Kikinou (a World bronze from '09) his toughest pre-finals match in Las Vegas, and Porter's style is unique and unconventional to where it might stymie the Belarusian-American. Paddock had his best Senior showing yet at the Open, which was nice to see due to the type of athlete he is and still can be. He lost a methodical decision to Jacobson for third, so it will be interesting to see what adjustments have been made in the meantime. A tough assignment. Jacobson's rise has been rapid, and he retains ownership of relevant positions in the ties most American Seniors take for granted.
82 kg
Final X #1 - Spencer Woods (Army/WCAP)
Seeds
1. Ben Provisor (NYAC/Viking WC)
2. Andrew Berreyesa (NYAC)
3. Johanner Correa (NC)
4. Tommy Brackett (NYAC)
5. Kendrick Sanders (NYAC)
6. Tyler Cunningham (NYAC/MWC)
7. Barrett Stanghill (Minnesota Storm)
8. Ryan Epps (Minnesota Storm)
A non-Olympic weight standing as the most stacked bracket is the story for the United States in calendar year 2023, with two-time Olympian Provisor coming off of an Open performance that saw him get pushed in relatively uncommon ways, Berreyesa looking incredible despite a two-year hiatus, and Cuban Johanner Correa dishing out lessons in positional fluidity. All of the quarterfinal bouts (provided there are no surprises from the late registration deadline) are must-watch, especially if Epps is on his horse and ready to defend par terre against Provisor.
87 kg
Final X #1 - Alan Vera (NYAC)
Seeds
1. John Stefanowicz (Navy WC)
2. Zac Braunagel (IRTC)
3. Timothy Young (Army/WCAP)
4. Jordan Lara (Texas RTC)
5. Rich Carlson (Minnesota Storm)
Stefanowicz got the first tournament back out of the way, which is vital for an athlete whose bread-and-butter is a grinding, physical type of pace. Carlson is similar, keeps a solid base and digs in ready for clashing. You figure that par terre is where that one will be decided, unless Lara can pull a shocker. Braunagel was one of Vegas' biggest bright spots, and the manner in which he handled Young is tough to forget. Young did not get a full slate of training in pre-Open, but, as is the case with others, has he had enough time to shore up his foundation? Either way, that semifinal is one that can't be missed.
97 kg
Final X #1 - Joe Rau (TMWC)
Seeds
1. Nick Boykin (Sunkist)
2. Christian DuLaney (Minnesota Storm)
3. Brandon Marshall (Big Game WC)
4. Cade Lautt (Tar Heel WC)
DuLaney had a "one that got away" against two-time National champ Boykin in the Open semifinal, but it is what it is. Boykin has had a knack for doing that sort of thing. Marshall did not (and does not) get enough credit for his output in Vegas. A legitimately tough athlete. So too is Lautt, who will need to increase the tempo and be prepared to counter and innovate opposite Boykin in Saturday's round-of-four.
130 kg
Final X #1 - Cohlton Schultz (Sunkist)
Seeds
1. Adam Coon (NYAC/Cliff Keen)
2. Tanner Farmer (NYAC/IRTC)
3. Donny Longendyke (Minnesota Storm)
4. Brandon Metz (ND)
5. Darryl Aiello (Dubuque RTC)
Coon capitalized on two Farmer attempts to emerge victorious from their semifinal contest. Other than that, it was neck-and-neck. Many would love to see them run it back with Final X on the line, which is natural according to the tenor of the moment. Can Longendyke prevent that from happening? He has the tools to do so but first he must survive the vastly-improved Farmer. Aiello is the neophyte of this bracket. New on the scene, getting lessons in real-time.