2023 World Team Trials Challenge Tournament
The Women's Freestyle Challenge Tournament Brackets Are Loaded
The Women's Freestyle Challenge Tournament Brackets Are Loaded
Four women's freestyle Final X spots are on the line this weekend in Colorado Springs, headlined by the star-studded 76-kilogram bracket.
May 16, 2023
by Derek Levendusky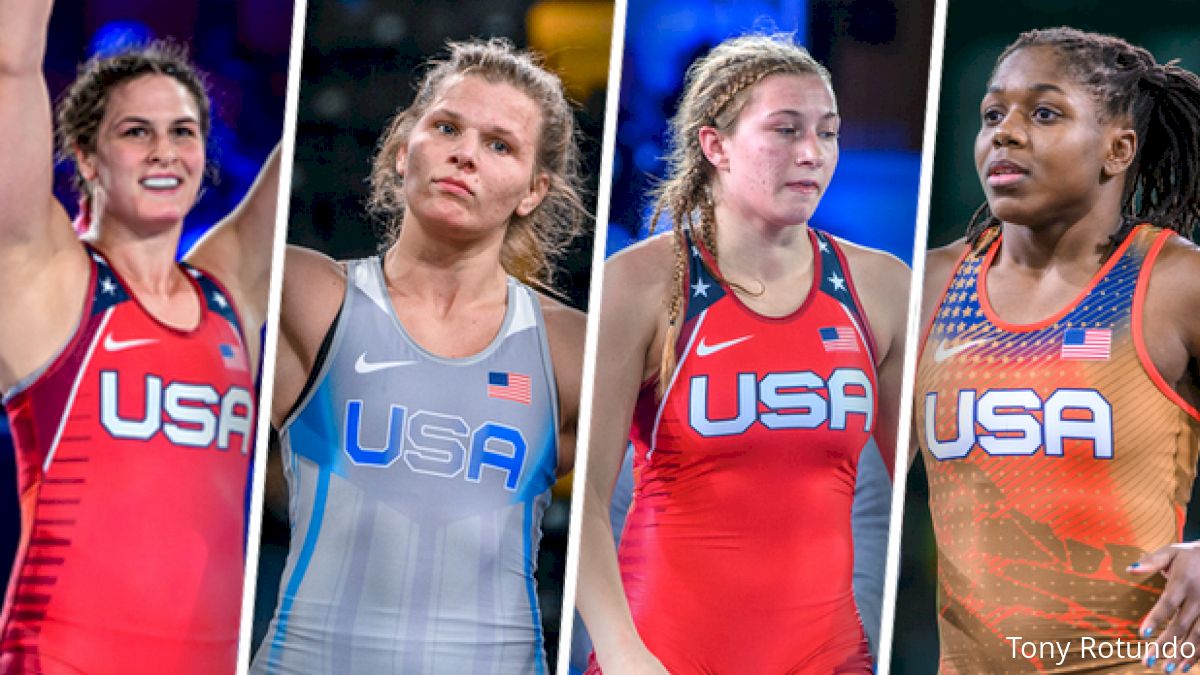 The excitement of USA Wrestling's Senior freestyle qualification season continues this weekend in Colorado Springs. Six of the 10 United World Wrestling weights have already been booked for Final X, leaving four weights left to contest this weekend — 55 kilograms, 59 kg, 68 kg, and the star-studded 76-kilo class.
Final X will determine this year's U.S. rep for September's World Championships in Belgrade, Serbia. With returning medalists already sitting at Final X, the U.S. Open a few weeks ago in Las Vegas determined the second finalists at 50 kg, 53 kg, 57 kg, 62 kg, 65 kg, and 72 kg.
Here's a look at the weights that will be contested this weekend in Colorado Springs.
55 kg
With U.S. Open winner Alisha Howk already sitting at Final X, 2019 World champion Jacarra Winchester is the obvious favorite in a field that includes 2022 National teamer Lauren Mason and 2021 National teamer Areana Villaescusa. The entries are otherwise marked by younger talent with names like 2023 National Collegiate Women's Wrestling Champion Jaslynn Gallegos and 2023 NCWWC national runner-up Amani Jones, who are both from the same program — the Cardinal Wrestling Club of North Central. The youngest name in the group is Wyoming Seminary's Virginia Foard, who is currently ranked #3 in high school rankings.
Waiting at Final X: Alisha Howk
Entries
Virginia Foard, Virginia (Wyoming Seminary Wrestling Club)
Amani Jones, Georgia (Cardinal Wrestling Club)
Jaslynn Gallegos, Colorado (Cardinal Wrestling Club)
Lauren Mason, California (Brunson UVRTC)
Jacarra Winchester, Colorado (Titan Mercury Wrestling Club)
Areana Villaescusa, Colorado (Army/WCAP)
Gabrielle Skidmore, Wisconsin (Minnesota Gold Wrestling Club)
59 kg
An all-star cast fills out this weight, especially with a few new names added in from other weights where Final X participants were already qualified. For example, Jennifer Page, the #1 seed from the U.S. Open, is coming down from 62 kg to this weight after losing a close match in the finals to young star Adaugo Nwachukwu. Meanwhile, the #1 and #2 seeds from 57 kg at the U.S. Open, returning National teamers Alex Hedrick and Amanda Martinez, are both bumping up to this weight as both fell to eventual winner Xochitl Mota-Pettis a few weekends ago. And that's not all. U.S. Open finalist Maya Nelson, the 2017 Junior World Champion and 2021 World teamer, is also in the field along with two-time age-level World teamer SaVannah Cosme, National team members Abby Nette, Lexie Basham and Lauren Louive, 2022 U23 national champion Brenda Reyna and 2021 NAIA champ Bridgette Duty.
Waiting at Final X: Michaela Beck
Entries
Lauren Louive, Ohio (New York Athletic Club)
Maya Nelson, Colorado (Sunkist Kids Wrestling Club)
SaVannah Cosme, Arizona (Sunkist Kids Wrestling Club)
Amanda Martinez, Illinois (Cardinal Wrestling Club)
Alexandra Hedrick, California (Titan Mercury Wrestling Club)
Lexie Basham, Texas (Spartan Mat Club)
Bridgette Duty, Texas (Army/WCAP)
Jennifer Page, Pennsylvania (Titan Mercury Wrestling Club)
Abigail Nette, Louisiana (Army/WCAP)
Brenda Reyna, Washington (Army/WCAP)
68 kg
Three-time World and Olympic champion Tamyra Mensah Stock declined her spot in Final X and then announced her departure for WWE, leaving a vacancy here. Forrest Molinari, a World bronze medalist in 2021, advanced to Final X after winning the U.S. Open title. The field competing at the Challenge Tournament will provide her with a formidable opponent. The entries include three-time National teamer Alex Glaude, 2022 National teamer Marilyn Garcia, 2022 National teamer Solin Piearcy, and three-time National teamer Emma Bruntil. Keep an eye also on Minnesota Storm's Katie Lange, who has proven to be a tough out at every level, taking third at the Open after winning both a college and U23 national title this year. Army/WCAP's Nahiela Magee always seems to be in the mix as well. She has placed at the U.S. Open six times since 2016.
Waiting at Final X: Forrest Molinari
Entries
Chloe Ogden. Florida
Marilyn Garcia, California
Kaylynn Albrecht, Kansas (Wildcat Elite)
Solin Piearcy, California (Menlo Wrestling Club)
Alexandria Glaude, Oregon (Titan Mercury Wrestling Club)
Emma Bruntil, Washington (Titan Mercury Wrestling Club)
Isabella Mir, Nevada (Iowa Women's Wrestling Club)
Nahiela Magee, Colorado (Army/WCAP)
Katerina Lange, Minnesota (Minnesota Storm)
Ana Luciano, Florida (Team Tornado WC)
76 kg
This weight class has been the most discussed group in women's Senior wrestling this year. It's a shark tank that is loaded with the best talent in the world. If you haven't read it yet, Kyle Klingman makes the case in his article "76 kg Is As Good As Gold For The United States" that the top five women at 76 kg are the best five in the world.
After Kennedy Blades got through the same group at the U.S. Open to earn a spot at Final X, the remainder of the field must battle it out in Colorado Springs for the final spot at Final X. Six-time world champion Adeline Gray headlines the group, though she might not be the favorite heading into the Challenge Tournament, as Kylie Welker, Dymond Guilford, and Yelena Makoyed all seemed poised to challenge her. While it may be true that Gray has yet to reach the optimized version of herself after returning from giving birth to twins, she faces a world-class field that would be tough to face even in her prime. T
his is not to say Gray won't earn a rematch against Blades at Final X, but anyone paying attention knows that 2021 World teamer Welker, 2022 World teamer and U23 silver medalist Guilford, and the USA Wrestling Women's College Wrestler of the Year Yelena Makoyed all have a legit shot at punching through to Newark. Beyond them, there are even more accomplished names in this group, like Grote and Bell, who could both play dark horse. We'll find out this weekend!
Waiting at Final X: Kennedy Blades
Entries
Adeline Gray, Colorado (New York Athletic Club)
Brooklyn Hays, Utah (Minnesota Gold Wrestling Club)
Dymond Guilford, California (Titan Mercury Wrestling Club)
Kylie Welker, Wisconsin (Iowa Women's Wrestling Club)
Precious Bell, Minnesota (Titan Mercury Wrestling Club)
Yelena Makoyed, California (Cardinal Wrestling Club)
Skylar Grote, New Jersey
Tristan Kelly, Colorado (Army/WCAP)
Ashley Lekas, Texas (Minnesota Gold WC)
Current Final X Qualifiers
50 kg: Sarah Hildebrandt vs. Audrey Jimenez
53 kg: Dominique Parrish vs. Katie Gomez
55 kg: Alisha Howk
57 kg: Helen Maroulis vs. Xochitl Mota-Pettis
59 kg: Michaela Beck
62 kg: Kayla Miracle vs. Adaugo Nwachukwu
65 kg: Mallory Velte vs. Macey Kilty
68 kg: Forrest Molinari
72 kg: Amit Elor vs. Joye Levendusky
76 kg: Kennedy Blades
The WTT Challenge Tournament will be streamed live on FloWrestling this weekend.