2023 World Team Trials Challenge Tournament
125kg World Team Trials Challenge Tournament Preview
125kg World Team Trials Challenge Tournament Preview
Which heavyweight will emerge from the World Team Trials Challenge Tournament and earn the right to wrestle Gable Steveson at Final X.
May 15, 2023
by Andrew Spey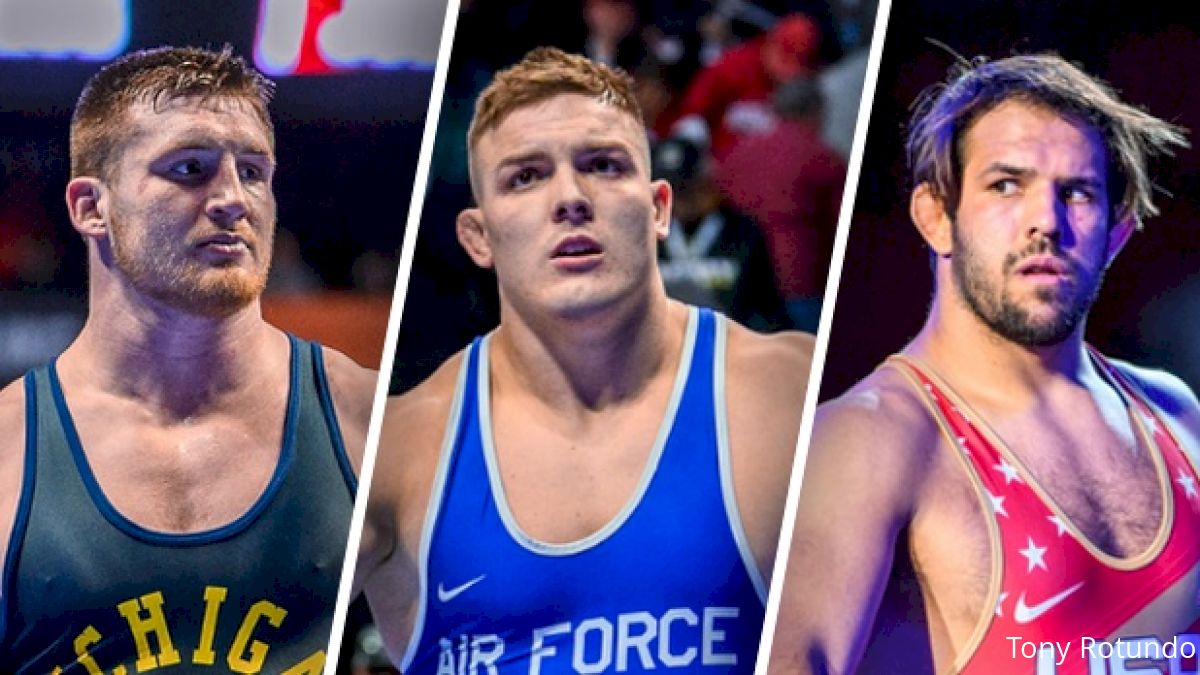 As one of the four men's freestyle weight classes with no returning medalist waiting in Final X, the 125kg division will be contested at the World Team Trials Challenge Tournament. And, unsurprisingly, in the year before the Olympics, a cavalcade of quality heavies will be rumbling onto the mats in Colorado Springs to try and earn the Team USA starting gig.
One heavyweight competitor at Final X is already known. Gable Steveson returned to the US Open to much fanfare, dominating his way to an Open title by tech-falling four straight opponents, outscoring his competition by a total of 44-1. But who will face the Tokyo Games gold medalist in Newark, NJ on June 10?
In this blog we'll run down the collection of worthies who have registered for the Challenge Tournament with the hopes of being the other heavyweight competitor at Final X. Seeds are also out and are noted after the wrestlers' name and club.
Nick Gwiazdowski, Spartan Combat/TMWC (1)
Nick Gwiazdowski has been a stalwart on the senior circuit for the better part of a decade. He made his first world team in 2017 and promptly won a UWW bronze medal. He made his second world team in 2018 and won another bronze medal.
That all came after Gwiz won two NCAA titles and made three finals matches for NC State. Before that, Gwiz was a college freshman at Binghamton, a little less than two hours west of his hometown of Duaneburg, New York. Gwiz's coach at both schools was inimitable Pat Popolizio.
More recently Gwiazdowski placed fifth at the 2021 World Championship. He also finished as runner-up in the trials for the Tokyo Games and the 2022 World Championships.
Watch Gwiz make the 2023 U.S. Open finals with a win over Dom Bradley: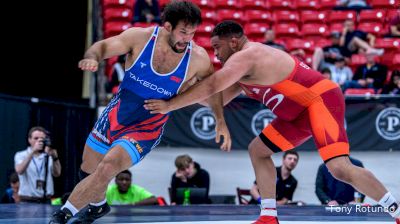 Unlock this video, live events, and more with a subscription!
Get Started
Already a subscriber? Log In
Though a career heavyweight, Gwiz has never been "full-size", heavyweight, yet that never stopped him from shooting and showing no fear when going underneath larger, less mobile heavies. And while Gwiz lost to Hayden Zillmer at 2022's Final X, Zillmer is currently injured and not participating in the 2023 trials process.
Additionally, Gwiz is still notching solid wins, such as his victories over Poland's Robert Baran and Hungary's Daniel Ligeti, two steadfast international contenders, each with a handful of European medals.
Gwiz also defeated Mason Parris twice at the 2021 World Team Trials finals, and while that was close to two years ago, Gwiazdowki is still the favorite to emerge from the trials and earn another showdown with Steveson.
Mason Parris, Cliff Keen WC/TMWC (2)
The aforementioned Mason Parris lost to the aforementioned Gwiazdowski back at the 2021 Trials (as previously mentioned), however, Parris and Gwiz didn't meet at the US Open, and other than a loss to Steveson, Parris blitzed through his opponents in Vegas, pinning and tech'ing everyone else in his path.
Watch Parris take third at the 2023 U.S. Open: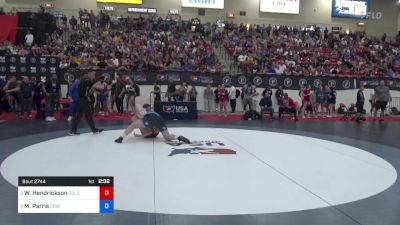 Unlock this video, live events, and more with a subscription!
Get Started
Already a subscriber? Log In
Parris, a native of Lawrenceburg, Indiana, is also coming off a dominant senior season with the Michigan Wolverines. Just how dominant was Parris? How's 33-0 with a nearly two-thirds bonus rate sound? Well, it sounded good enough for Parris to win the Hodge Trophy anyway, which is awarded annually to the nation's most dominant college wrestler.
Mason has not yet acquired the same volume of hardware on the international stage as Gwiazdowksi, he does have a fair amount of freestyle experience, as evidenced by his 2019 U20 world championship gold medal.
Wyatt Hendrickson, Air Force RTC (3)
The talk of the collegiate heavyweight ranks for the last several years has been Wyatt Hendrickson. A rising senior (with junior eligibility, though being at a service academy means he graduates next year regardless of how many seasons the NCAA will let him wrestle), from Newton, Kansas, Hendrickson has been a pinning machine, laying waste to over 40 opponents via pinfall in his varsity career thus far.
But it wasn't until the 2023 season that Hendrickson finally broke through to the medal rounds of the NCAA tournament. Wyatt pinned multiple-time All-Americans Lucas Davison and Tony Cassioppi on his way to a third-place finish, and then led a raucous Tusla crowd to a rousing chant of U-S-A.
Watch Hendricks pin Cassioppi at the 2023 NCAAs: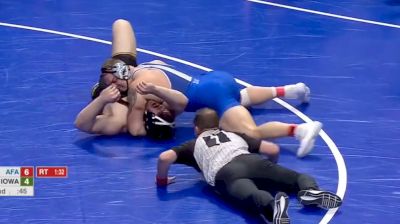 Hendrickson is relatively green to the freestyle senior circuit, however, he did make a U20 world team in 2021, placing fifth in Ufa, Russia. Hendrickson placed fourth more recently at the U.S. Open last month, falling to Parris by the score of 20-7 in the third-place bout.
Dom Bradley, Sunkist Kids WC (4)
There are few active heavyweights as experienced as the venerable Dom Bradley anywhere in the world. The ageless Dom placed fifth at the U.S. Open and very shortly after that traveled to Buenos Aires and won a Pan-American Championship gold medal.
Watch Bradley win a Pan-Am gold medal: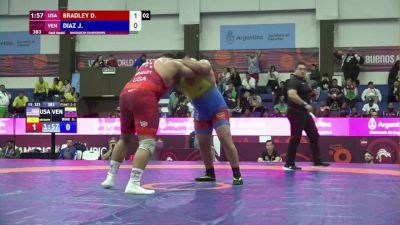 Unlock this video, live events, and more with a subscription!
Get Started
Already a subscriber? Log In
16 years before his Pan-Am gold in Argentina, the two-time All-American at Missouri was winning a Greco gold and a freestyle silver at the 2007 U20 Pan-Am Championships. Bradley also won Pan-Am gold at the senior level in 2016 and 2017, plus he earned a U20 gold at the World Championships in 2009.
Dom also earned medals from other prestigious tournaments including the Bill Farrell, the Dave Schultz, and the Yashar Dogu.
Ty Walz, SE RTC/TMWC (5)
Though three-time All-American Ty Walz was outplaced at the 2023 U.S. Open by Demetrius Thomas, Walz only lost to Parris and Hendrickson, the third and fourth-placers at the tourney, thus Walz received a higher seed than Thomas.
The St Eds grad from Cleveland stayed in Blacksburg after graduating from Virginia Tech and still competes with the Southeast RTC. Career freestyle highlights from Walz include a bronze at the 2017 U23 World Championship as well as a silver at the 2019 Alexander Medved, both at 97kg. More recently Ty earned a bronze at the 2023 Dan Kolov up at 125kg.
Demetrius Thomas, Pittsburgh WC/NYAC (6)
Though he never made it to the NCAA podium, Demetrius Thomas has stayed at the University of Pittsburgh and competes on the freestyle senior level with the Pittsburgh Wrestling Club. It didn't help Big Meech's college record when covid canceled the 2020 season when he had earned the #7 seed.
Thomas placed second at the 2022 Bill Farrell and placed sixth at the most recent U.S. Open.
Tony Cassioppi, Hawkeye WC (7)
Perhaps the most intriguing entry at the Challenge Tournament that we didn't see at the Open is three-time NCAA All-American (and 2022 NWCA All-American) Anthony Cassioppi. The Iowa Hawkeye by way of Illinois has proven his folkstyle bonafides here in the states, and has also gone overseas in 2021 and 2022 and won medals at two consecutive U23 World Championships, the only American to accomplish such a feat.
Seeing as how six of these contenders were just recently in the same bracket at the U.S. Open, a prudent prediction would be that everyone finishes in a similar order, and the seeds would suggest that as well.
The bracket wrestles according to the chalk, Gwiz will beat Bradley in one semifinal (as happened at the Open) and Parris will beat Hendrickson in the other semifinal (as also happened in the Open). One could also argue that Cass is a wild card, as he was not at the Open. In any event, what will actually happen won't be decided until the end of the day on May 21. See you then!