Women's Weekly
Women's Weekly: Is Tonya Verbeek Iowa's Secret Weapon?
Women's Weekly: Is Tonya Verbeek Iowa's Secret Weapon?
Iowa crossed the border to secure one of the best coaches in the world. And the results are showing.
May 8, 2023
by Kyle Klingman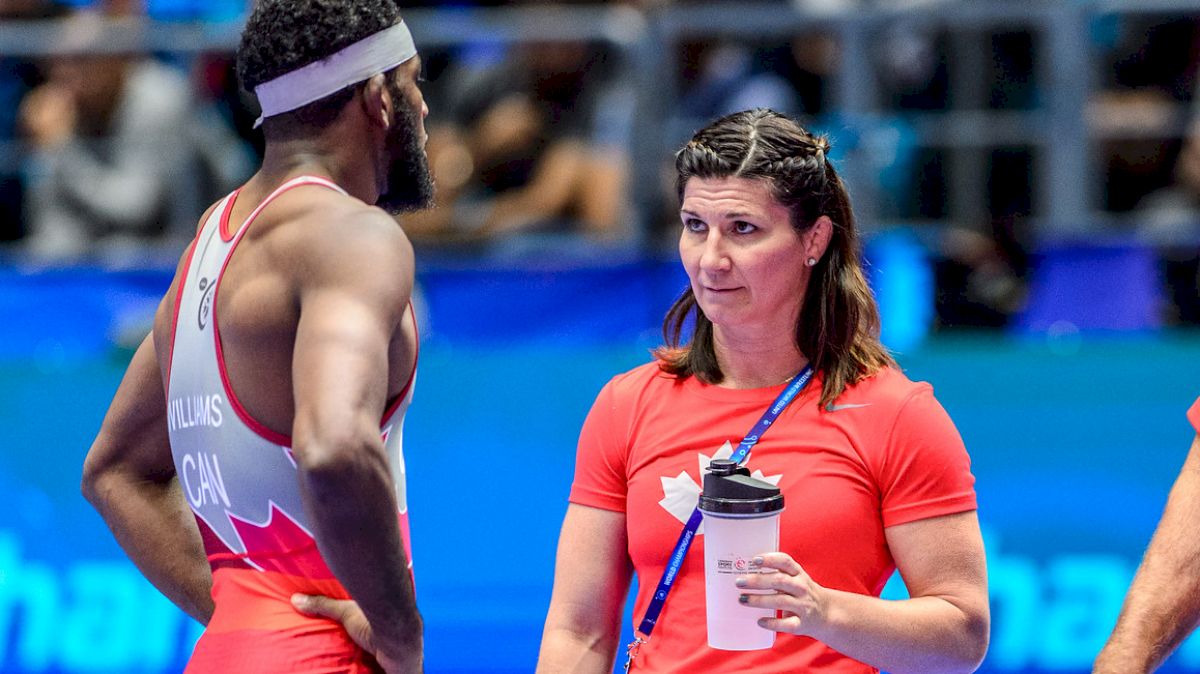 Iowa coach Clarissa Chun accomplished something that USA Wrestling could not: hire Tonya Verbeek.
You can't say our national governing body didn't try. USA Wrestling executive director Rich Bender estimates four straight years of failed attempts.
Here's another twist. Bender wanted to hire Verbeek as the assistant national team coach — a role that eventually went to Chun.
"I thought (Tonya) would be a good asset for us to have so I recruited her and looked for ways to bring her on board," Bender said. "It never really worked out and obviously Clarissa figured out the combination and we're grateful to have her in our country.
"I can promise you, the Iowa Hawkeyes are better as a result of having her on their team. I'm happy for them, happy for our country, and, probably more importantly, I'm happy for Tonya."
Who is Tonya Verbeek, anyway? Several current Hawkeyes didn't know about her prior to signing with Iowa. That's ok, though. The humble and meek Verbeek likely prefers it that way.
On the mat, Verbeek might be the greatest Canadian wrestler ever. She began competing in 1992 at the age of 16 before making a Senior World team in 1995 at the age of 18. It took another nine years before she qualified for the 2004 Olympics.
"I was hooked after a month," Verbeek said during a 2020 interview with Trackwrestling. "I was a feisty teenager who loved playing sports. I liked trying things that were different and maybe not perceived quite as normal for a girl at that time."
Verbeek won silver, bronze, and silver at the 2004, 2008, and 2012 Olympics in addition to bronze, bronze, and silver at the 2005, 2009, and 2011 Worlds. She lost to Japan's Saori Yoshida every year she won a medal.
Yoshida is a 16-time World and Olympic champion (2002-15) who famously lost to Helen Maroulis of the United States in the gold medal finals at the 2016 Olympic Games.
Tony Verbeek at the Worlds and Olympics

"Things haven't been easy for Tonya," said USA Wrestling women's national team coach Terry Steiner. "She had plenty of opportunities to walk away from the sport with nothing and she chose to stick with it. Through that struggle, I think she learned a lot about herself and about dealing with heartbreak and understanding the sport."
Verbeek nearly knocked off Yoshida during a controversial 2011 World final. A year after that, Verbeek scored a win over Maroulis at the 2012 Dave Schultz Memorial International by using a rugged and tough-minded style that caught the eye of Bender.
"It might be arrogant to say this, but she had an American wrestler's mentality," Bender said. "She's really tough and gritty — just an absolute champion. Somebody that embodies the trademark of the American system. I heard a lot of good things about her as a coach and, as you know, there's not a guarantee that great athletes transition into great coaches."
Tonya Verbeek defeated Helen Maroulis at the 2012 Dave Schultz Memorial International with USA Wrestling executive director Rich Bender watching in the background as the camera pans to the left.
Another twist: Maroulis wrestled for Simon Fraser — an NCAA Division II program located in Burnaby, British Columbia. Justin Abdou, a 2000 Canadian Olympian who famously beat Cael Sanderson at the Sunkist Open, is the head coach there. And his wife happens to be best friends with Verbeek.
The two will face each other for college national championships.
"Tonya was wrestling at a time when not all in the wrestling community were welcoming," Abdou said. "Her group of women had to prove themselves every day, and that still wasn't enough for some. They often had to wrestle live with men — some who weren't too happy about it. That group of women was beyond tough and they paved the way for today's ladies. They were true pioneers.
"She also has incredible toughness and a love for the sport. She is a true student of the game, which makes her a great coach. To a certain extent, she got to do the whole 'fight for your place' again when she started coaching both men and women. She has done an incredible job, which doesn't surprise me. I'm excited for the next chapter of her coaching career, and also a little scared since she's on the other team now."
Verbeek's recent role as Canada's head men's and women's national team coach from 2019-21 was a breakthrough moment. She stood out at competitions throughout the world — especially when she was coaching men.
"I would look around at the World Championships and there weren't other female coaches doing both," Verbeek said in 2020.
Now, her singular focus is simple: build the University of Iowa into the best women's wrestling program in the country. The Hawkeyes are already the team to beat during their inaugural 2023-24 season.
Seven future Hawkeyes entered the prestigious Missouri Valley Invitational last year and five won titles. The other two finished second, losing tight matches to teammates. Iowa-Unattached combined for a 36-2 overall record.
The Hawkeye Women's Wrestling Club had a good showing at the recent Women's Nationals, too. Bella Mir (U20) and Felicity Taylor (U23) won titles, while Nyla Valencia, Ella Schmit, and Kylie Welker reached the U20 finals.
Part of their success is simple: one of the best — and most coveted — coaches in the world is an assistant at Iowa.
Tonya Verbeek nearly upset Saori Yoshida at the 2011 World Championships during a controversial finish