Mitchell Mesenbrink On Commiting To Penn State, Next Year's Lineup, & NIL
Mitchell Mesenbrink On Commiting To Penn State, Next Year's Lineup, & NIL
An inside look at Mitchell Mesenbrink's commitment to wrestle at Penn State University.
Apr 21, 2023
by Jon Kozak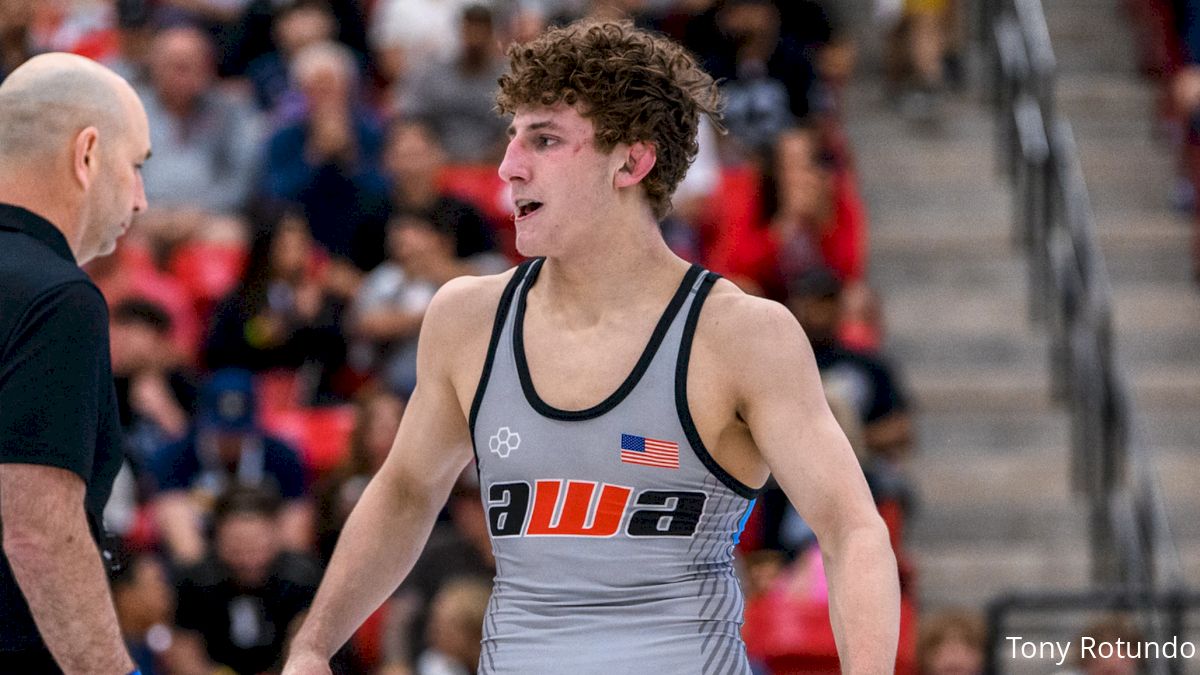 In one of the most notable transfers of the off-season, Mitchell Mesenbrink announced his commitment to wrestle for the 2023 NCAA champions Penn State. Mesenbrink was a 2022 U20 world silver medalist at 70 kg and was ranked as the #12 overall recruit coming out of the class of 2022. With the news, we recently spoke to Mesenbrink to get an inside look at his recruiting process, the NIL landscape, where he fits in the lineup, and when we can expect to see him next on the mat!
The NIL Landscape
The transfer portal and student-athletes making money off of their name, image, and likeness (NIL) have been the driving force of conversation this off-season. There have been wild accusations thrown around that programs are offering large sums of money to pull top transfers from other programs. So, is it true? According to Mesenbrink, that was not his experience. In fact, Mesenbrink was adamant that NIL wasn't a part of his decision saying, "My recruiting process was not influenced by NIL. Less than 1%, .1%, nothing about NIL played a part in me picking Penn State."
Mitchell went on to say, "To hear the things that people are saying about NIL…it's shocking." He feels those a part of the NIL conversation are taking the rumors they hear online and believing them as fact rather than getting their information straight from athletes. The coaches he talked to only offered him scholarships and kept all of their conversations to school and wrestling-related topics.
The Recruiting Process
According to Mesenbrink, the toughest part about his recruiting process was ensuring he kept his eligibility. Once he decided on leaving California Baptist, he found out he needed to continue to stay enrolled and take classes through Cal Baptist. He moved back home to Wisconsin in December and is still taking online classes in order to keep all of his eligibility.
Then, on March 9, Mesenbrink entered the transfer portal. That's when the calls started pouring in from head coaches around the country. From there, he narrowed down his list of schools based on the culture of the team and their "training cycles". How teams trained was an important factor for Mesenbrink in narrowing down his list. The balance between live wrestling and focusing on technique is important to Mitchell and too much live wrestling in training, according to Mesenbrink can be dangerous. "I love wrestling every day. I love live wrestling, but not every day. I wanted to make sure I'm not getting crushed in college (by wrestling live too often)." After his conversations with coaches learning about the team's culture and training cycles, Mesenbrink's final list consisted of Michigan, Missouri, Ohio State, and Penn State.
Mesenbrink shared more about his decision to enter the transfer portal in his interview on the Bader Show:
Mesenbrink took unofficial visits to Michigan, Missouri, and Ohio State, and then concluded his process with an official visit to Penn State. At all of his visits, Mesenbrink was able to talk to the coaches, tour the campus, and practice with guys on the teams.
Why Penn State?
Mesenbrink had other official visits lined up but canceled them almost immediately after his visit to Penn State saying, "I didn't really need to see much else…I knew. I want to be there." So what was it about Penn State that gave him that confidence? The culture, the people, and trust.
Mesenbrink has spent his life training under his dad, John, and 2-time NCAA champion and Olympian Ben Askren at Askren Wrestling Academy in Wisconsin. He said the culture his dad and Ben have built at AWA lines up perfectly with what he saw at Penn State. In describing that culture Mesenbrink said, "It's about being a good person…doing things the right way…focusing on performance over winning, and becoming a master at wrestling." How does this translate to Mesenbrink's wrestling on the mat? "You know what to expect from me every time I take the mat - I'm going to wrestle my absolute hardest…I would rather lose knowing I tried every single thing possible to win than win and stall."'
Mesenbrink opened up more about his mindset on competing in the below interview at the 2022 U20 World Championships: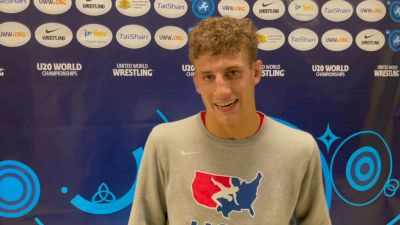 When visiting State College, Mesenbrink saw this culture displayed in the people he met. This was reinforced by head coach Cael Sanderson in a practice Mesenbrink observed where Sanderson preached the importance of getting better over just "getting a sweat in." Mesenbrink said this principle is something he hears over and over again AWA. He went on to describe the coaches and wrestlers as the "type of people he wanted to be around every day." He described the coaches and wrestlers by saying, "They love wrestling but their only value isn't in wrestling - they have God at the center of their life…they don't place winning over everything."
Ultimately, Mesenbrink said his decision came down to trust. The track record of Penn State producing the best wrestlers gives him confidence that State College is the best place that can help him reach his "ceiling" in wrestling. "I trust these people…I think I can be an Olympic gold medalist and beyond with their training."
157 Or 165 Next Season?
Mesenbrink shared that he could wrestle either 157 or 165 next season for Penn State. However, that begs the question - What does that mean for Levi Haines and Alex Facundo? As a true freshman, Haines was the NCAA runner-up last season at 157 pounds. Facundo was the #2 overall recruit in the class of 2021, an NCAA qualifier, and was ranked as high as #5 in the country at 165 pounds. Does that mean 1 of those 3 will be on the bench next year?
Not at all. According to Mesenbrink, there are a lot of ways things could work out in the lineup next year for Penn State saying, "People think there's only 1 way of doing things...There are about 10 options of what could happen." What are those options? Simply put, every one of the 3 mentioned wrestlers has a redshirt available. Both Facundo and Mesenbrink will likely be eligible for an Olympic redshirt while Levi Haines has never taken a "regular" redshirt. That might not be 10 options, but the point remains true that Penn State can shuffle their lineup in a way that gets the full amount of eligibility out of Haines, Facundo, and Mesenbrink. Again, Mesenbrink said the decision will be entirely up to the coaches and that he trusts them completely.
Beyond who will be in the starting lineup next year for the Nittany Lions, Mesenbrink shared that he had an opportunity to talk to both Haines and Facundo during his visit to Penn State. Mesenbrink said both were incredibly friendly and made him feel like he belonged on the team. He expects them all to be training partners, helping one another reach their goals. Ultimately, Mesenbrink's not thinking about specifics at this point but about becoming a better wrestler. He had one final thought concerning what weight he'll be wrestling next season:
"I don't know yet, but I can promise you I'm going to be a savage wherever I go."
What's Next?
Mesenbrink is currently still training in Wisconsin but said he can't wait to get to Penn State. He and the coaches haven't made a decision on when he'll make the move but Nittany Lion fans won't have to wait long to see Mesenbrink take the mat. He's set to compete at 74kg in the U20 division at the US Open on April 29-30. Mesenbrink won the US Open last year at 70kg by defeating Iowa State's Paniro Johnson in the finals. That put him in the finals of the U20 world team trials where he took out his new teammate Levi Haines in 2 straight matches to make the world team. Mesenbrink then won a silver medal at U20 worlds and will look to upgrade that to gold this year.
Mesenbrink's win over Levi Haines to make the 2022 U20 world team at 70kg: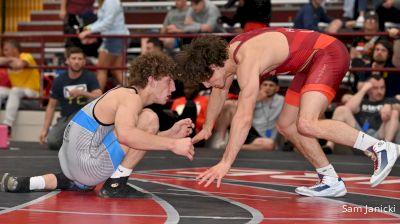 Unlock this video, live events, and more with a subscription!
Get Started
Already a subscriber? Log In
As mentioned, Mesenbrink has big freestyle goals and prioritized improving in freestyle during his unique "redshirt" year. Over the past 9 months, Mesenbrink competed on the senior level at the Bill Farrell and Dan Kolov tournament at 74kg. He also was able to attend the United States senior national team camps where he trained with the likes of Jordan Burroughs, Jason Nolf, Yianni Diakomihals, and many of Team USA's other top wrestlers. According to Mesenbrink, these experiences helped him to "stop being star-struck" by those legends because he has "big goals" and desires to achieve the highest levels of the sport.
Mesenbrink's win in the semi-finals at the 2022 U20 World Championships: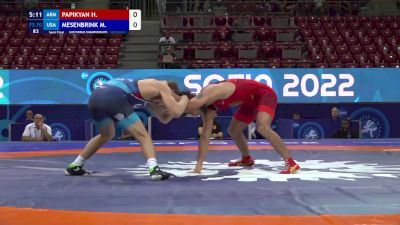 Unlock this video, live events, and more with a subscription!
Get Started
Already a subscriber? Log In