NCAA Rule Changes
NCAA Wrestling Rules Committee Proposes Massive Changes
NCAA Wrestling Rules Committee Proposes Massive Changes
The NCAA wrestling rules committee recommended some ground-shaking proposals this week in Indianapolis.
Apr 19, 2023
by Andy Hamilton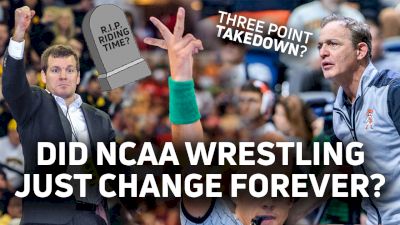 College wrestling is on the verge of monumental change.
If NCAA rules committee proposals pass, three-point takedowns will be in, three-point near-falls will be back and a riding-time point without a turn will be a thing of the past.
Those were three of the headline-grabbers from a groundbreaking rules committee meeting this week at the NCAA headquarters in Indianapolis.
The committee also recommended eliminating the hand-touch takedown, adjusting video review to allow for sequences to be reviewed rather than just singular moves, and counting the first medical forfeit of a tournament as a loss on a wrestler's record, except in instances where a medical forfeit immediately follows an injury default.
"We needed to add excitement back to the sport without compromising the integrity of the sport — and I think we did that," Rider coach and NCAA rules committee chair John Hangey said.
"We're either going to be loved or hated or remembered as the worst or the best rules committee in history. But we felt we were taking wrestling from where it is to where we want it to be."
College coaches will have a two-week period to review the proposals and submit feedback before the NCAA Playing Rules Oversight Panel meets June 8 to discuss the recommendations. If they pass, next season will usher in a historic period of change for the sport.
"We felt we needed to make a change right now and felt it was a crucial time," North Carolina coach and rules committee member Coleman Scott said. "Viewership was down for the NCAA tournament with probably some of the best storylines we've ever had all in one year, so we've got to be conscious of that to make sure the product we're putting out is the best to build our sport and our viewership. Some of that can be dictated by the rules."
The two-point takedown and riding-time points have been woven into college wrestling's fabric for decades, but one could be on the way out and the threshold for the other could be drastically different next season. In an effort to increase scoring and action, the rules committee voted to increase the value of a takedown to three points and also moved to require wrestlers to score near-fall points in order to secure a point for accruing a minute or more of riding time.
The three-point takedown had been a discussion piece in recent years but hadn't generated much traction. But with national tournament match points down 19 percent since 2019 and takedowns down almost 17 percent during the same time frame, the rules committee made a three-pronged move to jumpstart action, risk-taking and scoring.
"We've got to incentivize," Scott said. "We talked about 50 different scenarios in a match. Three takedowns in a first period, opponent gets three escapes, escapes again in the second period and then takes you down and it's a 6-6 match and it's three takedowns to one. Should that be where it's at? That's a lot of effort. It's hard to take down somebody three times — a high-level guy. If we redid it with three-point takedowns, you're looking at 9-7.
"It puts an emphasis on risk and we need more risk. If you look at the numbers statistically, takedowns have gone down, backpoints have gone down, tech falls have gone down. Everything has decreased in the last 10 years in our numbers, so we've got to figure out how to create more action, more points, more opportunities."
The most impactful change might be the new riding time caveat. The rules committee took incremental steps throughout the past decade to curb top-position tactics that seemed geared more toward accruing riding time than working for near-fall points.
Though the five-second count rules that came into play during the past decade solved some of the issues, they didn't get to the root of the problem.
Scott said the committee was driven to create a "work to turn" environment rather than "work to hold."
"Top wrestling has become more riding than turning in general, and I think that's really hurting our sport in the sense of viewership and watching," he said. "We needed to figure something out with how to create more points, more action and guys to be excited to go score more points.
"We're tired of watching boring wrestling for six minutes and me just laying on top of you to win 2-1. That's not possible now. And we're going to take that away. That was sort of the mindset. That stall ride, the hustle ride, I'm going to figure out how to hold on to get my minute and win 2-1, we want to eliminate that."
On the other hand, the three-point near-fall is on the verge of coming back after being eliminated eight years ago. Until 2015, it took a five-count to generate three back points. Since then, a two-count has been worth two points, a four-count has been worth four.
If passed, next season, a three-count will produce a three-point near-fall.
"It helps balance out the three-point takedown," Hangey said.
Other NCAA Rules Proposals
In all, the rules committee passed 14 proposals. If passed:
— The rule which states top position wrestlers must only aggressively work to break down the opponent would change to also requiring him to pursue near-fall points and/or a pin.
"The way it's (been) stated in the rulebook — and we changed that a little bit — it's an attempt to break down," Scott said. "That's what guys were doing, so it wasn't technically stalling. (But) that's hard to watch for me. I've watched the sport for 30 years and I want guys to be viscous on top and want to turn. If you're not incentivized to, why do it?"
— The current mandatory five-second count for waist and ankle rides would include all situations in which the top wrestler grasps the bottom wrestler's ankle.
— The hand-touch takedown would be eliminated, meaning all takedowns, in order to be secured, would require a demonstration of control beyond reaction time.
— Video review would provide the referee with the authority to confirm or overturn all calls or missed calls during a video review challenged sequence rather a single move.
"I think it's going to help coaches," Hangey said. "That one move, as soon as that one move was done and it was determined whether it was upheld or overturned by the official, the rest of the action was null and void and you don't want null and void action in any sport. If it's happened, you need to evaluate it and score it properly and then (resume) from that sequence. … It's going to be an encompassing process that allows the score to be right for the kids on the mat."
— The penalty for a delayed coach's video review challenge request would be changed from a control of mat violation and team-point deduction to a loss of the video review request.
— The first medical forfeit of a tournament would count as a loss on the wrestler's record, unless the medical forfeit occurs immediately following an injury default in the tournament.
— Standardized weigh-ins across all competition types would move to two hours or sooner rather than two hours for tournaments and one hours for duals.
"Every coach in the country will love that," Scott said. "Every 125-pounder will love that just from the sheer sense of not being rushed. It's not about being bigger. We're not rushed and we can have a plan now. When it's an hour, it's shove food down your face, get your shoes on, go warm up and wrestle all within an hour and seven minutes. I think that will be a lot better for our guys and the product will be better on the mat just because you're not rushed and your anxiety's not up."
— Officials could let action continue after penalizing an illegal hold and not require a stoppage after imminent scoring finishes when the safety of wrestlers is not in danger.
— The facial hair rule — which limited wrestlers to beards of no longer than a half inch in length — would be eliminated.
— Any true placement matches in a tournament would not alter the final team score.
— Weight certification for all institutions would be permitted to begin Sept. 1.