2023 US Open Wrestling Championships
J'den Cox Has Sights Set On Historic Kyle Snyder Matchup At 97 kg
J'den Cox Has Sights Set On Historic Kyle Snyder Matchup At 97 kg
A clash of World champions is looming now that J'den Cox is moving up to 97 kilograms to take on Kyle Snyder.
Mar 31, 2023
by Kyle Klingman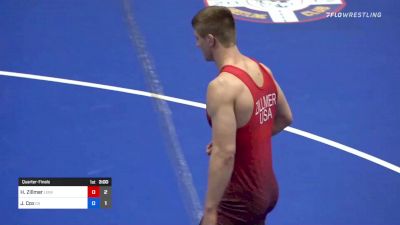 Unlock this video, live events, and more with a subscription!
Get Started
Already a subscriber? Log In
J'den Cox is making the move up and he's not looking back.
Cox has been a verifiable superstar at 92 kilograms when United World Wrestling added the weight during the 2018 World Championships. He won titles in 2018 and 2019 before adding bronze in 2021 and silver in 2022. That's on top of 86-kilogram bronze medals at the 2016 Olympics and 2017 Worlds.
His medal haul ranks among the finest in U.S. history: two gold, one silver, and three bronze.
Now, he has something bigger in mind: Kyle Snyder and the 97-kilogram weight class.
"We talk about pushing ourselves to be the best and in order to that, in my opinion, as far as wrestling and the world, 97 (kilograms) has some of the best guys in the sport," Cox said. "If that's the point of our sport, if that's what we push ourselves to do, then I should push myself to be (the best in the world)."
Moving up to 97 kg means that Cox will forgo an automatic Final X berth at 92 kg since he is a returning World medalist. The former Missouri star will enter the US Open for his chance to face Snyder — the reigning World champion and the sole owner of the weight since 2015.
Snyder's World/Olympic medal haul includes four gold, three silver, and one bronze.
Moving up to 97 makes sense if you understand international wrestling. There are 10 World weights but only six at the Olympics. Snyder competes at an Olympic weight; Cox does not.
Cox wants to win an Olympic gold medal and making the 2023 World team gives him the best chance to make that happen. Earning a medal at this year's World Championships ensures a spot in the finals of the 2024 Olympic Trials — so there is a lot is on the line for both wrestlers.
The Cox-Snyder match-up was expected to happen at the 2021 Olympic Trials but Cox was late for the weigh-in and was not allowed to compete. The two eventually faced off on a RUDIS Super Card during the 2022 NCAA Championships with Snyder winning the best-of-three series in straight matches: 5-5 and 7-2.
"I felt like it was the right move to (go up) in 2020 and it didn't change going up to now," Cox said. "With how things transpired, I just can't live in the past like that. It's just moving forward. It doesn't linger too much. I can't let things like that hold me back. If anything, it's just more motivation for the next cycle.
"(The Supermatch with Snyder showed me) tactically the things I need to work on as far as controlling the center a little bit better. We can't let people push us out. It was more tactically than anything technically. Overall, I was excited about getting to perform and getting to wrestle and getting a feel from one of the guys who is one of the best in the world. I look forward to having another crack at him. I have to earn that so that's what I'm looking to do."
The 97 kg weight class equates to around 213.5 pounds. Cox walks around at 227 pounds but he got up to 250 pounds at one point during the off-season.
"I felt horrible," Cox said. "I hated it. I felt it was necessary because the guys were a little bit bigger. I just wanted to make sure I wasn't an undersized 97. My strength is built up, my size has gotten bigger, and I'm excited. Let's get rolling.
"I know there will be some good names there and some great tests. People are going to make me earn a berth at Final X, so let's do it. I don't try to predict the future but, obviously, I have a goal in mind and I'm going to aim for it."
J'den Cox's Match History At 97 kg
2014 World Team Trials - Madison, Wisconsin — DNP
WIN - 8-0 over Jack Jensen
WIN - 5-0 to Wynn Michalak
LOSS - 10-2 to Deron Winn
LOSS - 4-2 to JD Bergman
2015 US Open - Las Vegas, Nevada — 4th place
WIN - 11-4 over Josh Manu
WIN - 9-5 over Dave Zabriskie
WIN - 4-0 over Cale Byers
LOSS - 4-3 to Kyle Snyder
WIN - 4-1 over Wynn Michalak
Injury defaulted to JD Bergman
2020 Cerro Pelado - Havana, Cuba — 1st place
WIN - 5-3 over Reineris Salas Perez (CUB)
WIN - 4-0 over Jacob Kasper (USA)
WIN - 11-1 over Yonger Bastida (CUB)
FloWrestling: Adeline Gray vs Tamyra Mensah-Stock
WIN - 6-2 over Hayden Zillmer
FloWrestling: Jordan Burroughs vs David Taylor (215 pounds)
WIN - 6-1 over Nate Jackson
2021 America's Cup
WIN - 11-0 over Scottie Boykin
WIN - 12-0 over Ben Honis
WIN - 5-0 over Hayden Zillmer
WIN - 10-0 over Ben Honis
2022 Rudis Supermatch
LOSS - 5-5 to Kyle Snyder
LOSS - 7-2 to Kyle Snyder
2023 Henri Deglane
WIN - 11-0 over Ricardo Baez (ARG)
Injury defaulted to Ilja Matuhin (GER)
Injury defaulted to Lukas Krasauskas (LTU)
J'den Cox's World medal haul
2016 Olympics — Bronze (86 kg)
2017 Worlds — Bronze (86 kg)
2018 Worlds — Gold (92 kg)
2019 Worlds — Gold (92 kg)
2021 Worlds — Bronze (92 kg)
2022 Worlds — Silver (92 kg)